100 Years after Sinking, Appetite for Titanic Artifacts Greater than Ever

by Claire O'Mahony (01/13/12).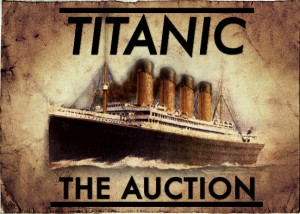 On April 10, 1912, RMS Titanic began her maiden voyage from Southhampton, England, destined for New York City. The tragedy that unfolded five days later in the icy North Atlantic Ocean still continues to fascinate people 100 years later: the sinking of the ship, with the loss of more than 1,500 passengers' lives, remains one of the greatest peacetime maritime disasters . It is still a salient reminder that whatever the technological advancements of humankind, it is not always possible to overcome nature; the arrogant belief that the ship was "unsinkable" meant that there were only 20 lifeboats on the ship, which could only carry one third of the total capacity.
The subject of myriad songs, books, films, documentaries and even a musical, the Titanic has also spawned a healthy trade in artifacts and related memorabilia, with interest in these ratcheting up in this, the centenary year of the disaster.
Items from the Titanic were first salvaged in 1987 after the wreck was discovered in 1985, in an expedition led by oceanographer Dr Robert Ballard. From bars of soap, to menus, money and children's shoes, they are poignant reminders of a terrible loss of life. One of the most interesting artifacts salvaged to date is the collection of perfume samples from perfumer Adolph Saalfeld, who survived the disaster. He left behind a leather pouch with some 90 bottles of scent, which was found, on the ocean floor in 2000. Although Saalfeld escaped, he was apparently haunted by the disaster for the rest of his life and he would ask his chauffeur to drive him around London at night, to try to him sleep.
The scarcity of Titanic artifacts has made them prohibitively expensive for most collectors. Previously, a deckchair —one of only six remaining intact (they were thrown to passengers as life preservers) —was sold at auction for $46,000. A pincushion, brought onboard the liner by Fr. Francis Brown, who subsequently disembarked at Cork, Ireland, fetched $26,000, while a letter written to his niece while onboard also sold for $26,000.
Enter the search term "Titanic" on eBay and more than 63,000 results are returned. Earlier this year, a sketch from the James Cameron film "Titanic" (drawn by Leo DiCaprio's character in the film but done in real life by Cameron himself) sold for $16,000.
This April, one of the most significant collections of Titanic artifacts goes under the hammer. While there have been Titanic auctions in the past, the thousands of items that go on sale on April 11 have all been salvaged from the wreck. Included among the 5,000 diverse pieces (the result of seven expensive and often dangerous trips to the wreck) are reading glasses, diamond bracelets, a 17-ton slab from the hull and even hairpins, as well as a bronze cherub that once adorned the Grand Staircase. The strict class divisions that governed society are apparent in the contrast between the third-class dining room service cup and the first class "Special Service" demitasse, which are also included.
The collection, which is valued at $189 million, is being sold at Guernsey Auctioneers & Brokers in New York.
"Who on this planet doesn't know the story of the Titanic and isn't fascinated by it?" asked Guernsey's president, Arlan Ettinger. "Could Hollywood have scripted a more tragic or goose-bump-raising story than what actually happened on that ship?"
Also included is intellectual property, such as a detailed map of the ocean floor where the Titanic finally came to rest.
However, only serious buyers are being entertained at this auction. The conditions of sale are that the collection is purchased in its entirety and that its new owner is committed to preserving the collection and ensuring that at least some of it is on display at all times. The sale is also subject to court approval and, according to the auction house, several buyers have already expressed an interest.
Relatively more affordable is a postcard which goes on sale on Jan. 21 at an auction house in Dublin, Ireland, where it is predicted to sell for in excess of €5,000 ($6,400). Written by a 35-year-old plumber, Andrew Johnston, it is addressed to his father, William Johnston of Aberdeenshire in Scotland and apologises for not writing before he sailed and that "we don't get to New York till Wednesday next so I will write when we get there." Johnston died alongside his wife and daughter. The family, who were set to start a new life in the United States, had been booked on another ship the previous year. That sailing was cancelled and they subsequently rebooked on the ill-fated liner.
David MacDonnell, of MacDonnell Whyte auction house, said there has been an extraordinary amount of interest in the postcard from all around the world. "People want to know more about the family but all we really know is that they were in third class steerage and the entire party perished," he said. "We've even had inquiries from people in Aberdeenshire to say that Johnston without an "e" is an unusual surname and that there is no record of anyone with that name in the area, but it is possible the family died out."
MacDonnell reckons that the €5,000 estimate is a conservative figure, given that this is the centenary year. The Ship of Dreams still continues to sail in our memories, it would appear.
Prospective auction bidders must be pre-qualified and agree to comply with all covenants and conditions attached to the collection. Those wishing further details should contact Guernsey's, the auction house selected by RMS Titanic, Inc. and Premier Exhibitions for this unprecedented offering, at 212.794.2280.
Claire O'Mahony is a Dublin (Ireland)-based freelance journalist and is a regular contributing writer for WorthPoint-UK. She writes about a varied range of topics, including travel, health, beauty, fashion, interior design and food.
———————————
WorthPoint—Discover Your Hidden Wealth