The Ever-Evolving Red Wing Potteries' Dinnerware Marks

by Larry Roschen (01/31/12).
Red Wing Potteries used a variety of methods to mark their dinnerware, including ink stamps, paper labels or marks imparted to the item during the molding process. There are also many Red Wing dinnerware items that were not marked in any way, and some items marked "Red Wing" were not made by Red Wing Potteries.
Red Wing began producing dinnerware in the mid-1930s. The colorful Gypsy Trail line, which includes four distinct patterns, was introduced June 1935. Gypsy Trail items can be found with a wide variety of marking styles.
The Star ink stamp (right) was initially used to mark Red Wing art pottery. It was applied to only a few dinnerware items. It can be found on the earliest Gypsy Trail coffee servers and on some Wreath creamers and sugar bowls. Wreath is an undocumented pattern that we believe was Red Wing's first attempt at dinnerware and thus predates Gypsy Trail.
Most Gypsy Trail items produced during the 1930s were not marked (below,next two photographs).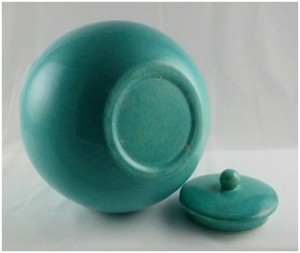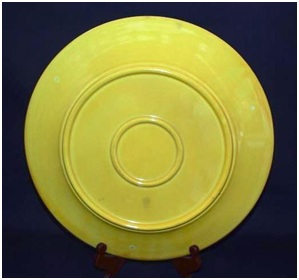 Some had "RED WING" pressed into the bottom during the molding process (below, next two photos).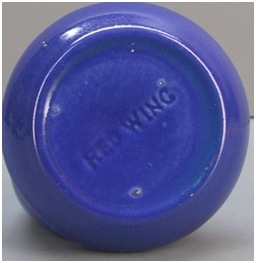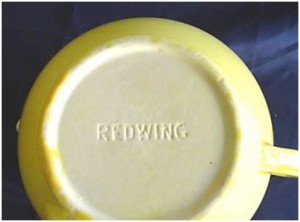 Around 1940, "USA" was added to the mark (below, next four photos).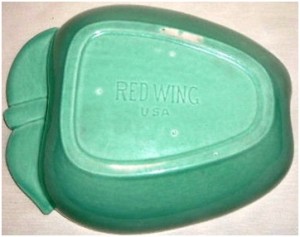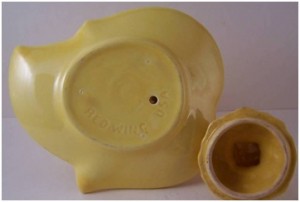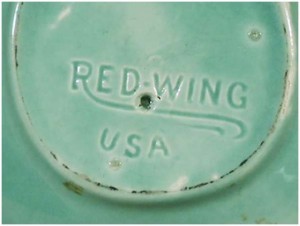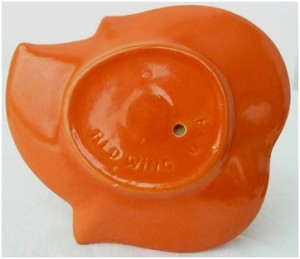 Later in the early 1940s, the catalog number was included on the bottom of most newly introduced Gypsy Trail items (below, next two photos).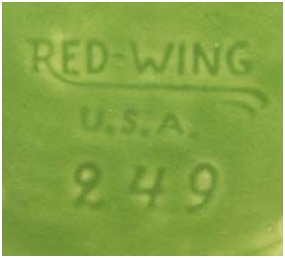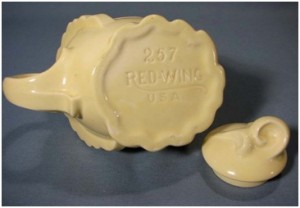 Fondoso, one of the four Gypsy Trail patterns, had marks unique to that pattern (below, next two photos).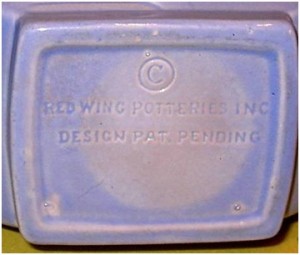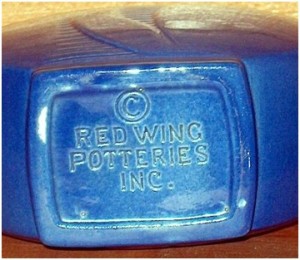 The mark directly below has the words "RED WING" within a wing-shaped mark. It is rare and has been found only on a few Chevron and Reed oval platters. The Gypsy Trail paper label (further below) is also rarely seen.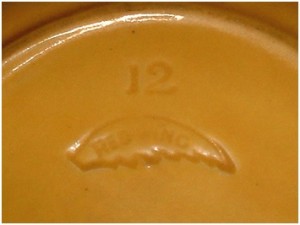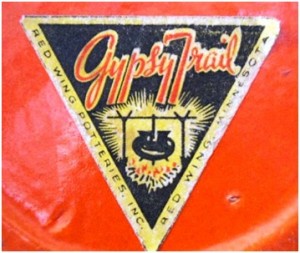 The Provincial Cooking Ware line of baking dishes was produced during the early to mid 1940s. This line had bisque (unglazed) exteriors (below). Most pieces were marked by impressing "RED WING PROVINCIAL WARE" on the side along with the item's catalog number.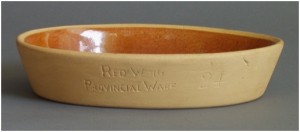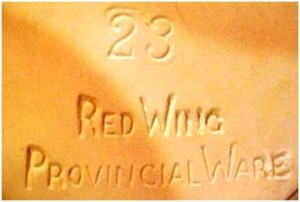 In the early 1960s a revival of Provincial Cooking Ware was introduced. This line was named Provincial Bakeware and it had glazed exteriors with a similar bisque color. However this 1960s line was marked on the bottom rather than the side (below).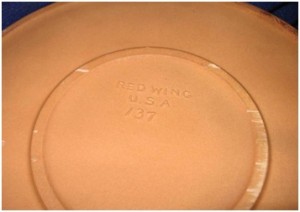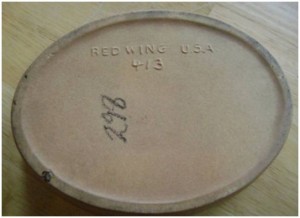 Red Wing's first hand painted dinnerware line was introduced in 1941. The ink stamp directly below was used from 1941 until the late 1940s. This mark is usually found in black, but green and blue inks were also early on. The ink stamp further below was used for only a couple of years in the late 1940s.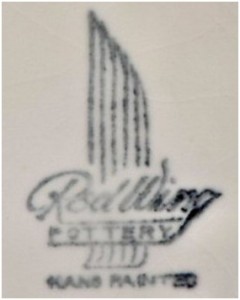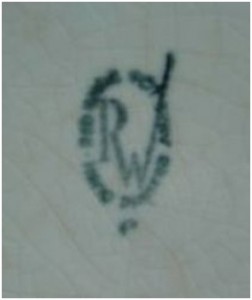 Town & Country was introduced in 1947 and is one of Red Wing's more celebrated dinnerware patterns. It was designed by Eva Zeisel and features soft, rounded surfaces. The plates and bowls have a slight tilt. All Town & Country items were unmarked, but there is at least one known exception. Below is a chartreuse Town & Country teapot that is bottom marked with the late 1940s ink stamp.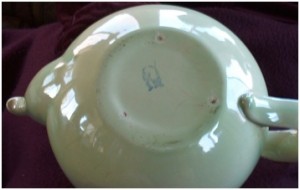 Red Wing's most well-known dinnerware mark was introduced in 1950 and was used until 1957 or early 1958. The name RED WING in seen in the "feathers" of this pinkish-red wing-shaped mark (directly below). A number is often found along with the wing; this number does not indicate the pattern but is simply a stock or lot number used in the manufacturing process. This stock number is found with most ink stamps from this point on. The greenish-black ink stamp further below is rarely seen and is a transition from the late '40s stamp to the new wing stamp.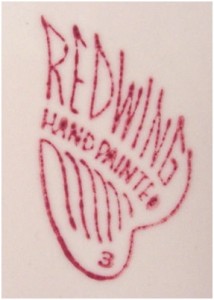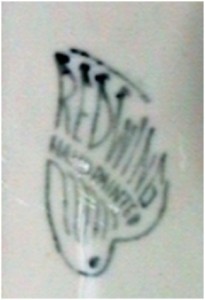 The Tweed Tex pattern, which was entirely white with no hand painted decoration, had its own unique variation of the pinkish wing stamp. A stamp without the words "HAND PAINTED" was used for this pattern (below).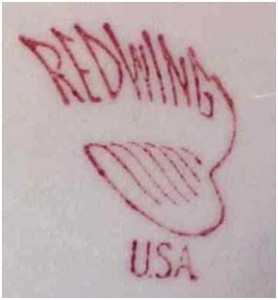 In 1958, the pinkish wing was replaced with a rather drab black ink stamp that consists of only text that states the product is HAND PAINTED and OVENPROOF (below). It continued to be used to mark items in most patterns until Red Wing Potteries closed in 1967. But there were exceptions.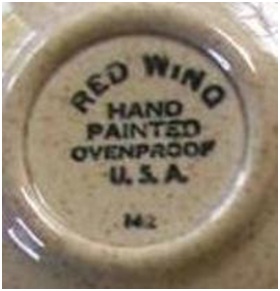 The True China line was introduced in 1959 and consisted of eight patterns. The following ink stamp was used to mark True China flatware items (below). The unique triangular stamp (further below) was used exclusively to mark individual ashtrays in the True China line.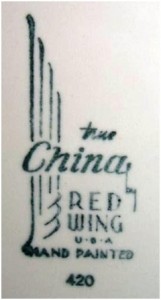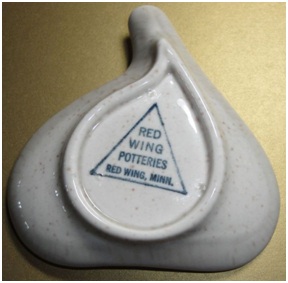 Red Wing also introduced pattern-specific ink stamps for a number of patterns. Items from the patterns named in the following ink stamps can be found with either this pattern-specific stamp or the drab text stamp (next 12 photos).
Unlike Gypsy Trail's mold-imparted marks shown earlier, Red Wing did not use this method for any of its hand painted-dinnerware when it was introduced in 1941. Patterns of the 1940s were either ink-stamped or not marked at all. This changed in 1952 when Village Green was introduced. The use of molds to mark items with "RED WING USA" resumed for accessory items such as pitchers, teapots, casseroles, salad bowls, gravy boats, etc. In any given pattern, the bowls and plates are often found marked with an ink stamp while accessory items used the mold to impart the mark (below, three photos).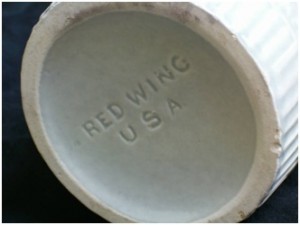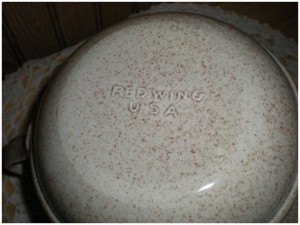 In the late 1950s and early 1960s, Ernest Sohn Creations contracted with Red Wing Potteries to produce two lines of dinnerware items. Butter Mold is the better known line. Butter Mold items feature fern and leaves artwork borrowed from a vintage butter mold, usually with the letters "E.S. U.S.A." This design can be found on the bottom, side or top of a given item (below, next two photos).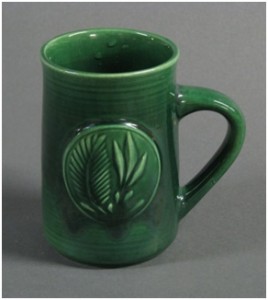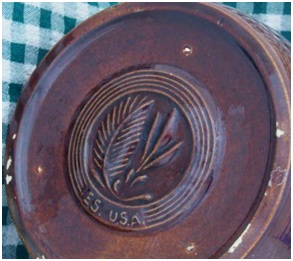 Red Wing also made Village Green-shaped items for Sohn glazed entirely in dark brown. These pieces had foil labels to identify them, but in many cases the label is now missing. All-brown Village Green shaped items marked simply "USA" were most likely made for Sohn (below, next two photos).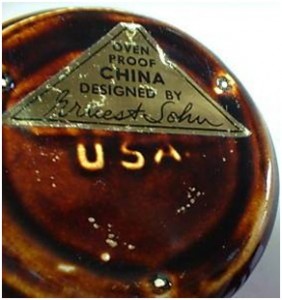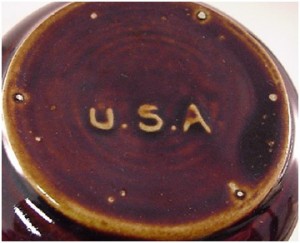 In the mid 1960s, an upright wing ink stamp was introduced to be used on the new Hotel or Restaurant dinnerware line, which was sold exclusively to the hotel and restaurant trade. This ink stamp is usually seen in black but green ink stamps can also be found. When the Potteries closed in 1967, the staff decorated the remaining greenware with whatever glazes remained, resulting in some unusual color combinations. Many of these post-production pieces were marked with this ink stamp (below, next two photos).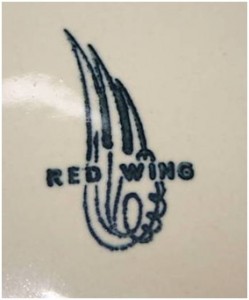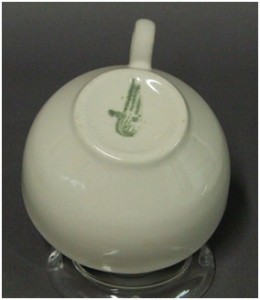 Finally, there are numerous pieces out there that are marked "RED WING USA" on the bottom but were not made by Red Wing Potteries. When the business closed for good in 1967, the assets of the company were sold to the public, including the molds used to form dinnerware and art pottery pieces. Since the company was out of business, there was no attempt to obliterate the RED WING USA lettering found on the bottom of the molds. Many of them were purchased by art schools and hobby potters. The users of these old molds often scratched their name or initials and a date into the wet clay when forming a piece. Red Wing workers did not scratch marks into the wet clay, even when making "lunch hour" items for their personal use. They used ink. Thus, any "Red Wing USA" item that has markings scratched into the bottom was almost certainly produced in an art school or hobby shop and has no real collector value.
The glaze can be another clue that an item is not an authentic piece of Red Wing pottery. Items glazed in garish colors or colors that were not uses by Red Wing Potteries at the time the mold would have been used are most likely hobby shop pieces. Experience always helps to discern such pieces, and even seasoned collectors can be fooled occasionally.
Larry Roschen and his wife Kathy have collected Red Wing pottery since 1980. In recent years Larry and his friend Terry Moe have sought out vintage Red Wing documents to research and expand our knowledge of Red Wing dinnerware. Larry currently serves as the dinnerware advisor for the "Ask the Experts" section of the Red Wing Collectors Society website and is a member of the RWCS Foundation board.
———————————
WorthPoint—Discover Your Hidden Wealth