Get the Most from Your Stuff: Maximizing Yard Sale Profits

by Jonathon Papsin (08/13/12).
While they may seem like small potatoes if you look at them one at a time, garage sales are a multi-billion-dollar industry in this country. How much did you make the last time you hosted one? Was it worth the effort? Preparing for a garage or yard sale can seem overwhelming at first, but if you plan smart, your yard sale can be both fun and very profitable!
Hosting a great yard sale begins with solid planning and we recommend you start preparing three weeks in advance. However, before you even begin thinking about sorting through your stuff and setting up tables, there are two very important things you need to do first:
1. Be sure to check with your local city or town officials to find out if yard sales and garage sales are regulated in your community. Some municipalities will require a permit for your sale while others may have restrictions on the timing of yard sales. Also, make sure to check with your Home Owners Association, as the covenants may also regulate when you can host a sale. Knowing this ahead of time will save you time, money and trouble down the road.
2. Call your insurance agent. You might be asking why I need to do this. Your homeowner's insurance policy may be limiting in what liabilities it covers. If you have shoppers at your home and someone suffers an injury, you may be liable. Be sure you have provisions in your policy that cover you.
Organization is Key
Next, get the easy stuff out of the way by getting organized. Collect everything that you're planning to sell at the yard sale and put it all in one room in your home where it's easily accessible (the garage, a spare bedroom, basement, etc.). Make sure you have family and friends available to help during your sale, as it's nearly impossible to pull off a garage sale on your own without help from others. Your family and friends can recruit you later to help out with their sales. Lastly, get the supplies you need for your sale. We always recommend using string-tags to identify and price your items, and neon-color poster board is great for creating signs to post in your neighborhood to direct traffic to your sale. These items can be found at dollar stores.
Pricing and Researching Your Items
Pricing your items is probably the most important and time-consuming part of your yard sale. Garage sale experts constantly debate over how to price items and which items to price, but this is your sale, not theirs, so it's up to you on how you want to price your items. If you're planning a multi-day sale, you might consider having a "half-price" special on the last day or the last few hours of your sale. This will not only draw attention to your sale from serious bargain hunters but you may even get a few returning customers to see how flexible you are on price.
The goal of your yard sale is to sell all your items, so price general items accordingly. When it comes to bigger-ticket items, you need to do your homework if you want to maximize your profits. Perhaps you inherited a furniture set or own some artwork? You may have a small collection or pieces of a collection you wish to sell and you don't know where to begin on how to price it appropriately. It's time to do some pricing research. There are some awesome resources to help you out with this, and one of the best is WorthPoint, the leading online resource for collectors. Its Worthopedia provides current market data on more than 100 million sales records aggregated from online sales.
We also recommend that you use an inventory and pricing organizer for your sale. This will help you keep track of items that you've priced in the event a tag/sticker falls off during your sale or you just need a quick reference for ball-park prices if someone makes an offer on an item you haven't priced.
Presentation
Presentation is just as important as being organized for your sale. Weather should always be something you keep in mind before your sale, so hope for the best but prepare for the worst. Being able to quickly cover tables outside will not only save your items but also money! Be sure your items are clean and dust-free before the sale. You know what they say about appearance, first impressions never get a second chance. If your items are clean and presented well, people will think you took care of them and perhaps not haggle quite as much.
An organized setup allows easy browsing and makes your items look better. More tables with less "clutter" on them will make it easier for buyers to shop. Try to cover any tables with a white disposable (preferably recycled paper) tablecloth. This will help your items show better and reflect the sun. Keep items such as electronics and candles in the shade. Be sure to dust and clean your items, present them well, and package items as necessary. Keep pairs of clothing together if they're complete and use re-sealable bags for jewelry and small items that sell as sets. For electronics, have an extension cord running from inside to a surge protector outside so people can test items before they purchase them.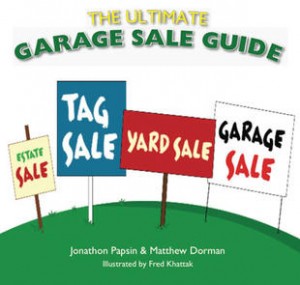 These are just a handful of tips we've written about and published in our book, "The Ultimate Garage Sale Guide."
When it comes to pulling off a great garage sale, remember that preparation is most important aspect. Planning each move from start to finish will keep the stress down and the excitement high. While you want your shoppers to have an awesome experience, following some basic guidelines will leave your pockets lined with cash and your shoppers thrilled with their new second hand treasures!
Jonathon Papsin, CEO of Tag Sell It Inc., along with co-founder Matthew Dorman, is the co-author of "The Ultimate Garage Sale Guide." Both founders have a passion for frequenting yard sales and flea markets and had experience running Estate Sales and Yard Sales. They saw there was an opportunity to bring garage sales online through virtual sales and mobile technology. Tag Sell It is an online marketplace that brings second-hand buyers and sellers to come together and haggle through virtual garage sales.
———————————
WorthPoint—Discover Your Hidden Wealth