With Gold Sale Parties, It's Caveat Venditor, Not Emptor

by Harry Rinker (04/20/09).
In these tough economic times, individuals are considering selling objects, such as antiques and collectibles, they no longer need to obtain much needed cash. Items made from precious metals and possibly containing precious and semiprecious stones are high on the list. Hosting a "Gold Party" has become a national phenomenon. The classic cautionary warning of "if it sounds too good to be true, it probably is" is ignored by a desperate public.
(If you'd like to learn more about an item pictured in this story, click on the image.)
Gold parties are another variation of the full-size newspaper advertisement that appears regularly in local newspapers noting that a team of buyers will be available at a nearby hotel for a limited time to buy antiques, collectibles, watches, jewelry, military items, etc. The lure is cash on the spot. They make an offer and pay instantly if accepted. These buyers are the worst kinds of charlatans, extremely knowledgeable and willing to take advantage of the unknowledgeable. It's caveat venditor—seller beware.
I write repeatedly about the advantages of comparison shopping when buying antiques and collectibles. Prices asked vary. Comparison shopping can save considerable money. The same is true for the seller. There is no guarantee that the first offer received is the best offer. The only way to determine this is to solicit other offers.
Home-buying parties are quagmires compared to the hotel room buy-sell experience. In the hotel room, it is one against one. The pressure to sell is not as great. The home-buying party adds crowd frenzy to the selling mix. An initial sale is all the buyer needs. He/she often will take a lesser profit on the first sale to "get the ball rolling." Once the selling begins, the others follow like lemmings, afraid they will miss out if they do not.
———————————————————————————————————————————————————————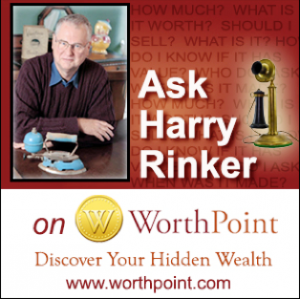 Click here to listen to Harry as he tells you what you need to know about collecting books and determining their value.————————————————————————————————————————————————————————
Never buy or sell antiques or collectibles if you have been drinking. Drinking impairs decision making. While the homeowner who is sponsoring the home gold party may be drinking and munching with the invitees, you can bet the buyer is not. The buyer knows that he/she needs to keep a level head on his/her shoulder.
(Pardon my clichés. I love them.) I have been accused of not knowing when to keep my mouth shut. [Cliché definitely intended.] This is one of those times. Agree or disagree with what you are about to read, but think about it.
In studying the media pictures of gold parties, I noticed that 90 percent-plus of the participants are female. When a male is present, he is usually the gold buyer. Is it conceivable that women are more easily duped into selling their jewelry and other precious metal items than men? My gut says yes, albeit I can offer no scientific studies to prove this. Clearly men are more easily duped when buying cars and firearms. Selling within the antiques-and-collectibles community is sexist, a fact few in the trade are willing to admit.
If you sell at a home gold party, you need to understand that the party hostess is making a commission. The traditional hostess fee is 10 percent of total sales plus a 3-percent commission on sales at any future parties booked by the participants at your party. If you are not asking yourself if there are places to sell your items that will put this extra 10 percent-plus in your own pocket, you should be.
The social atmosphere and friendship of the hostess of the home gold party eliminates any concerns that something might be amiss. Alas, the hanky-panky potential abounds. First, many communities require individuals buying precious metals to have a licensed and inspected scale. If the scale is used outside the community, the license is invalid. Further, use of the scale by someone other than the licensee is prohibited.
Second, the amount of gold in an item varies. Gold fineness (karat value) is based on a karat, 1/24 part of pure gold by weight. 18K means 75 percent gold by weight, 10K, 41.6 percent gold by weight. Beware of unscrupulous buyers who put 18K, 14K, 12K and 10K items onto the same scale and then offer to buy them based on 10K weight value. In the heat of the selling frenzy, issues such as this are often overlooked.
Third, is the buyer using a gram or pennyweight scale? They are not the same. A gram is more than a third less than a pennyweight. Beware of the unscrupulous buyer who weighs by pennyweight but pays by gram weight. Further, gold and silver are weighed in the troy system that uses 12 ounces to the pound as opposed to the avoirdupois scale that is based on 16 ounces to the pound.
Fourth, not all gold is marked. Unmarked gold has to be tested for fineness. Can the tests be manipulated? Of course, they can. Most sellers have no knowledge of how to interpret the results. They rely on the buyer's integrity. Gold-testing kits are available on the Internet for less than $100. Beware of amateur night in the sticks. Reading the instructions does not make one an expert. Practice makes perfect, and even then there is a margin of error.
Fifth, many gold pieces, especially jewelry, contain precious or semiprecious stones. Most home gold party buyers are not equipped to measure, let alone grade, stones. Buyers follow this rule—when buying at risk, pay as little as possible. In the case of precious stones, it is often pennies on the dollar.
Finally, gold home buyers do not take antique/estate values into consideration. Price paid is based solely on precious-metal content. Before selling any jewelry, check its antique, estate, vintage and replacement value. The value of a 14K, early-19th-century link chain is more than double its weight value. While the English and Europeans hallmarked gold for centuries, America passed the National Gold and Silver Stamping Act in 1906. As a result, precious metal pieces made in America prior to that date often do not have a fineness mark.
Before the scathing e-mails start, I am not implying that all buyers at home gold parties are charlatans and scam artists. Some are. Make certain you know the buyer with whom you are dealing. Do not equate the hostess' credibility with that of the buyer.
If you have gold or other precious metal items and jewelry that you wish to sell, take it to your local jeweler, ideally a family-owned firm that has been in business for generations. Their reputation is essential to their remaining in business. Be leery of large jewelry chain stores. Their higher overhead forces them to pay less. I have heard too many pawnbroker horror stories to even suggest this route. If you have antique jewelry, consider selling it through a local auctioneer who has specialized jewelry sales, to an antiques jewelry dealer with an established reputation or on an Internet site, such as WorthPoint.
As always, if you do not know what you have and are planning to sell it, have an expert check it first.
————————————————————————————————————————————————————————
Rinker Enterprises and Harry L. Rinker are on the Internet. Check out his Web site.
You can listen and participate in "WHATCHA GOT?," Harry's antiques-and-collectibles radio call-in show on Sunday mornings between 8 a.m. and 10 a.m. Eastern Time. It also streams live on the Internet and is available as a podcast by clicking on "Archive/On Demand/Podcast" on the Genesis Communications Network Web site.
"SELL, KEEP OR TOSS? HOW TO DOWNSIZE A HOME, SETTLE AN ESTATE, AND APPRAISE PERSONAL PROPERTY" (House of Collectibles, an imprint of the Random House Information Group), Harry's latest book, is available at your favorite bookstore and via Harry's Web site.
Harry L. Rinker welcomes questions from readers about collectibles, those mass-produced items from the 20th century. Selected letters will be answered on this site. Harry cannot provide personal answers. Photos and other material submitted cannot be returned. Send your questions to: Rinker on Collectibles, 5093 Vera Cruz Road, Emmaus, PA 18049. You also can e-mail your questions to harrylrinker@aol.com. Only e-mails containing a full name and mailing address will be considered. Please indicate that these are questions for WorthPoint.
WorthPoint—Discover Your Hidden Wealth