Everything Irish: St. Patrick's Day and Beyond

by Elizabeth Hendley (03/12/09).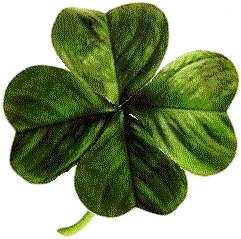 Known the world over for St. Patrick's Day, Guinness, leprechauns and four-leaf clovers, Ireland has much more to offer collectors. The country's rich history is dotted with world-famous crystal, china, furniture and other collectibles. Take a break from you St. Patrick's Day celebration, grab a glass of green beer, and read up on treasures from the Emerald Isle.
Perhaps the most well-known Irish product—other than Guinness—is Waterford crystal. Founded in 1783 as Waterford Flint Glass Manufactory in the port town of Waterford, in southeastern Ireland, the brand was revived in 1947 under the direction of Czech immigrants. They sought to carry on the tradition and excellent craftsmanship that made Waterford's hand-cut and engraved lead crystal popular with collectors.
Learn more about the Waterford lamp and vase on GoAntiques.
Not only famous for its more public pieces—the ball that drops every New Year's Eve in Times Square; chandeliers at the Lincoln Center, Westminster Abbey and Windsor Castle; the crystal football awarded to the winner of the BCS National Championship Game that determines the number-one college football team—Waterford's many patterns each have their own distinct details, as well as thoroughly Irish names like Colleen, Kildare, Adare and Maeve. The hand-cut crystal vases, glasses, lamps, bowls, paperweights, dishes, ornaments and other items can be found on many a wedding registry. Collectors don't have to worry about discontinued patters, either. The company will custom make any request.
Pieces made during Waterford's first incarnation, from 1783–1851, tend to be rarer. These glasses, chandeliers and sconces fetch higher prices, and thus are more desired collectible than those produced from the 20th century to present.
These spectacular sconces are being offered on GoAntiques.
Several Irish collectibles were borne out of struggle—more specifically, the potato famines that hit the country from 1845–1852. Renowned for its intricacy in pattern, handmade Irish lace began as a cottage industry during the famines, when all many families had to offer was their handiwork. Ursuline nuns taught women and girls how to make lace by hand, inspired by Venetian lace they brought with them to Ireland from France.
The linen tea set and place mats and napkins are featured on GoAntiques.
Families developed their own patterns, which became closely guarded secrets handed down through the generations. Most of the Irish lace worth collecting was made in the 20 or so years between 1850 and 1870, before machines that could produce lace were introduced, decreasing demand for the handmade variety. The Sheelin Lace Museum in Bellanaleck, Northern Ireland, is an excellent source for collectors and visitors alike.
If you're interested in this lovely towel set, go to GoAntiques.
Another famed Irish product, Belleek china, has its origins in the potato-famine years. The town of Belleek, though suffering from the famine, had a stroke of luck when local estate owner John Caldwell Bloomfield set about to find work for Belleek's citizens. Bloomfield conducted a geological survey of the town, situated on the River Erne in County Fermanagh, Northern Ireland, and found the soil rich in certain raw materials conducive to making pottery.
Click here for details on this pitcher.
In 1857, Bloomfield built a factory on the Erne's Rose Isle in order to harness the river's flow to grind the raw elements into usable materials. Belleek china quickly garnered a stellar reputation, partly because Bloomfield himself declared that any piece produced with even a slight flaw would be destroyed. Not long after, the railroad came to Belleek—surely due in some part to Bloomfield's influence—and with it came coal to fire the kilns and a mode of transport to bring the china to other markets.
Collectors can date their Belleek china by studying the piece's mark. Since its inception, the factory has used 13 different marks, including a special millennium mark used in 2000 only and a 150th-anniversary mark on all pieces made in 2007. The marks vary in color but consistently feature a dog and an Irish harp.
If you'd like to add this tray and bowl to your collection (or start a new collection), click here.
Recent interest in Irish-made furniture from the 18th and 19th centuries has seen more pieces for sale at big-name auction houses like Sotheby's and Christie's, as well as at sites like GoAntiques. This Georgian-style furniture incorporates exuberant carvings—especially of animal faces, perhaps inspired by Celtic designs—as well as classically influenced shapes and designs. Pieces often follow Georgian, and sometimes early Queen Anne, style with mahogany cabriole legs, claw-and-ball feet and carved foliage.
If you might like to purchase this sideboard or server, get details on GoAntiques.
Once considered unfashionable and lacking graceful lines, a number of chairs, tables, sideboards and other pieces have sold for five and six figures at auction, sometimes as part of English furniture sales. "Irish Furniture," published in 2007 by Desmond FitzGerald—the Knight of Glin and president of the Irish Georgian Society—and James Piell, a director at Christie's, is the definitive book on the subject and chronicles the history of Irish furniture and woodwork.
So this St. Patrick's Day—and all year round, for that matter—let the luck of the Irish be with you in your search for and sale of art, antiques and collectibles.
WorthPoint—Discover Your Hidden Wealth