It's A Mad Men World—Providing Vintage Howard Johnson Props for the TV Series

by Laura Trueman (06/04/12).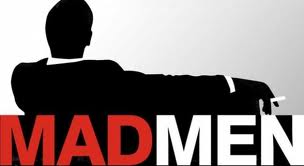 Calling all Mad Men fanatics! What did you get to do last summer? Try not to envy us, but we were fortunate enough to get a call to do prop work on the wonderfully outrageous AMC TV Show "Mad Men." I happen to be a huge fan of Don Draper, and all that he emits, and as soon as I heard the words "Mad Men," visions of my old L.S.D. and acid pins were dancing in my head. I pretty much catalog every piece of stock I have in my memory—fondly called the "Laurapedia"—mentally pulling groovy fringe vests, round sunglasses and vintage rolling papers from the famous Jolly Joint in NYC.
In my opinion, one of the greatest time periods to be able to represent as a prop provider is the psychedelic 1960s, with all the colors and absurd themes like Flower Power and hallucinogenic visions. Who wouldn't be giddy to work on such an intriguing project? Not to mention, it gives me a chance to prune my husband's "stuff we really never need again, because, trust me, you are never fitting into it ever again" hoard pile! He hates it any time we get a 1960s project to work on!
The episode we worked on was aptly called, "Far Away Places" and, surprisingly, ended up presenting us with some unique challenges that we had to quickly overcome. Our assignment focused on a Howard Johnson theme, at the original flagship location, in Plattsburgh, N.Y. This was not an easy order to fill, when you are in a situation where you need to be "location specific." The project included: a Plattsburgh, N.Y. Howard Johnson weathervane, hundreds of restaurant plates, bowls, cups and creamers, all specific to the early 1960s; back scratchers that were campy and fun (not the Chinese bamboo kind); key tags from the actual HoJo N.Y. site; as well as travel maps stretching from New York, New Jersey and New England. Out came our inventory list cataloging all our stock, as well as our vendor call list, in case we did not have an item on.
Every piece of HoJo-ware was pulled and re-photographed to reflect condition and age. As you can imagine, it is extremely important to stay true to the period we are representing, as viewers are quite savvy and enjoy finding "prop-bloopers" in shows. Imagine the embarrassment if a prop master received an item from the 1940s (and this is probably something they wouldn't know), and filmed it in a scene set in the 1960s! Not a mistake to have to explain away. In fact, one of the reasons we are used on a regular basis is because prop masters rely on our company to accurately reflect the correct time period without them having to check up on the authenticity of what we are providing to them. Not only were we dead-on accurate with the props we provided for the Howard Johnson scene, when the show aired, one of our favorite NYC radio stations (104.3) talked about the restaurant scenes the next day, and how spot-on the prop work was! Imagine my pride when I heard them on the airwaves!
So out of all of this work, what do you think was the hardest prop to find for this episode? Was the weather vane? Or, perhaps, the diner menus, or the uniforms? Have we left you in suspense long enough?
The hardest prop to find were the travel maps for Howard Johnson!
Before we were awarded the prop work on this episode, we had finished working on "Men in Black III" (with my good friend who passed away too soon), Scott Getzinger, a very well-known and talented movie industry prop master. Because of my great respect for Scott, all he had to do was say "please" in that calm, gentle manner he had, and I was prop putty in his hands, as usual. Thus, all of our East Coast travel maps from the early 1960s had been sent to MIB3 production!
It was indeed quite a challenge to replicate the old maps, which were essential to the show. Thanks to the quick thinking of our staff, we printed out a picture of the maps we had (everything we sell remains as a photograph archive), and the wonderfully ingenious prop master was able to reproduce the maps for the episode.
It is indeed a Mad Men world!
This article is dedicated to the memory of my wonderful friend Scott Getzinger, a well-respected prop master in the movie industry for more than 25 years. Scott was a devoted son, husband and brother taken too soon from all of us in a tragic accident on April 6, 2012. I will forever in my heart and head retain all the good things you taught me Scott, and never forget you.
———————————
Laura Trueman is a dealer on the GoAntiques Mall Network, operating Truetiques, Inc. and RVT's Primitives. You can also follow her on Twitter @rvt01 and Facebook ( www.facebook.com/truetiques). If you would like to be placed on the company's vendor call list, contact Laura directly at customerservice@truetiques.com.
———————————
WorthPoint—Discover Your Hidden Wealth