Home
> WorthPoint Contributors & Personalities > Letha Berry
| | |
| --- | --- |
| Latest Articles by Letha Berry | |
Showing results 11 - 13 of 13 for the author: Letha Berry.
Mourning Books And Rituals—Comforting The Spirit
(9/23/08)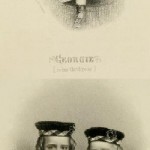 Today the subject of death is largely avoided and it is expected that any signs of grief should be done only in private. We have removed ourselves from the reality of death and it has become a sterile process, gone is the the loving vigil of the family attending to the physical and spiritual needs of the dying person. More >>
Collecting Antique Dolls ….How Do I Start?
(9/14/08)
Whenever someone visits my home I frequently hear "Oh you collect dolls" followed by "Where do you find them". I have always loved antiques and have collected a variety of things beginning in my early 20′s, my love affair with dolls began with a visit to a local historical building that is a hotel and also features a wonderful restaurant. More >>
Postmortem Photos
(9/13/08)
I grew up in the mountains of Eastern Kentucky and the practice of taking postmortem photographs was a normal occurrence. After moving and marrying someone who was raised in a large city I became aware that what I had been taught as a life-affirming practice was viewed as macabre and just plain creepy by many. More >>