1940s & '50s State Souvenir Linens Make Great Collectibles Today

by Lynda Kolski (07/23/12).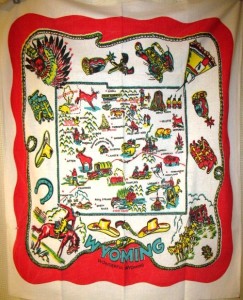 Summer's here, the kids are out of school and it's time to pack up the car and hit the road! Once again, road trips are becoming popular family vacations. After the Second World War, as car ownership became more accessible, families piled into the family car and took to the road, exploring this vast country and its many small towns and National Parks.
By 1938, Route 66 was completely paved, providing a smooth trip from Chicago to Los Angeles. Glorified as the "Mother Road" by John Steinbeck in his classic novel "The Grapes of Wrath," Route 66 served as the main migration route westward for poor Midwest farming families seeking jobs and a better life in California. After the war, Route 66 continued to be the main travel route connecting small town America to the major metropolis of Chicago and Los Angeles.
All along the 2400-mile stretch of Route 66, people saw the economic opportunity presented by the roadway and grabbed it. They opened diners, newsstands, motels and gas stations to serve the thousands of tourists passing through their town every day. It was at many of these roadside tourist stops that the souvenir linens that have become so collectible today were originally purchased. Proprietors stocked their shelves with kitschy little trinkets, including linens such as tablecloths, towels, aprons and hankies, hoping the tourists would take home a souvenir of their visit.
Souvenir linens were marketed as early as the 1920s, but they took off in popularity in the 1930s and 1940s as Americans began exploring the country. Most states were represented by souvenir linens of some kind whether a tablecloth, towel, apron or hankie. Many of the linens that collectors find today date to the 1940s-1950s.
Some of the earliest souvenir linens were made by Barth and Dreyfuss, a California textile company. It produced many of the popular souvenir tablecloths that found their way onto store shelves in the 1930s through the '50s. Its two most popular lines were Yucca Prints and Cactus Prints. These tablecloths were smaller, usually measuring about 32 by 38 inches, and had colorful printed maps of the state, showing its tourist attractions and cities. B&D also produced tablecloths that highlighted a major attraction or city, such as the Grand Canyon or Los Angeles. Both lines also produced aprons with similar designs. The early items were often printed in just two or three colors, becoming more colorful and detailed as their popularity grew.
Cactus Print and Yucca Print tablecloths were made from a fabric called cactus cloth, a heavy cotton fabric that was a tan or ecru in color. Repeated washings lightened the color to more of an off-white. It has a slightly nubby texture unlike the smooth sailcloth cottons of printed tablecloths, such as the Wilendur, Startex or Simtex cloths. These tablecloths often had humorous or whimsical depictions of different sights or attractions. The size of these tablecloths make them great wall hangings or decorations.
Examples of both Cactus Cloth and Yucca Print tablecloths can still be found today, often with the original tags still attached. Many tourists returned from their travels and stashed theses souvenir linens in a drawer or closet and never used them.
By the 1940s and '50s, souvenir tablecloths were produced by a large number of manufacturers. More useful table sizes, such as 54 inches and 62 inches, were available and the fabric was more like a cotton sailcloth.
The most common souvenir tablecloths and the easiest to find are ones from the more popular tourist destinations, such as Florida and the states along Route 66, including Arizona, Nevada, California and New Mexico. Harder to find are those from states that didn't see as many travelers, such as North and South Carolina, Alabama or Arkansas. These often command a higher price, sometimes reaching well into the hundreds of dollars, particularly if they are in unused condition or still retain the original tag.
Dating vintage souvenir tablecloths often involves a history lesson. For instance, many California or Nevada tablecloths show Hoover or Boulder Dam. Built during the 1930s, the dam was originally called Boulder Dam. The name was changed to Hoover Dam in 1947. Therefore, tablecloths with Boulder Dam can be dated to the early 1940s.
Military bases often provide a way to date tablecloths. Many of them were renamed, particularly around or after World War II. The Texas tablecloth shows Kelly Field and Randolph Field. Kelly was renamed Kelly Air Force Base in 1947, and Randolph Field was renamed Randolph Air Force Base in 1948. That allows us to date this Texas tablecloth to the early 1940s.
Florida tablecloths are some of the most popular and sought-after of the souvenir tablecloths. Belcrest Linens and Sherry Linens were two major manufacturers of Florida tablecloths. There are many styles and color combinations. Flamingoes, so symbolic of Florida, are often found on the Florida cloths, and ones with these vibrant pink birds in the corner or as a dominant feature usually command a slightly higher price. Florida tablecloths, in good condition, are priced from $75-$150, depending on colors, condition and the design. Bright, fun summer colors are usually more desirable. And, of course, if you find an unused example in mint condition with the paper tag still attached, the price can start at $125 and go up.
The New England states, particularly Maine, Vermont and New Hampshire, are in high demand, and harder to find. A Maine tablecloth in good condition can be priced from $175-$250.
The Cuba tablecloth is a typical colorful tourist souvenir from the 1940s-50s, when the island was a popular beach and gambling resort. Celebrities and wealthy Americans flocked to the island for sun and fun. The stream of American tourists came to a halt around 1957 with the beginning of the Cuban Revolution. This tablecloth pictured below came in both a red and blue border and are rare and hard to find. In good condition, it is valued at $250-350.
Souvenir handkerchiefs can be a more affordable way to collect the 50 states on linen. All 50 states had souvenir handkerchiefs, and these are usually much easier to find. While I have seen souvenir handkerchiefs from each state, I have probably only seen or had about 25 of the different state tablecloths. Hankies average $15-20, with certain states, such as Vermont, Maine, New Jersey, Florida and Texas commanding more. Hankies also have an advantage in their size. They look great framed and hung on the wall. Handkerchief quilts are also an interesting way to display hankies from various states that have significance to you or your family.
Towels were another souvenir that was easy to carry home, and these usually saw more use than the tablecloths. Like tablecloths, the towels highlighted different states and the major activities found there. Souvenir towels in good condition are priced from $20-40, depending on condition, where they are from and their styling. I have only seen towels from a handful of different states, including Florida, California, Maine, New Jersey and New England states. KayDee Linens, a Rhode Island company that still produces linen tea towels today, is well-known for its souvenir tea towels found in shops all around the country even today. Its vintage state towels range in price from $10-$15 depending on condition.
As with any collectible that becomes popular, someone will begin to reproduce it. And that's no different with the souvenir linens. Moda sells reproductions of many of the more sought after or harder to find states, as well as the Vacationland USA tablecloth, which showed the entire country. It also reproduces the state hankies. One clue to whether or not a tablecloth is a reproduction is the edges. Most reproductions, particularly those done by Moda, have four hemmed sides. The original ones have two hemmed and two selvage sides. Also, the quality of the fabric can be a giveaway. Reproductions made overseas and in India are often of a poor quality and thin fabric, very inferior to the original cotton fabric used by American textile companies. When buying online, pay particular attention to the description. Instead of being identified as a reproduction, a tablecloth may be described as "vintage style" or "retro style."
Souvenir linens are as much fun today as they were when originally purchased. People often seek out states or areas that have a special significance to them—where they were born, went to school, where children were born or live now. These wonderful linens provide as much fun remembering for today's collectors as they did for the original buyers many decades ago.
————————–
Lynda Kolski is a Worthologist who specializes in vintage textiles.
WorthPoint—Discover Your Hidden Wealth