It's all in the Marks: Understanding Minton Date Codes

by Mike Wilcox (07/06/12).
As mentioned in previous articles, there are several potteries that, for their own reasons, used markings as a way of date coding their products. Thanks to research and archived company records, these date codes are a wonderful resource to determine the vintage of pottery and porcelain, even if other indicators are there, such as country of origin makings, design registration or patent markings.
Minton, the well-known British porcelain company, traces its origins back all the way to 1793, when Thomas Minton and partners William Pownall and Joseph Poulson began production of their first pottery in Stoke-on-Trent, Staffordshire, England. The company was not complete until 1796, then producing what was the most popular design of the times, blue transfer ware on earthenware. Unlike the later porcelain pieces, the early examples had no back stamp to identify them and are very rare today.
Minton, like most potteries, used a variety of back stamps that can indicate a start and end date for the type of marking, but their use often spanned periods of 30 years or more for a single mark, making them part of the solution to the puzzle. Minton began using identifiable markings in 1805. The examples below are Minton Back Stamps listed in WorthPoint's Marks and Library website. Minton used them (from left to right) from the mid-19th to mid-20th century for the periods spanning 1863-1872, 1873-91 and 1912-50.
While identifying company back stamps is helpful, Minton's date-code system for pieces made from 1842 onward is far more accurate and eliminates the need to refer to the company back stamps at all, unless the date code is too hard to read. Minton used this symbol date-code system from 1842 until 1942, utilizing a different symbol for each year. The marking can be found impressed into the base of each piece, which today supplies us with a solid 100-year history
of markings you can print on one page (see below). Being impressed markings, they are generally easier to read than hand-printed markings by individual decorators often are.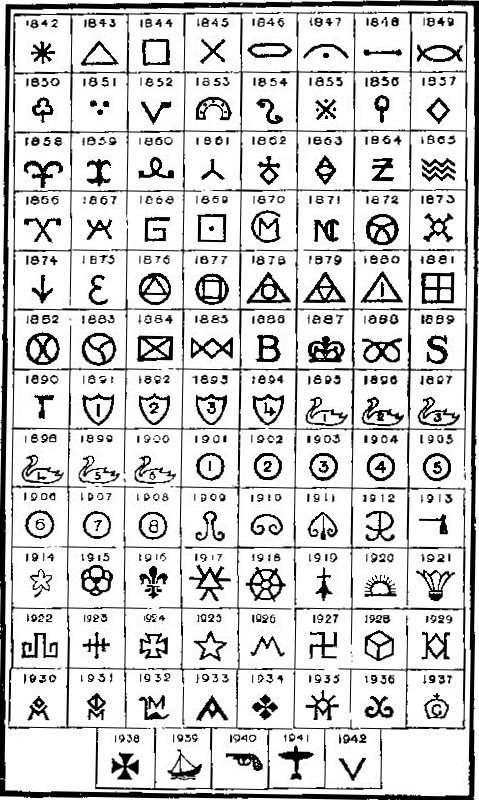 The mark below is a blown up example of a date code symbol used by Minton. Try consulting the chart above to determine the date it was used and see to see just how simple it is to determine a production date (answer below).
If you determined the marking was used in 1865, you are correct.
Mike Wilcox, of Wilcox & Hall Appraisers, is a Worthologist who specializes in Art Nouveau and the Arts and Craft movement.
———————————