Comics Auction Watch – 'The Avengers' Post-Credits Scene Hints at Next Villain

by Matt Baum (05/21/12).
The Comic Speculator is a blog written by WorthPoint Comic Book "Worthologist" Matt Baum that takes a look at each week's hot new comics, back issues and the comic marketplace in general. Prices discussed here are taken from Comicspriceguide.com (CPG) and current online auction sales. Sales numbers and rankings are courtesy of ICV2.com. Lists of new comics are courtesy of Previewsworld.com and Comiclist.com. Make sure and click on the links to learn more about the titles and creators discussed here. If you want to hear what this nerd sounds like you can catch me on my podcast, the Two-Headed Nerd Comicast, where my friend Joe and I discuss the latest comic news, review some new comics, and answer your questions.
Back Issue Report
Welcome back true believers. It's time again to strap ourselves to a rocket and launch into the dark, mysterious unknown that is comic book back issue marketplace. (Today's writing soundtrack was "The Money Store" by Death Grips)
Auction Watch!
Summer blockbuster movie season has descended upon us yet again and—as has been the pattern for the last decade—that means a whole slew of comic-book themed movies are coming to a theatre near you very soon. Or in the case of "The Avengers" (which was excellent) two weekends ago. In today's edition of Auction Watch, we'll be taking a look at an unexpected leap in price for the first appearance of an Avengers enemy.
Now, can I prove there's a direct correlation between movie ticket sales and comic-book prices, but not with a formula or statistics; no, but that's not my job here. I'm a blogger after all and this is a fun comics-blog, not an economics journal. But let's get informational for a second here and take a look at this graph from the good peeps at Comic Trend: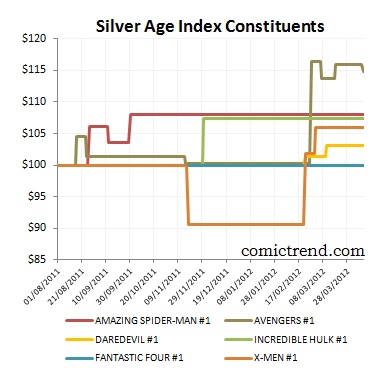 Look at the spike on Avengers #1 in March. Nothing else even comes close to that rise in price, and keep in mind that's a Very Fine condition price, which is at the lower end of the condition scale (it sounds nice, "very fine" does, but it's actually pretty bad).
Of course, it's easy to say Avengers #1 or Amazing Spider-Man #1 will go up in price when the movie hits. Not many of us can get in on Golden and Silver-Age gems like the first appearance of Cap, Batman or Spidey, but one thing we can watch—and maybe even take a shot at—is the first appearances of the bad guys in these movies.
Before we go on: SPOILER ALERT! DO NOT READ PAST THIS POINT IF YOU HAVE NOT SEEN THE AVENGERS! You've been warned.
Those of us who stuck around for the credits at the Avengers movie were treated to a couple of credit cookies, most notably the reveal of the true enemy behind Loki's attack; Thanos. Don't worry if you haven't heard of him, Thanos is deep-cosmic-Marvel-nerd stuff and I was even shocked when he showed up. For more on Thanos the character, click here. Today, we'll be talking about Thanos comics appearances and what's happened since he turned and smiled at the camera for less than second.
Thanos was created by '70s Marvel-cosmic-guru Jim Starlin and the character made his first appearance in Iron Man Vol. 1 #55 (Marvel, 1973). Not long ago, this comic typically sold for $150-$175 in Very Fine-Near Mint condition. It's a classic issue and certainly the first appearance of a big Marvel villain, but recently, with the wink and the smile in the end of the Avengers film, Iron Man #55 has become a Blue Chip book.
All prices below are courtesy of eBay:
• On April 22, a copy of #55 that appears to be in Very Fine condition (judging by pics) sold for $348. That was two weeks before the Avengers movie premiere.
• On May 7, three days after "The Avengers" hit the big screen, a copy of #55 in the same condition sold for $482. And it continued to go up from there.
• On May 9, copy described in Very Fine condition sold for $600.
• Then, on May 14, a copy in the same condition sold for $830.
All of these auctions were for unslabbed copies, which is the term for comics not graded by professional grading services and cased in hard plastic, most notably CGC. The slabbed copies went even nuttier.
A week before "The Avengers" opened on April 30, a copy of Iron Man #55 CGC graded in 9.6 condition sold for $1,424 with 32 bids. As of May 11, a week and a half after the Avengers movie release, copies in CGC 9.6 condition are selling for $2,000 and look to be going up from there. Taking into account that the CGC census lists 59 copies of #55 in 9.6 condition, that jump in price becomes even more shocking. CGC also lists 25 copies of the first Thanos appearance in 9.8 condition. Currently, there aren't any 9.8 examples up for auction, but with prices going as high as they are, it wouldn't surprise me to one sell for $3,000.
Keep in mind all, this is happening without even a word whispered from the character. If this kind of Thanos-madness continues by the time the next Avengers movie hits theaters, this could easily be a $5,000 comic.
Next time, I'll be talking about another super-villain starring in a movie this summer whose first appearance is starting to see some interest; Bane.
---
Matt Baum is WorthPoint's comic book Worthologist. If you have any questions about these books or anything else in the comic book world feel free to contact Matt or post your question below in the Comic Book Forum in the WorthPoint Forums, located in the Community tab. You can also reply to this article in the "leave a reply box below. If you need more comic-nerd in your life, you can follow Matt on Twitter, where he's always screaming about something nerd-related. Thanks to all Matt's new followers and keep the comments coming!
Want to know what your comics are worth? Join WorthPoint to search its database or use its "Ask A Worthologist" feature. Remember to post the title, issue number and cover price.
WorthPoint—Discover Your Hidden Wealth