I Wish I Hadn't Sold That: Items I'm Still Kicking Myself Over
Over the years, as an incurable metalware collector, I've discovered many interesting pieces. Since display space is at a premium within my home, it's important to keep my collection a manageable size. That means that periodic downsizings are in order.
It's always hard trying to decide which pieces to relinquish. Each one has its own special history, either a known provenance or memories of a special place or time when it was purchased. Let me share four items that I have parted with in the past but could now kick myself for doing so.
I Wish I Hadn't Sold That …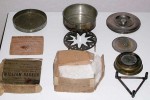 Hochin Pocket Alcohol Cook Stove
Tin, circa. 1878, with instructions and trivet. What an interesting relic; so unusual in that it was a complete set in the original box. Instructions from this little 4 3/8"-wide x 2"-tall pocket stove proclaimed "with broiler and gridiron on which can be broiled a steak or chop, oysters, ham, fish, etc. or make Toast as there is neither Smell nor Smoke from the Flame." All I can say is that portion sizes must have been MUCH smaller in 1878!
Horseshoe Plaque, Good Luck with Doves
Cast Iron, circa. 1880, 8" x 6" with original gold paint. I parted with this piece at a time I was downsizing my horseshoe plaque collection. I guess I didn't appreciate how truly unusual it was and, of course, I've never seen another since. However, it was sold to an advanced collector (who is also a friend), so I know it has found a good home in a respected collection.
Brass, circa. 1890s, 4" x 2.5″ with the words "Good Luck." This delicately cast trivet would have been the companion to a toy brass iron. A child's little iron and trivet of that era was fully functional, and on occasion might be borrowed by an adult to iron delicate pieces of lace or cuffs. Unfortunately, I parted with this piece before I knew I would one day be collecting toy irons and trivets!
Adjustable, automatic electric iron with chrome-plated cast iron soleplate and ruby Lucite handle, circa. 1947. This iron appeared to be mint in box, with the original tags. A beautiful design, it was once featured in an exhibit held at the Baltimore Museum of Art, entitled "Masterpieces of American Design." The 79-AB American Beauty Iron was also offered with an amber Lucite handle.
So … what do these four items all have in common? All of them are either unusual in some way or truly scarce. What should be considered before deciding whether to part with a collectible?
Ask yourself the following questions:
• Is it truly scarce? If so, hold on to it for another year and then re-evaluate.
• Is it in the original packaging? Keep it! It will only increase in significance and value.
• Does it add spice to a collection? Think twice before selling this "Go With."
• Find it fascinating? Consider the possibility that one day you might collect these!
And, should you ever make a sale you later regret, be sure to contact the buyer. Let them know you would be interested in purchasing it back, should they ever decide to sell.
Lynn Rosack is a Worthologist who specializes in trivets and kitchenalia.
WorthPoint—Discover Your Hidden Wealth