Q & A with Harry Rinker: Mickey Rooney's One-Man Band Toy, Pitcher and Basin

by Harry Rinker (09/02/09).
QUESTION: I own a Mickey Rooney's One Man Band toy that is near mint in its period box. The One Man Band consists of a washboard, the top portion of which has a paper label featuring a head and shoulder picture of Mickey Rooney on the left and "MICKEY / ROONEY'S / One Man Band" on the right. A horn, bell, two lithograph tin clackers (similar in form to hand-held Halloween clackers), and two pie pans are attached to the washboard. A kazoo also accompanies the set. There is no manufacturer's information on the box or the washboard. When was it made and how much is it worth?
– MS, via e-mail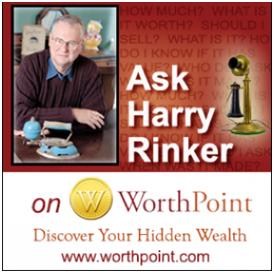 ANSWER: Mickey Rooney was born Joe Yule, Jr. on Sept. 23, 1920 in Brooklyn, NY. Vaudeville chorus girl Nellie Carter and comic Joe Yule, Sr., were his parents. After a failed trip to Hollywood to win a part in Hal Roach's "Our Gang" series, Nellie and Joe Jr. returned to Hollywood in 1926. Joe Jr.'s big break came in 1927 when he was cast as Mickey "Himself" McGuire in a series based on a comic strip of the same name. After an unsuccessful attempt to change Joe Jr.'s name to Mickey McGuire (the comic's creator disapproved) his mother settled on Mickey Rooney. MGM offered Rooney a contract. In 1937 he was cast as Andy Hardy in A Family Affair, which led to 13 more Andy Hardy movies. That year also marked Rooney's first film appearance with Judy Garland. His movie career pinnacled from 1939 to 1941, the three years he was selected as the biggest male box-office draw.
TRIVA QUESTIONS: How many wives did Mickey Rooney have?
The Oct. 3, 1953, issue of >i>Box Office contains the following information in the Seattle listing: "Mickey Rooney 'One Man Band' clubs have been introduced in Seattle for the first time and are now being formed in all Sterling picture houses. These neighborhood clubs will enable band members to appear on stage and perform with their instruments on kiddies Saturday matinees." The picture of Rooney on the washboard and the decorative lithography motifs on the clackers support an early to mid-1950s origin for your One Man Band toy.
Rooney served in the military from 1944 to 1945. His film career went into a tailspin after World War II. He worked in two radio series—Shorty Bell (summer of 1948) and The Hardy Family (1949-1950). Rooney had a short-lived TV show entitled The Mickey Rooney Show, also known as Hey Mulligan, that ran from August 1954 through June 1955.
I found nothing in Internet Mickey Rooney biographies that offer any insight into the one man band craze, a craze that most likely was over soon after it began.
When I read your initial e-mail with no pictures of the toy attached, I immediately thought of the boom-bah, also known as the boom-ba. The boom-bah, a Pennsylvania Dutch instrument best known in Berks and Lehigh County, is a percussion instrument consisting of a pogo stick with a spring at its base to which is attached a cowbell, cymbal, tambourine, horn, and sleigh bells. Variations are common. The instrument is beaten on the floor in time to music.
It is time to raise the all important "who cares" question. I am certain there are a few (emphasis on few) Mickey Rooney collectors. My suspicion is that everyone who desired a Mickey Rooney One Man Band already has an example in their collection.
Even though your toy is in fine or better condition and accompanied by the period box, its value is between $30 and $40. My heart wants me to tell you more, but my mind says keep the value low.
—————————————
QUESTION: I own a large pitcher and basin. One piece is marked with a logo that has "Bristol" in a banner on the top and "FORD CHINA COMPANY" in a banner on the bottom beneath which is "Ford City, PA." The second piece has "Wyandote" instead of "Bristol" in the top banner. Both pieces have a blue floral design and gold scroll work. The pitcher has a hairline crack across the bottom. I am trying to decide whether to keep or sell it, as it has no reminiscent value in our family. Any information you can provide would be appreciated.
– SM, Canfield, OH, via e-mail
ANSWER: The borough of Ford City is located on the banks of the Allegheny River, about 40 miles northeast of Pittsburgh, in Armstrong County, Pa. Ford City is a company town, founded in 1887 by the Pittsburgh Plate Glass Company to support is No. 3 Works.
Captain John B. Ford and John Wick, Jr., of Wickboro (just north of Ford City) established Ford City Potteries in 1897/98. Cook and Company, Inc. purchased the plant sometime around 1904. In 1912 the Pennsylvania China Co. (Kittanning, Pa), a manufacturer of plain and decorated jardinières, ornamental vases, and tableware, acquired the plant. The plant changed hands again in 1918 when the Eljer Company (Cameron, WV), a manufacturer of sanitary ware, purchased it. Eljer expanded the line to include commercial, industrial, institutional, and residential installation fixtures. The Eljer Ford City plant closed in 2008 as part of the merger of Eljer with American Standard of Americas and Crane Plumbing to form American Standard Brands.
Bristol and Wyandote were patterns produced by the Ford China Company. Check the floral patterns on your two pieces. While they may appear identical, you should see some variation. If you do not find differences in the decoration, look at the design of the pieces. Some pottery plants used pattern names to differentiate shapes rather than decorative designs.
While the hairline crack in the bowl appears inconsequential, it is not to a collector. Any damage is the kiss of death in today's secondary antiques and collectibles marketplace. The hairline crack means that your wash pitcher and bowl only has decorative value. The value for the set is between $45 and $55.
—————————————
QUESTION: In rummaging through some family treasures, I found a first edition of George Herman Ruth's Babe Ruth's Own Book of Baseball, published by G. P. Putnam's Sons as a Knickerbockers Book in 1928. The book has its period dust jacket, albeit there is some damage at the top of the spine section. What is the value of my book?
– JL, Walnutport, PA
ANSWER: Babe Ruth's Own Book of Baseball was published following his famous 60-home run season. In 1920 Babe hit 54 home runs, a record he broke in 1921 by hitting 59. A few seasons passed, and sports aficionados began to consider 59 an unreachable mark. The Sultan of Swat proved them wrong in 1928. He hit his 60 home runs in a 155-game season. The modern season is 162 games.

Three versions of Babe Ruth's Own Book of Baseball were published. The first was a numbered edition of 1,000 deluxe copies signed by the Babe. Collectors and dealers suggest that not all 1,000 copies were bound and sold. The asking price for this edition in very good or better condition ranges from $1,000 to $1,400.
L. Burt, a publisher of inexpensive reprint editions, printed a 1928 edition of this work. The dust jacket matched that of the Putman edition. Currently, two copies of this edition with dust jacket are listed on abebooks.com, the first at $750 (very good plus condition) and the second at $950 (very fine copy).
Abebooks.com also lists a copy of the Putman edition in very good condition but no dust jacket at $450. This and the above suggests the presence of the dust jacket in very good or better condition adds a minimum of $200 to the value of the book.
All the books listed on abebooks.com have one thing in common. They have not sold. Since prices at this level tend to be negotiable, the final selling price is likely to be ten percent or more below the list price.
Think conservatively. If selling to a dealer, expect around $350. If sold at auction, your book should reach $500, albeit you will have to pay a commission to the auctioneer. A private buyer should pay between $500 and $600, providing you can find him.
You have a treasure. Market it wisely.
—————————————
READER'S RESPONSE: I often have written about the disparity between book and field prices. When the book price is derived from a "book price" found on an Internet site, I usually exercise extreme caution. In a recent column, I wrote about the history and value of a 1931, Gottlieb, nickel-operated, Baffle Ball pinball machine. Although the owner claimed it was in excellent condition, the photographs that accompanied the letter indicated that in was in very good to fine condition. An Internet price source listed the game at $2,975 in excellent condition and $2,232 in fair condition. I suggested a value of $2,500.
Al Fox, who reads "Rinker on Collectibles" in Farm and Dairy, sent me the following e-mail: "I just read your latest column . . . and saw your valuation of the 1931 Gottlieb Baffle Ball pinball machine. Either the value of Baffle Balls went through the roof in the last four years or I'm afraid you may have missed the mark. Recently Baffle Balls have been selling in the $300-to-$800 range at the Chicagoland Slot Machine Show as well as on eBay. In 2005 I bought a really nice one with original color anodized metal balls at Chicagoland for $475 and would love to find someone who would pay over $2,500 for it."
I have a number of coin-op contacts and should have double checked the Internet value—proof once again that the best price guide information often comes from collectors in the field.
—————————————
TRIVIA QUESTION ANSWER: Mickey Rooney had eight wives—Ava Gardner (1942-1943), Betty Jane Rase (1944-1948); Martha Vickers (1949-1952); Elaine Devry (1952-1958); Carolyn Mitchell (1958-1966); Marge Lane (1966-1967); Carolyn Hockett (1969-1974); and, Jan Chamberlain (1978-present).
—————————————
Rinker Enterprises and Harry L. Rinker are on the Internet. Check out his Web site.
You can listen and participate in "WHATCHA GOT?," Harry's antiques-and-collectibles radio call-in show on Sunday mornings between 8 a.m. and 10 a.m. Eastern Time. It streams live on the Genesis Communications Network.
"SELL, KEEP OR TOSS? HOW TO DOWNSIZE A HOME, SETTLE AN ESTATE, AND APPRAISE PERSONAL PROPERTY" (House of Collectibles, an imprint of the Random House Information Group), Harry's latest book, is available at your favorite bookstore and via Harry's Web site: http://www.harryrinker.com
Harry L. Rinker welcomes questions from readers about collectibles, those mass-produced items from the 20th century. Selected letters will be answered on this site. Harry cannot provide personal answers. Photos and other material submitted cannot be returned. Send your questions to: Rinker on Collectibles, 5093 Vera Cruz Road, Emmaus, PA 18049. You also can e-mail your questions to harrylrinker@aol.com. Only e-mails containing a full name and mailing address will be considered. Please indicate that these are questions for WorthPoint.
Copyright © Rinker Enterprises, Inc. 2009
WorthPoint—Discover Your Hidden Wealth