Q & A with Harry Rinker: Noah's Ark Toy, World War One Letter from King George V

by Harry Rinker (08/03/09).
QUESTION: I would like your help with an antique wooden Noah's Ark that I have been asked to sell on behalf of a client. I have done some research, but am torn as to what sales approach might bring the best results. What is your advice?
– K&S, via e-mail
ANSWER: The pictures attached to your e-mail enabled me to identify your Noah's Ark as one made in the Erzgebirge mountain region of Germany sometime between 1910 and 1930.
The Erzgebirge (Ore) mountains, approximately 150 kilometers in length, separate the Saxony region of Germany from the Czech Republic. The Erzgebirge range extends from the lower Bavarian Fichtelgebirge on the east to the Sandstone Mountains on the banks of the Elbe River on the west. Ores found in the region include cobalt, copper, fluorspar, silver, tin and uranium. The Erzgebirge region was located in East Germany following World War II, becoming part of reunified Germany in 1990.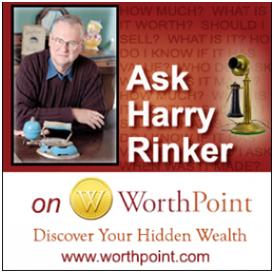 As ore deposits became depleted and businesses associated with the ore industry closed, families in the Erzgebirge region turned to lace making and woodcarving to earn a living. The area became renowned for its nutcrackers, pyramids (carousels with figures telling the Christmas story or the life of the miner), räuchermänner (smoking men), schwibbogen (wooden arcs with candles that were placed in windows), and a large variety of toys, including Noah's Arks. Erzgebirge carved figures and toys were sold at toy fairs and Christmas markets in major German cities, e.g., Dresden and Nuremberg.
Your flat-bottomed, rectangular box-like Noah's Ark is a commonly found example. The pictures indicate you have 20 animals and four figures. What you do not have is 10 pairs of animals. The animals boarded the ark two-by-two as the Bible story denotes. Value enhances by the number of complete pairs. Further, you do not have the dove bearing the olive branch.
Late 19th-/early 20th-century Noah's Arks appear frequently in the secondary market. I found more than three dozen examples that were offered for sale during the past four years on Artfact.com. German examples comprised about half the offerings. The balance came from England and other European countries.
While age plays a role in value, the number of animal and human figures (many sets have in excess of 50 pairs of animals) and quality of carving are the two primary value components. The carving of your animals is primitive when compared to those accompanying other Noah's Arks.
A 1907 Erzgebirge Noah's Ark (#150360997744) recently sold on eBay for $615. This Ark measures 16 inches long by 7 inches high, had 15 pairs of animals, a dove and four human figures accompany the ark. The three-dimensional animals are finely carved, albeit several had condition problems, e.g., missing antlers or tails. Five bidders, most likely major collectors or dealers, were involved in the bidding above $200, suggesting a limited buying audience. The winning buyer entered a snipe bid within the final 10 seconds. The winning bidder had 1,268 feedbacks. The under bidder had 301 with the others 634, 882, and 1,543, indicating that although the buyer market is limited, it is comprised of competitive individuals.
Comparing the Noah's Ark sold on eBay to the one that you are planning to sell, the eBay Noah's Ark is a higher quality example. The Ark shows more sophisticated painting elements, including an image of the dove with a branch on the roof. The animals are more three-dimensional, better detailed, and greater in number. The specific date of the eBay Noah's Ark is a plus.
The reunification of Germany brought prosperity back to the Erzgebirge. Commercial woodcarving of Erzgebirge items thrives. A contemporary, extremely well crafted Noah's Ark is priced between $350 and $750. For individuals desiring the look rather than historical importance, a modern set in mint condition has strong appeal.
The secondary market retail value of your Noah's Ark is between $300 and $350. As with all values, this is the price to an individual who wants a Noah's Ark and is willing to purchase one of this quality. In what sales venues are you most likely to find such an individual?
EBay certainly is one option. Make certain you fully understand the selling costs. Auctioning your Noah's Ark through a cataloged toy auction that uses Internet bidding is another possibility. Again, check out the selling costs. My recommendation is that you consider placing an eighth of a page classified advertisement in Antique Toy World, the premier toy periodical. It reaches almost all serious toy buyers.
Do not dismiss the private sale option. If there is a major toy show in your area, information readily available in Antique Toy World, you can take the Noah's Ark or photographs of it to the show and talk with the dealers. If you have contacts within the Christmas, folk art, or toy communities, you might offer the Noah's Ark to one or more private individuals. As with any sale, the higher the price you ask, the harder it will be to obtain it.
—————————————-
QUESTION: I have a letter my grandfather received when he entered the U.S. Army in April 1918. He never saw combat. The letter is on Windsor Castle stationery and signed by King George V. The letter has a small tear on the top and minor foxing on the bottom. Does it have more than sentimental value? I display it with a picture of my grandfather in his Word War I uniform.
– JS, Cedar Rapids, IA
ANSWER: When American soldiers disembarked in England during World War I, they received an enveloped marked "A Message to You from his Majesty King George." Inside was a sheet of paper engraved with the royal arms, "Windsor Castle," and a facsimile handwritten message that read:
"Soldiers of the United States, the people of the British Isles welcome you on your way to take your stand beside the Armies of many Nations now fighting in the Old World the great battle for human freedom.
"The Allies will gain new heart & spirit in your company. I wish that I could shake the hand of each one of you & bid you God speed on your mission.
"George R.I. / April 1918"
It is assumed the original of this letter is located in an archive somewhere in the United Kingdom. I was not able to determine the exact location.
I recommend you do some additional research on your grandfather's period of military service. It would be ironic if he enlisted in April 1918, the same month George penned the letter. I suspect he joined much earlier.
I have handled several of these letters in the course of my appraising career. In order to have full value, you need the envelope as well as the letter. Since the envelope is missing and your example of the letter has condition problems, its worth is between $25 and $35. Continue to display the letter along with your grandfather's picture, just as you are doing now.
—————————————-
QUESTION: I have two wool jackets that were tailor-made for Clark Gable. The first is by "Brooks Brothers / NY, NY." It may be of Clark's movie wardrobe. It has a number that resembles a serial number. It is dated 5/3/49 and labeled "Clark Gable, Esq." The second is by Brioni Roma and is from his personal wardrobe. It is dated 10/1959 and is labeled "sig. CLARK GABLE." Both are in very good condition with period buttons. The labels are located inside the breast pockets. The patterns are not the most beautiful, but I guess it was the style for the era. The jackets have not been laundered since the early 1970s. I received them from my mother. My mother's uncle, a plastic surgeon in Los Angeles, married Clark Gable's widow. As a result, members of my family received pieces from his wardrobe when his widow finally cleaned out his closet. What is their value?
– CB, Modesto, CA, via e-mail
ANSWER: While I have no doubts you have two jackets that belonged to Clark Gable, I encourage you to do more research into the provenance. Obtain a copy of the marriage certificate between Clark Gable's widow and your mother's uncle. Assemble short biographies of the two individuals.

Movie costume clothing will fetch a higher price than personal wardrobe clothing, albeit a designer label can quickly change this generality. Obtain a Clark Gable filmography and make a list of films he did in 1949 and 1950. All should be available on DVDs. Hopefully, you will be able to spot Gable wearing the first jacket in one of them. If not, check media coverage and publicity stills from that era.
Clark Gable died on Nov. 15, 1960, a little more than a year after acquiring the second jacket. Research magazine articles and publicity stills taken after October 1959. If you are lucky, you will find a picture of Gable wearing the jacket.
Several jackets from Clark Gable's personal wardrobe have appeared for sale in the secondary market. Heritage Auction Galleries of Dallas, Texas sold a checkered jacket in April 2005 for $956. A seersucker jacket by Carrol & Co., Beverly Hills, California was offered on eBay in March 2008. The opening bid was $599, a price that failed to attract any buyers.
Size is a selling factor. While most collectors would not wear an historic movie/movie star costume, there are some who will. Cable was just over six feet tall and normally weighed around 190 pounds. The latter eliminates me as a wearer.
Clark's movie career was on the wane by the early 1950s. Because of this, there is most likely very little difference in value between the two jackets. The secondary market retail value for your Clark Gable jackets is between $350 and $400.
If you have no interest in retaining them, consider approaching Heritage Auction Galleries. It always pays to work with an auction company that has a track record selling the same type of merchandise you wish to sell.
—————————————-
Rinker Enterprises and Harry L. Rinker are on the Internet. Check out his Web site.
You can listen and participate in "WHATCHA GOT?," Harry's antiques-and-collectibles radio call-in show on Sunday mornings between 8 a.m. and 10 a.m. Eastern Time. It streams live on the Genesis Communications Network.
"SELL, KEEP OR TOSS? HOW TO DOWNSIZE A HOME, SETTLE AN ESTATE, AND APPRAISE PERSONAL PROPERTY" (House of Collectibles, an imprint of the Random House Information Group), Harry's latest book, is available at your favorite bookstore and via Harry's Web site. http://www.harryrinker.com
Harry L. Rinker welcomes questions from readers about collectibles, those mass-produced items from the 20th century. Selected letters will be answered on this site. Harry cannot provide personal answers. Photos and other material submitted cannot be returned. Send your questions to: Rinker on Collectibles, 5093 Vera Cruz Road, Emmaus, PA 18049. You also can e-mail your questions to harrylrinker@aol.com. Only e-mails containing a full name and mailing address will be considered. Please indicate that these are questions for WorthPoint.
Copyright © Rinker Enterprises, Inc. 2009
WorthPoint—Discover Your Hidden Wealth