It's all in the Marks: Understanding Royal Crown Derby Date Marks

by Mike Wilcox (08/12/12).
While many companies use a variety of markings to indicate different patterns, dates and inventory control, it was probably the furthest thing on their minds that 100 years later they would be invaluable in helping collectors verify their antiquity and origins. I've often thought just how much more difficult the appraisal profession would be without them, as most appraisals would have to begin with the disclaimer "based on what little we know. . ."
The subject of this article, Royal Crown Derby—well known for its fine porcelain—can trace its roots back to 1756, when John Heath, Andrew Planche and William Duesbury first began a partnership to produce and market English china. Duesbury developed a new porcelain paste of glass frit, soap rock and calcined bone, which allowed the production of dinner services and figurines, for which the company became famous, receiving permission in 1773 by King George III to incorporate the royal crown into the Derby backstamp.
The company has gone through many ownership changes over the following years, finally closing in 1848. The company was reborn in 1877, again under new ownership, and the company entered the modern era with a brand new factory on Osmaston Road in Derby. The high quality and decorative patterns were hugely popular during the late 19th century with Queen Victoria appointing Crown Derby to be "manufacturers of porcelain to Her Majesty" in 1890.
The royal warrant granted them the title "Royal Crown Derby Porcelain Company." The company has always maintained its reputation for quality, which remains to this day.
While the various company backstamps used by Derby from the earliest days do help determine broad dates of production and the owners involved, those marks will be part of a future article. The markings referred to in this article are date code markings whose usage began at a much later date, starting in 1880. Like Minton, another well-known British porcelain maker, Derby used a symbol-based system to date code its wares from 1880 until 1937, as can be seen below.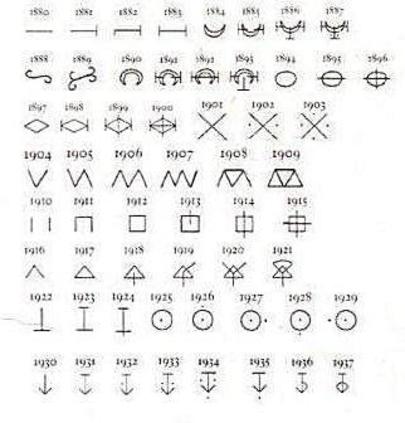 Beginning in 1938, Royal Crown Derby began using a different system, a series of Roman numerals, beginning with I for 1938 and carrying right through to today's date. To get a general idea, see the chart below.
| | |
| --- | --- |
| I-1938 | XII-1949 |
| II-1939 | XIII-1950 |
| III-1940 | XIV-1951 |
| IV-1941 | XV-1952 |
| V-1942 | XVI-1953 |
| VI-1943 | XVII-1954 |
| VII-1944 | XVIII-1955 |
| VIII-1945 | XIX-1956 |
| IX-1946 | XX-1957 |
| X-1947 | XXI-1958 |
| XI-1948 | XXII-1959 |
The exception for this system being for the year 2000, when the company used this stylized "Double MM" stamp. The two MMs are the Roman numeral for 2000. (see below)
As with most date code systems, they are easy to use with a little practice. The mark below is a blown up example of a date code symbol used by Derby. If you consult the chart above, you will be able to determine the date it was used and see just how simple it is to determine a production date (answer below).
What year was this mark used? If you determined the marking was used in 1906, you are correct.
Mike Wilcox, of Wilcox & Hall Appraisers, is a Worthologist who specializes in Art Nouveau and the Arts and Craft movement.
———————————
WorthPoint—Discover Your Hidden Wealth