Kids on Advertising Postcards: Merchants Knew that Children Can Help Make a Sale

by Bonnie Wilpon (06/12/12).
When I began collecting postcards, way back in the 1970s, I hunted for cards showing children. Ranging from inexpensive chrome images and real photo "instant ancestors" to pricier advertising cards, they represented a simple, happy time and never failed to make me smile.
In the days before sexy women and fast cars were used to catch our attention, many advertisements featured children. Smiling faces and beautiful little girls would make people look—even if the items being advertised had nothing to do with children. Here's a look at how children have been used in postcard advertisements over the years:
Haas Brothers Pontiac Service on East Pike Street in Jackson Center, Ohio used children's images on its postcards. The one above was used to thank folks for bringing their car in for service. Another more common card would show baby with his hands up to his head, worried that your car is overdue for servicing. Note the two-digit phone number. A "double-header" card, the Pontiac logo at the lower right makes this postcard attractive to auto collectors, too. (Value $3-5)
Seen as innocent and pure, companies hoped that using cute little faces would set our minds at ease about their honesty in advertising their products. After all, would a terrible lie come out of those sweet lips?
This pre-1963 postcard from Scenic Art in Berkeley, Calif., was printed with a blank back. Companies could buy them and take them to their own local printers to put their ads in the message area on the back. Frugal advertisers could have a rubber stamp made instead. (Value: $1-2)
Prior to mass-marketers such as Target and WalMart, most families didn't have the wherewithal to purchase fine art (or their reproductions) to hang on their walls. So advertising, printed with high quality lithography, could serve as decoration as well.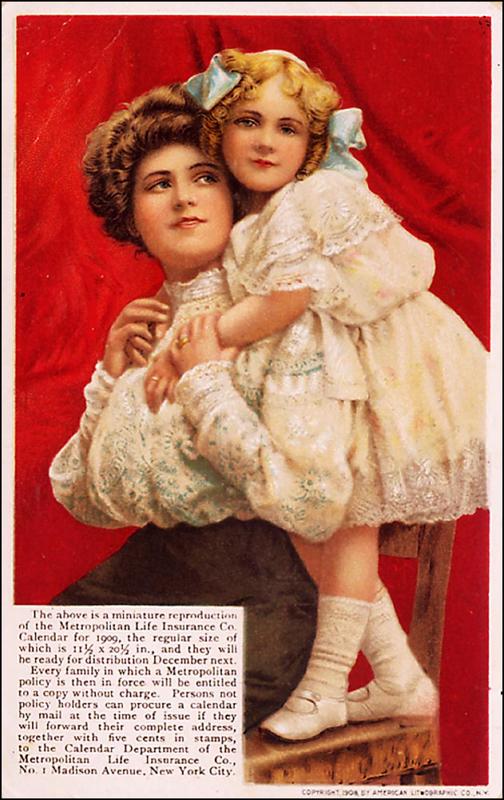 This beautiful image of a mother and her daughter was used for a large 1909 calendar produced by the Metropolitan Life Insurance Company. The postcard notes that every family with an active policy would receive a free copy. Others could buy the calendar for 5¢ worth of stamps. The subliminal message was clear: men of means must do their duty to protect their families from poverty by purchasing life insurance. (Value $6-8)
The Prudential Insurance Company used calendar postcards like this 1910 version, in the hope that households would keep the image hanging up in their homes all year… with the Prudential name conveniently displayed.
Like other companies, the miniature picture was a teaser for the larger version on calendars available to policy-holders free of charge. For the wealthy, this sweet scene may have called to mind their own children. As for the rest, well, what parents wouldn't aspire to having a well-dressed, innocent little girl like this… and the grand home that this image conjures up in the mind? (Value $7-10)
Food products often featured children in their ads. Plump, rosy-cheeked children were considered the picture of health. By association, the foods advertised must have made the little tykes look that way.
Nabisco's Cream of Rice Girl plaintively holds out her hands saying, "You'll like me." Who could resist? The sister to hot cereal to Cream of Wheat, it was developed for young babies as a first cereal, and for people who wanted (as noted on the back) "wheatless, meatless, economical meals." This very white image was a stark contrast to the iconic black man, Rastus, whose image was used to advertise Cream of Wheat. (Value $8-15)
A 1923 postcard ad for Post Toasties, dubbed the "improved corn flakes" from the Postum Cereal Co. in Battle Creek, Michigan. The smiling, red-cheeked Bobbie is "… well and happy and full of Post Toasties…" This happy, feel-good card makes me want to run right out and get a box for my children! (Value $8-15)
A curly-haired blonde boy is delivering "Pure, wholesome, delicious" Funke's chocolates and bonbons in his wheelbarrow, while wearing coveralls in front of a rural background evokes a Midwestern atmosphere on this pre-1915 card. The back side's message area shows that this card was mailed to retailers. Salesmen representing the Joseph B. Funke Co. of La Crosse, Wis., would fill in their names and show the dates they would be visiting stores in the area. (Value $3-7)
Born in February of 1939, the Badgett Quadruplets—Joan, Joyce, Jeanette and Jeraldine—became instant celebrities. Their mother had souvenir postcards made and sold them to tourists in their home town of Galveston, Texas. The blonde, blue-eyed girls used "Mrs. Paley's Baby Foods exclusively", according to the above Houston's Paley-Sachs Food Company card. The back side of this postcard is a coupon, exchangeable for a free glass jar of "the variety your doctor prescribes." The Badgett Quads are among the world's youngest celebrities used in advertising. (Value $7-10)
Prior to the 1950s, kids shown in advertising were attractive window-dressing for products aimed at their parents. As the years went on, children were shown as having ideas of their own. Today's ads show them with strong spirits as well, as advertisers often use kids to market to other kids. It's very effectively, as any parent walking with their child through a toy store will testify.
I love the sassy spirit of this little horn-player above… even if the dog is looking elsewhere. This Hong Kong's Esprit card—produced in 1997—personifies the international youthful, stylish clothing the brand manufactures. This continental-size Maxracks postcard from San Francisco can be found for less than $1, tucked in with the modern cards at postcard shows.
Sometimes it's just that grin that captures your attention and makes you smile! And the "How About That?" caption expresses complete confidence that the early 1950s Electrobrain does exactly what it's supposed to do. Made by Surge Dairy Farm Equipment for pipe line milking, the High Velocity Electrobrain Pipe Line Washer '"does the whole job while you're out in the fields or in for supper… at the push of a button." (Value $1-4)
You've got to admit it, these ads made you look!
Bonnie Wilpon, the author of "Postcard History of Sarasota and Bradenton, FL," and "Postcard History of Hollywood, FL." (published by Arcadia Books), is a Worthologist who specializes in postcards.
————————————–
WorthPoint—Discover Your Hidden Wealth