McDonald Pioneer Blade & Tomahawk Earn 'Knife of the Year' Honors

by Ron Stepp (10/30/12).
The image of our earliest "American sportsman" is unmistakable: Clad in buckskin, Kentucky rifle in the crook of his arm, looking west, straining to see just over the horizon. This is our heritage, pure Americana.
Names like Boone, Crockett and Bridger set the stage for the latest "Knife of the Year" project at Sporting Classics. Join us as we turn back the pages of time.
At their shop in Hillsboro, Ohio, Rich and Jeanne McDonald have recreated some of the finest early American pieces on the market today. Inspired by his love of history, Rich meticulously forges faithful reproductions of the knives, axes and guns carried by our forefathers.
Rich has been forging knives since 1994 and is a member of the prestigious American Bladesmith Society. Jeanne designs and handcrafts all the leather goods and accouterments that compliment her husband's creations.
Because of their fine craftsmanship, the McDonalds have been commissioned to create the beautiful and timeless "Rifleman's Knife and Tomahawk" for Sporting Classics' Knife of the Year line.
The Rifleman's Knife would have been an essential piece of equipment for early hunters, trappers and explorers. Likely forged by a frontier blacksmith or gunsmith, it would have filled a variety of duties in camp or in the woods.
True to the original, the McDonald Rifleman's Knife features a seven-inch blade forged from 1084 carbon steel and a handle of highly figured curly maple. A forged iron guard, ferrule and butt-cap finish off the knife in grand style. The blade, handle and guard have that warm patina that suggests years of use. The sheath is skillfully crafted of aged, vegetable-tanned leather and is designed to be worn on the off-side, making it comfortable whether the wearer is on foot, in the saddle or paddling a canoe.
The Tomahawk, or belt-axe, is smaller and lighter than the traditional camp axe. Favored by the longhunter, it would have been used for light chopping, constructing a shelter, quartering large game and, if the need arose, as a formidable weapon.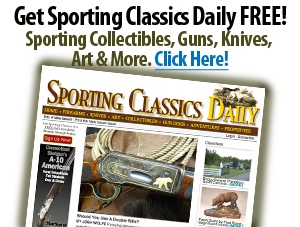 Reflecting an 18th-century design, the Tomahawk's trim, graceful lines and light weight (just over a pound) belie its efficiency. It's forged from tough 4140 carbon steel and showcases the same patina that's on the knife. The axe head measures 6½ inches from hammer pole to cutting edge, and the haft is 18 inches of hand-rubbed curly maple.
With its blade guard of buttery smooth, aged leather, you'll be ready to shove this beauty under your belt or tote it in your waist sash.
Only 75 knives and tomahawks will be crafted, each struck with the maker's "RM" on the face side and "SC 1/75" on the reverse side.
The Rifleman's Knife and leather sheath sells for $435. The Tomahawk with blade guard is $350. They can be purchased individually or as a set, which retails for $750. Add $10 for shipping and handling. For more information about this offer, call 800.849.1004
True to the legend of our storied hunters, the Sporting Classics Rifleman's Rifle and Tomahawk are tough enough to be used, yet beautiful enough to grace any collection and spark untold stories of past adventures.
Ron Stepp has been dealing in knives since the early 1970s. After more than 30 years, thousands of miles, hundreds of shows and knife deals without number, his fascination with blades still exists.
To receive your FREE subscription to Sporting Classics Daily, click here. This online publication will provide you with timely news and stories concerning the outdoor industry as well as classics from the pages Sporting Classics Magazine.
———————————
WorthPoint—Discover Your Hidden Wealth