From Mother's Day Plates to Hermès Scarves, Harry Rinker Knows

by Harry Rinker (05/06/09).
Editor's Note: Harry Rinker gets lots of questions about art, antiques and collectibles. And you can always rely on him to supply interesting and informative answers. Here are a few recent ones, including a very timely question about Mother's Day plates.
QUESTION: I have the complete Norman Rockwell Mother's Day series consisting of 18 plates manufactured between 1976 and1993. They were made by Knowles China. They are in the period boxes and have their certificates of authenticity. I inherited this collection from my grandmother and have been storing them for years. I just went through every box to make certain they are still perfect. They are. I want to sell the entire collection. Do you have any suggestions?—LC
(If you'd like to learn more about items in this story—except for the Thrasher painting—click on the images.)
ANSWER: You waited too long. You should have sold them when you first acquired them. The Norman Rockwell secondary resale market is flooded, thanks in large part to eBay. Most of today's young collectors have no idea who Norman Rockwell is nor do they care.
You are correct in assuming your best approach is to sell the collection as a group. Value rests in the first and third plate in the series. For whatever the reason, the third plate is difficult to find. One direct-sale Web site listed it at $130. The vast majority of the plates in the series lists between $20 and $25.
My recommendation is that you sell the series to a dealer who specializes in Norman Rockwell material. Two recommendations are the owners of Rockwell Plates.com (Liz Duda, PO Box 567, Farmingdale, NY 11735 / collecting@rockwellplates.com) and The Glass Menagerie (Glass Menagerie Antiques & Collectibles / service@glassmnagerie.com).
What should you ask? At $5 per plate, the answer is $90. At $10 per plate, the number jumps to $180. The series will sell easily at $90—$180 is pushing the envelope.
Your other alternative is to offer the set on an Internet auction. Start it at $75. Collectors who need the third plate in the series should drive the bidding past the $75 point. Make certain to deduct the selling fees when envisioning your profit.
QUESTION: I own "Moss Landing," a signed and numbered print by Virgil Thrasher. I cannot seem to find anything out about the artist or the value of his works. Can you help?—L.H.
ANSWER: Virgil Thrasher was born in Sacramento, Calif., in 1943. A self-taught artist, he exhibited for the first time in 1963 in Monterrey, Calif., and has shown in numerous California galleries since then. A listing on craigslist notes: "Mr. Thrasher . . . combines art painted on glass scenic background to give a neat dimensional effect." Yours may be a very early, starving-artist "boardwalk" piece.
Several auction references to Thrasher prints, most of which were numbered and appear to be scenes along the California coast, can be found on the Internet. Secondary-market values ranged from $25 to $125. Internet art galleries ask $250 plus.
A Thrasher print has more decorative than collector value. Values would be higher in California and along coastal areas, the subject matter appealing to those decorating homes in these regions.
I recommend thinking $50 or less. This assumes your print is nicely matted and framed. If not, cut the value by half.
QUESTION: I bought a Hermès shawl in the Beverley Hills Hermès store during the 1970s. Labels were "not in," so I took the label out. Now I want to sell it and have hit a brick wall trying to authenticate the shawl. I contacted Hermès, locally and in Paris— nothing but silence on both fronts. I am frustrated because I know I bought it along with some Amazon perfume as a present for my mother. Is there an archive of Hermès catalogs? Hermès items sell for quite a bit of money on the Internet. I do not want to donate it or let the moths eat it. What help can you provide?—G A-L
ANSWER: Thierry Hermès (1801-1878) established Hermès as a harness workshop in Paris in 1837. Gaining a reputation as saddler and harness makers to Asian, American, European, North African and Russian elites, Hermès introduced its first "haut à courroies"(high belt) bag in 1900. A line of leather clothes was introduced between 1914 and 1918. The famous Hermès scarves joined the line in 1937.
Hermès entered the American market in the early 1960s when Neiman Marcus stores offered its silk ties. Hermès began opening its own brand-name stores in Europe, Japan and the United States in the early 1970s. By 1978, U.S. sales topped $50 million.
I am unaware of any Hermès archive, company or otherwise, and am not surprised that you failed to receive a response to your inquiries. A company archivist and archives is a luxury in which few corporations indulge.
Pin down when within the 1970s you purchased the shawl. Once you have narrowed the time period, ask your local reference librarian to help you locate a run of high-end period fashion magazines. If the gods are gracious, you will find a Hermès advertisement that pictures your shawl. Also, Hermès' reputation is based on its use of all natural products. Your shawl must reflect this.
Spend a few months tracking the sale of 1970s Hermès shawls on the Internet. Again, if the gods favor you, you will find an identical example with the label still intact. Capture the information, and put it with your shawl.
You need to trust Internet buyers to do what is right and be competitive. Vintage Hermès buyers know their market. Provide plenty of photographs. Tell your story, keeping it brief. All you need are two individuals who believe your story and want the shawl.
Finally, any money is more money than you have. Do not be greedy, and decide to sell only if you receive top dollar. If you no longer have any use for the shawl, sell it, and get it into the hands of someone who will wear it.
——————————————————————————————————————————————
Rinker Enterprises and Harry L. Rinker are on the Internet. Check out his Web site.
You can listen and participate in "WHATCHA GOT?," Harry's antiques-and-collectibles radio call-in show on Sunday mornings between 8 a.m. and 10 a.m. Eastern Time. It also streams live on Genesis Communications Network.
"SELL, KEEP OR TOSS? HOW TO DOWNSIZE A HOME, SETTLE AN ESTATE, AND APPRAISE PERSONAL PROPERTY" (House of Collectibles, an imprint of the Random House Information Group), Harry's latest book, is available at your favorite bookstore and via Harry's Web site.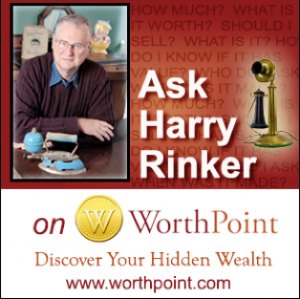 Do you want to know what Harry thinks about toys—to play with them or not? Find out in this week's "Ask Harry Rinker on WorthPoint."
—————————————————————————————————————————————
Harry L. Rinker welcomes questions from readers about collectibles, those mass-produced items from the 20th century. Selected letters will be answered on this site. Harry cannot provide personal answers. Photos and other material submitted cannot be returned. Send your questions to: Rinker on Collectibles, 5093 Vera Cruz Road, Emmaus, PA 18049. You also can e-mail your questions to harrylrinker@aol.com. Only e-mails containing a full name and mailing address will be considered. Please indicate that these are questions for WorthPoint.
WorthPoint—Discover Your Hidden Wealth