Q & A with Harry Rinker: 1930s Boy Scout Neckerchiefs, Ingot Paperweight

by Harry Rinker (12/18/12).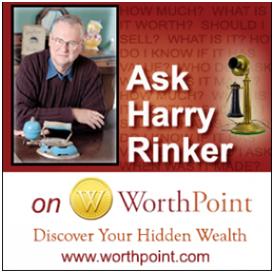 QUESTION: I have four Boy Scout neckerchiefs. The first two are from the 1937 National Jamboree held in Washington, D.C. They are mostly dark blue with white edges. The second two are from a 1939 Boy Scout Service Corps camp at the New York World's Fair. They are mostly blue with orange edges. All are in excellent condition. What is their value?
– BA, via e-mail
ANSWER: After cancelling an earlier Jamboree in 1935 because of a polio epidemic health scare, the first National Jamboree of the Boy Scouts of America was held in Washington, D.C. from June 30 to May 19, 1937. Some 27,232 Scouts, Scoutmasters and other Scouting officials representing 536 councils attended the event. The grounds surrounding the Washington Monument and the Tidal Basin housed the event. President Franklin D. Roosevelt and Lowell Thomas were among the celebrities who attended.
Author's Aside: I was one of the more than 52,000 individuals who participated in the fourth National Jamboree held at Valley Forge from July 12, 1957 to July 18, 1957. I represented the Minsi Trails Council, headquartered in Bethlehem, Pa.
An Internet research attempt to find information about a 1939-1940 New York World's Fair Boy Scout Service Corps camp failed. I did find more than a dozen Google listings for a 1964-1965 New York World's Fair Boy Scout Service Corps. I also discovered an eBay listing for a 1933 Century of Progress Boy Scout Service Corps neckerchief, suggesting a precedent for this type of service.
The 1937 National Jamboree neckerchief came in two colors—red and blue. A pair, one of each color, is listed on eBay with a "Buy It Now" price of $200. Another eBay seller has a red example listed with a "Buy It Now" price of $119.99. Since none of these neckerchiefs sold through, think $75 to $90.
EBay has several listings for a 1964 World's Fair Boy Scout Service Corps neckerchief. The asking price for the latter ranged from $35 to $50. The asking price for the 1933 Boy Scout Service Corps neckerchief mentioned earlier was more than $1,000. Given the crossover collectability, Boy Scout and World's Fair, and the scarcity of the neckerchief versus one from a National Jamboree, even the first one, the value for a single example is likely to exceed $250.
—————————————
QUESTION: In the 1970s, I acquired a metal ingot that measures 3 ½ inches by 2 ½ inches The top reads: "SOUVENIR OF / FIRST HEAT / SAMSON (in a triangle) / AUG. 24, 1920." The date might be 1924. The last digit is hard to read. Samson tractors were made at a GM plant in Janesville, Wis., between 1920 and 1923. This is why I favor the 1920 date. What do I have?
– B.B., Janesville, Wis., via e-mail
ANSWER: Given the size of the ingot, the most logical conclusion is that you own a souvenir paperweight.
Samson Iron Works in Stockton, Calif., began making farm tractors around 1900. In 1916, the company became the Samson Tractor Company, a year later changing its name to Samson Sieve-Grip Tractor Company. In a desire to enter the tractor market, GM purchased the company in 1917. A year later, GM bought the Janesville (Wis.) Machine Company and decided to concentrate its tractor manufacturing at that location. Production in Stockton ceased in 1919. The Janesville plant became the Samson Tractor Company Division of General Motors.
GM entered the tractor market to compete with Ford's Fordson Model F tractors. Initially, the Samson Model M competed well. However, when forced to raise the price to cover production costs, buyer interest in Samson tractors decreased. GM abandoned the farm tractor market in 1923. GM also built a small number of Samson trucks and one prototype Samson automobile at the Samson Janesville plant.
I recommend a trip to the Janesville Public Library to spend an hour scanning the newspaper archives around the Aug. 24, 1920 and Aug. 24, 1924 dates. Start with Aug. 24, 1920. A tractor event involving Samson tractors, whether a pull or race, should have resulted in several before and after the event articles. If lucky, you may find a reference to the paperweight.
Your paperweight has multiple crossover collectible values—advertising paperweight, tractor, GM, and Janesville (local/regional). When this happens, value depends on the buyer. Your Samson tractor paperweight's minimum value is between $100 and $125.
—————————————
QUESTION: I own an ash wood, octagonal border Crokinole game board. The inner playing circle measures 25 ½ inches across. The maximum width is 29 inches. I have eight pegs but the playing pieces are missing. The board is in very good condition. What can you tell me about the history of the game and the value of my game board?
– JN, University Park, Pa., via e-mail
ANSWER: Eckhardt Wettlaufter of Perth County, Ontario, Canada, is credited with making the first Crokinole game board in 1876. Although the game is reputed to have Amish or Mennonite roots, there is no proof of this assertion. Joshua K. Ingalls of New York City obtained an American patent for the game on April 20, 1880. In an age when religious groups viewed dancing and other form of play as the Devil's work, Crokinole was allowed because it was an innocent pastime.

Historically, the size of the Crokinole game board varied. The board featured three ring lines and a center hole. Typically, the diameter of the outer ring was approximately 27 inches. A disc resting in the outer ring earned 5 points, the middle ring 10 points, the inner ring 15 points, and the center hole 20 points. Eight pegs guard the center hole known as the Toad. There are 24 discs, four sets of six, each set a different color.
A Crokinole renaissance occurred in the 1990s. The first "World Crokinole Championship" was played in Tavistock, Ontario, Canada in 1999. In 2005, the Chinese began their Crokinole championship tournament in Dalian. The good news is that you will have no problem acquiring replacement disks if you wish to play Crokinole using your game board.
Modern Crokinole game boards are available for under $25. Deluxe game boards list between $125 and $150. Custom Crokinole game boards start at $200 and go up from there.
Since your Crokinole board is unmarked and you provided no information about family history or age, it is difficult to assign a value. A "vintage" 27-inch Bentley wooden Crokinole game board with pieces sold through on eBay on Nov. 25, 2012 for $79.95. A pair of 1950s mass-produced Crokinole and Carrom game board with their period boxes realized between $35 and $45, respectively.
I found the picture that accompanied your e-mail in support of an eBay listing. The asking price of $249 was not realized. The seller suggested a possible maker's attribution as Brantford Novelties Supply Co. Is this your board?
A realistic secondary market value for your Crokinole game board is between $50 and $65.
—————————————
QUESTION: I have an American Flyer, boxed, #1432, passenger train set. This pre-war set features a deep green Model 4000 locomotive, a No. 4040 mail car, an "American" coach car, track and a transformer. The box is in good to very good condition. What is it worth?
– J, Sedalia, Mo.
ANSWER: According to David Doyle's "Standard Catalog of American Flyer Trains" (Krause Publications, an imprint of F+W Publications, 2007), American Flyer made four variations of its wide-gauge, electric 4000 locomotive between 1925 and 1927. The standard model was 14 ½-inches long and painted a shade of dark green. Type I was painted in a medium green, Type II in orange and Type III in maroon. The standard 4040 mail and baggage car was maroon in color. The Type IV variation had dark green sides and roof. The "American" was a Pullman type car, again with maroon the standard color. The Type IV variation had dark green sides and roof.
Doyle does not provide set or box values for wide-gauge listings. Using his C-7 values as a guide for the locomotive and two passenger cars, their total book value is $450. The track, transformer, and box add another $100 to $150. Hence, a box price is between $550 and $600.
Auction Flex featured an American Flyer wide gauge, 1432 boxed train set that sold through for $431.25 at Bertoia Auctions in November 2009. WorthPoint.com lists an identical box set that realized $375 on eBay on December 8, 201l. These values are examples of how field prices can and do differ significantly from book values.
Given the above, your American Flyer wide gauge 1432 set has a realistic secondary market value between $350 and $400.
—————————————
Rinker Enterprises and Harry L. Rinker are on the Internet. Check out Harry's Web site..
You can listen and participate in Harry's antiques-and-collectibles radio call-in show "Whatcha Got?" on Sunday mornings between 8 a.m. and 10 a.m. Eastern Time. It streams live on the Genesis Communications Network.
"Sell, Keep Or Toss? How To Downsize A Home, Settle An Estate, And Appraise Personal Property" (House of Collectibles, an imprint of the Random House Information Group), Harry's latest book, is available at your favorite bookstore and via Harry's Web site..
Harry L. Rinker welcomes questions from readers about collectibles, those mass-produced items from the 20th century. Selected queries will be answered on this site. Harry cannot provide personal answers. Send your questions to: Rinker on Collectibles, 5955 Mill Pond Court SE, Kentwood, MI 49512. You can e-mail your questions to harrylrinker@aol.com. Only e-mails containing a full name and mailing address will be considered. Please indicate that these are questions for WorthPoint.
Copyright © Rinker Enterprises, Inc. 2012
WorthPoint—Discover Your Hidden Wealth