Q & A with Harry Rinker: American Flyer Defender Train Set, Hummel Candleholder

by Harry Rinker (07/05/12).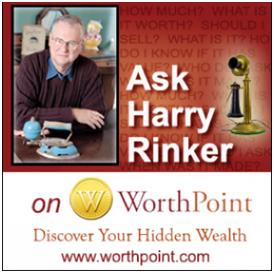 QUESTION: I own an American Flyer Defender #20625 electric train set in its period box. What can you tell me about it?
– M., Vera Cruz, Pa.
ANSWER: The American Flyer "The Defender" freight set #20625 was sold in 1960. The 1960 American Flyer catalog describes the set as: "Exciting, colorful and as up-to-date as Cape Canaveral! C & O Locomotive hauls new AUTOMATIC MOTORIZED ROCKET SLED with PILOT EJECTOR, a new ELECTRONIC ROCKET LAUNCHER CAR, a new JET ENGINE TRANSPORT CAR and a new ROCKET FUEL TRANSPORT CAR. Powerful locomotive has AUTOMATIC RINGING BELL that clangs when train enters and leaves station slowly. HEADLIGHT, PULL-MORE POWER, WORM-DRIVE MOTOR and FULL REMOTE CONTROL OPERATION complete this great set… MOTORIZED ROCKET SLED jets along at lightning speed. Pilot ejects automatically…" The set included a 50-watt transformer, 12 sections of curved track, 2 straight tracks, two power clips, and an uncoupler. If purchased separately, the individual pieces cost $78.33. The suggested retail price for the set was $49.98.
In 1959, American Flyer also issued a "Defender" Rocket Train. This unit had a jeep transport car, a detonator car, a rocket launcher car, a floodlight car, and caboose. It also had a suggested retail price of $49.98.
An American Flyer Defender Set #20625 without its box recently sold on eBay for $177.50. However, the jet engine transport car was a reproduction, two cars were restored and the pilot and ejection spring were missing from the rocket sled car. A rocket sled car in very good condition brought $46 on eBay. I was not able to find a sale listing for a complete #20625 set. However, in February 2006, Stout Auctions sold a complete #20525 set for $1,250.
David Doyle's "Standard Catalog of American Flyer Trains" (KP, an imprint of F+W Publications, 2007) places a book value of $2,000 on the #20625 Defender set in C7 (excellent) condition. His book value on the #20525 Defender set in C7 condition is $2,100.
Although toy train sets from the late 1950s and 1960s represent one of the strongest segments of the present toy train market, prices have declined during the past decade. A realistic secondary market value for your set in very good condition is between $750 and $850.
—————————————
QUESTION: I have what appears to be a Goebel Hummel candleholder figurine. It is a young girl holding a bouquet of nosegay. The bottom is marked with "MeL 1" and the early incised Goebel crown mark (Mark #1). Next to the top of the left shoulder of her dress is a white spot in the middle of one of her orange polka dots. There are two raised bubbles, one the size of a pin head and the other smaller, beneath one of her arms toward the back of her dress. There are a few other minor defects. On the bottom is a very faint pencil marking. It looks like someone wrote three numbers, possibly 540, 390 or 340. What can you tell me about her?
– C., via e-mail
ANSWER: The drawings of Sister Maria Innocentia Hummel, O.S.F., first appeared in the early 1930s on postcards printed by Ars Sacra, a Swiss art publisher. On January 9, 1935, Sister Maria Innocentia Hummel signed an agreement with W. Goebel Porzellanfabrik that gave the company the exclusive right to manufacture figurines bearing the name "I. M. Hummel." The first figurines were introduced at the 1935 Leipzig Spring Fair. The figurines quickly established a following, including German immigrants living along America's east coast.
Goebel produced three advent candleholder figurines, known as the Hummel Trio, based on drawings by M. I. Hummel in late 1939. Reinhold Unger was the sculptor. Sister Hummel's convent did not approve the molds for release. Hence, "M. I. Hummel" does not appear on the round base. Instead, Goebel marked the bottom "MeL," representing the last three letters in Hummel, and the number 1, 2, or 3. The "MeL" figurines were sold only in Germany. Goebel factory records indicated that eight different "MeL" figurines were produced.
In the early 1950s, Gerhard Skrobek, a master sculptor at Goebel, redesigned the Hummel Trio figurines. They were eventually released as HUM 115 (Advent candlestick Girl with Nosegay), 116 (Advent candlestick Girl with Fir Tree), and 117 (Advent candlestick Boy with Horse.)
Sellers of "MeL" pieces suggest they are the "holy grail" of Hummel figurines. While this may be the case, how viable is the secondary market? The Hummel collecting community is graying. Young collectors, attracted largely by the deep reduction of prices for common pieces, are not interested in the high-ticket pieces. Hummel figurines are no longer viewed as investment-grade collectibles. There is little to no prospect of this changing in the years ahead.
Book prices found in Hummel price guides do not reflect the current secondary market. Several Hummel price guides have not been revised in over 10 years. Robert Miller's "M. I. Hummel, 10th edition," recognized primarily as a market prop for dealer pricing, was published in 2006. A standard rule of thumb in determining the 2012 market value for a Hummel figurine is to cut Miller's values by two-thirds to three-quarters.
Heidi Ann von Recklinghausen's "The Official Hummel Price Guide: Figurines & Plates" (KP, an imprint of F+W Publications, 2010) is the most recent Hummel price guide. She offers this comment about the "MeL" figurines: "The original models were made with the 'Mel' prefix followed by 1, 2, and 3 for 115, 116, and 117, respectively. These were prototypes, but many apparently got into the market. These pieces tend to sell for $300-$350 apiece." Like all printed price guides, Recklinghausen's prices need to be field-checked against sell through pieces on eBay to arrive at the percentage by which the book prices must be cut to reflect market reality.
WorthPoint lists a March 2, 2008 eBay sale for an Advent candleholder Girl with Nosegay that closed at $150.99. WorthPoint also contains an eBay listing for a "MEL 3…Goebel Figurine ADVENT CANDLESTICK BOY WITH HORSE: 1939" with minor damage that sold for $40. These prices are significantly lower than book prices.
A realistic secondary market value for your "MeL 1" Hummel figurine is between $100 and $125.
—————————————
QUESTION: I bought an old frame containing a print of a painting of a rural scene featuring an elderly man holding a lamb and a walking stick. It reminds me of a scene in "Heidi," the 1937 film starring Shirley Temple. The artwork is signed "W. A. Carson ©." The back of the frame has a label noting a cost of $4.90 and "Chicago Portrait Company, Chicago, Illinois." I would like to know more about my antiques shop find.
– T.M., Solomon, Ariz.
ANSWER: William A. Carson (1867-1949) spent his early childhood in Colorado. A self-taught artist, he lived in Iowa, Illinois and California. Carson did a number of images for the Chicago Portrait Company, which used the prints as an enticement to buy the company's frame. I found several Internet queries from individuals who discovered Carson prints behind family photographs housed in Chicago Portrait Company frames.
Value is in the frame, not the print. I did find one eBay sale for a Carson landscape print in a Chicago Portrait Company frame that closed at $61. The listing did not contain an image, hence I was not able to evaluate the aesthetic quality of the frame.
My advice is to think conservatively. The print outside the frame is not worth more than a few dollars. If the frame is aesthetically pleasing and the print in fine or better condition, the unit has a value around $25.
—————————————
ADDITIONAL INFORMATION: Several columns ago, I answered a question about a tin Edgemont Crackers box that was marked on the bottom "Green & Green Co. / Dayton, OH / © 1924 GNT." I found only minimal information about Green & Green on the internet. Thanks to the research efforts of Gwenyth Goodnight Haney, Community Collections Manager of Dayton History, I now can provide a more detailed Green & Green Company history.
Green, Green & Company, a manufacturer of crackers and cakes, originated in Chicago in 1896. The company's name first appears in the 1897-1898 Dayton City Directory as a manufacturer of the "Dayton Cracker." J. (John) W. Green is listed as the manager. A year later, Green, Green & Company ceased its Chicago operations. "Green and Green" was incorporated in December 1906. Weston Green, one of John's sons, became president/general manager and Joseph W. Green, another son became secretary-treasurer. The company's offices and manufacturing facility were located at 134, 136, 138, and 140 North Main Street.
According to Business Men of Dayton 1905-1906, which contains a biography of Weston Green, "In addition to the staple goods manufactured by Green, Green, & Company, several specialties are carried, chief among which are the Dayton cracker, the Flag cracker, and a popular line of sugar wafers…." A fire gutted the Green, Green & Company plant in spring 1905 (possibly 1904). The firm recovered and was back in production in a few months.
Green & Green Company appeared for the last time in the 1929-1930 Dayton City Directory. In the 1931 directory, Joseph W. Green appears as president of the American Manufacturing Company and manager of Loose-Wiles, which later became the Sunshine Biscuit Company.
—————————————
Rinker Enterprises and Harry L. Rinker are on the Internet. Check out Harry's Web site..
You can listen and participate in Harry's antiques-and-collectibles radio call-in show "Whatcha Got?" on Sunday mornings between 8 a.m. and 10 a.m. Eastern Time. It streams live on the Genesis Communications Network.
"Sell, Keep Or Toss? How To Downsize A Home, Settle An Estate, And Appraise Personal Property" (House of Collectibles, an imprint of the Random House Information Group), Harry's latest book, is available at your favorite bookstore and via Harry's Web site..
Harry L. Rinker welcomes questions from readers about collectibles, those mass-produced items from the 20th century. Selected queries will be answered on this site. Harry cannot provide personal answers. Send your questions to: Rinker on Collectibles, 5955 Mill Pond Court SE, Kentwood, MI 49512. You can e-mail your questions to harrylrinker@aol.com. Only e-mails containing a full name and mailing address will be considered. Please indicate that these are questions for WorthPoint.
Copyright © Rinker Enterprises, Inc. 2012
WorthPoint—Discover Your Hidden Wealth