Q & A with Harry Rinker: Beverly Depression Glass, Batman & Robin Drawing

by Harry Rinker (11/26/12).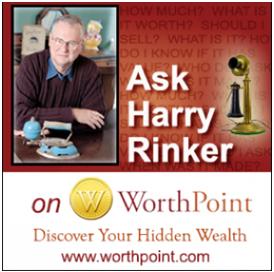 QUESTION: I inherited a collection of Beverly Depression glass. What can you tell me about its history and value?
– L., Modesto, Calif.
ANSWER: Fostoria's Beverly is an etched Depression glass pattern that is classified by collectors as "Elegant."
The Fostoria Glass Company produced pressed, molded and hand-molded glass and tableware. Initially located in Fostoria, Ohio, it moved to Moundsville, W.V. in 1891. After enjoying a period of prosperity from the mid-1920s through the early 1930s, the company struggled during the Great Depression and the Second World War. Production peaked in the 1950s when more than eight million pieces of glass were sold.
Fostoria introduced Beverly around 1927. EBay Beverly listings include pieces in amber, clear and green. Beverly was made in a full line of dinnerware, stemware and table accessory forms. EBay sellers offered candlesticks, cracker plates and ice buckets in addition to dinnerware and stemware.
The collectors' club is the Fostoria Glass Society of America, which has a museum located at 511 Tomlinson Avenue, Moundsville, W.V. The club holds an annual convention and elegant glass show and sale in Moundsville in June of each year. The club has local chapters in Pennsylvania, Tennessee, Texas and West Virginia.
Asking and book prices range from $7.50 to $10 for basic table setting pieces to $20 to $25 for stemware. Green appears to command a higher price than amber, which commands a higher price than clear when valuing forms. Auction and field prices are lower by 50 percent or more.
The ideal approach to disposing of your Beverly Depression glass collection is to take it to the Fostoria convention in Moundsville. Since Moundsville is a long way from Modesto, Calif., my next suggestion is to check the National Depression Glass Association's website to see if there is a regional Depression glass show near you. I checked the October through December 2012 calendar and failed to find one. Consider e-mailing the Association and asking. There is an International Depression Glass Club in Sacramento.
The secondary Depression glass market is depressed. My final suggestion is to find an auctioneer, ideally in the Midwest, and let him/her sell your collection. If a private buyer expresses an interest, insist the person buy the full collection rather than select pieces.
Remember, at the moment, the collection in your home is worthless. You have no use for it. Any money is better than no money. Once sold, you no longer are faced with the "what to do with it" issue.
—————————————
QUESTION: My step-grandfather Dick Sprang drew Batman and Robin comics. When I was 6 years old (1947), he drew a personalized picture of them. I would like to insure it. What is it worth?
—J.McL., via-email
ANSWER: Richard W. "Dick" Sprang (July 28, 1915 to May 10, 2000) gained fame as a freelance illustrator for pulp comics. When World War II broke out, DC Comics became concerned that Batman creator Bob Kane would be drafted into the Army. Sprang was hired to work on Batman in 1941. His first published work was Batman #18 (August/September 1943). He continued working on Batman comics for the next 20 years. He is credited with the 1948 Batman redesign.
Personalized cartoon character sketches, such as the one you own, sell in the $250 to $350 range. However, given the personal connection, add another 20 percent.
There is no need for you to buy a fine arts rider to your home insurance policy. Your sketch is covered within the terms of most standard policies.
—————————————
QUESTION: I have a 12-inch-high urn-shaped vase with two handles that features an off-white body and floral pattern. The bottom is marked "Tuscan Decoro Pottery / England." What is its value?
– C, Reading, Pa.
ANSWER: Although Italian in style, Tuscan Decoro Pottery was not made in Italy. R. H. & S. L. Plant, Ltd's Tuscan Works, located on Forristers Street in Longton, Stoke-on-Trent, England, made the pottery. Although the company was founded in 1898, it manufactured Tuscan Decoro between 1933 and 1934.
Forms in the line included bonbon dishes, candleholders, dressing table sets, ewers, fruit bowls, jugs, night light holders, plates, posy baskets, bowls and troughs, salad dishes, tea and coffee pots, urns and associated tableware accessories. The body usually was decorated in a pastel color with decorative elements favoring flowers such as African violets, anemones, dahlias and roses. Later pieces utilized darker colors and intertwined leaves and vines into the decoration. The standard marking is "DECORO HAND PAINTED IN ENGLAND" on the base. The two numbers on the bottom following the "D" indicate the shape (first number) and pattern (second number.)
Although collected on a limited basis in the United States, Decoro Pottery and Tuscan Decoro Pottery has a strong following in England. In 2008, Malcom and Jan Anderson self-published "Tuscan China and Decoro Pottery: A History of the Plant Family of Potters."
Do not confuse Tuscan China, also produced by R. H. S. L. Plant, Ltd., with Tuscan Decoro. More than 30,000 patterns of crested ware, dinner sets, figurines, nursery sets, ornaments and tea and coffee sets bear Tuscan China marks.
When researching value, use ebay.co.uk as opposed to the U.S. eBay platform. In England, where demand is stronger, baskets, ewers, and urns sell between $15 and $25. Although mall and show dealers ask these prices in the United States, Tuscan Decoro pieces sell at auctions, flea markets, and on the internet between $5 and $10. Most ceramics dealers think of Tuscan Decoro as garage sale fodder and do not carry it.
—————————————

QUESTION: I acquired a 1999 Disney American Heroes framed print from a Cincinnati online auction for $67. The image features Mickey dressed as a fireman and Pluto heading to fight a fire. The background includes a fire truck and a rural, one-bay red firehouse. The print is not numbered but limited to 1,500 prints and 150 artist proofs. This is one of the limited prints. The frame measures 17 inches by 20 inches. The mat opening is 9 inches by 12 inches. It has a certificate of authenticity. I would like to sell it. What is a fair retail price?
– R.S., Cincinnati, Ohio
ANSWER: My father often told me: "don't believe everything you see." Applying this to today's Internet, the correct approach is "don't believe everything you find." An eBay seller is offering the same print for a "Buy It Now" price of $550, which includes free shipping. At that price, the shipping should be free.
The eBay seller claims that the print—actually a serigraph cel—is "VERY RARE to see for resale." He bought it at a Disney store. How rare can it be? You just acquired a second example.
Peter Emerick, one of the successors to Disney artist Charles Boyer, designed the cel and the background. The image is based on "Mickey's Fire Brigade," a 1935 cartoon. The certificate reads: "The Walt Disney Studios has created the character image using the fine art screen-printing process of color reproduction known as serigraphy. Disney artists, working from Mr. Emerick's original layout drawing specially created a hand-inked, hand-painted animation cel master which was used as a reference in the production of these sericels."
Read the words closely. This is not Emerick's original. It is a reproduction, an exact copy, done by skilled copy draftspersons. Simply stated, it is an assembling line product produced by one of a dozen unacknowledged studio artists. It is not art. It is a hang-it-on-the-wall reproduction.
Assuming Disney sold all 1,650 examples of this serigraph cel, more than 95 percent still survive. Buyers had stars (in this case, future profits) in their eyes when buying it. It was a "valuable" piece of art.
I was not able to determine the serigraph cel's initial purchase price. Given who sold it and where it was sold, it most likely was more than $150. A person considering paying the eBay sellers' $550 should think twice and decided not to do it. You proved that with enough patience, it is possible to find one for sale for under $75.
Retail value depends on how quickly you want to sell your American Heroes serigraph cel. It should sell quickly in the $80 to $100 range. While it might sell for $150, it will take longer. Of course, you can list it on eBay for $250. A buyer will gladly pay your price when comparing it to the $550 asked by the other seller. Perhaps that seller will buy your example to protect his vision of the market.
The positive is that the serigraph cel is Disney and has a Mickey Mouse theme. As such, it makes a nice wall hanging and conversation piece.
—————————————
Rinker Enterprises and Harry L. Rinker are on the Internet. Check out Harry's Web site..
You can listen and participate in Harry's antiques-and-collectibles radio call-in show "Whatcha Got?" on Sunday mornings between 8 a.m. and 10 a.m. Eastern Time. It streams live on the Genesis Communications Network.
"Sell, Keep Or Toss? How To Downsize A Home, Settle An Estate, And Appraise Personal Property" (House of Collectibles, an imprint of the Random House Information Group), Harry's latest book, is available at your favorite bookstore and via Harry's Web site..
Harry L. Rinker welcomes questions from readers about collectibles, those mass-produced items from the 20th century. Selected queries will be answered on this site. Harry cannot provide personal answers. Send your questions to: Rinker on Collectibles, 5955 Mill Pond Court SE, Kentwood, MI 49512. You can e-mail your questions to harrylrinker@aol.com. Only e-mails containing a full name and mailing address will be considered. Please indicate that these are questions for WorthPoint.
Copyright © Rinker Enterprises, Inc. 2012
WorthPoint—Discover Your Hidden Wealth