Q & A with Harry Rinker: The Book House for Children Volumes, Wilt Chamberlain 100-Point Ticket, Program

by Harry Rinker (04/18/12).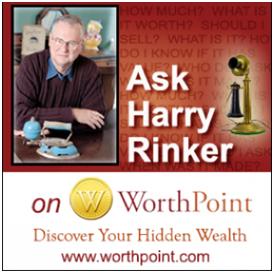 QUESTION: I have Volumes 1, 2, 3, 4, and 6 of the My Book House for Children series, published in the early 1920s. What are they worth?
– A, Pottsville, Pa.
ANSWER: Olive Beaupré Miller (Sept. 11, 1883 – March 25, 1968), a 1904-graduate of Smith College, founded The Book House for Children in 1919. The company, staffed largely by women who did not work outside their home, published popular children's literature that met three criteria: (1) children should be exposed to the best in literature as a means to stimulate their ideas and their ability to express them; (2) the stories and rhymes must support traditional values by providing a clear and emotional understanding of what those values are; and, (3) the stories and rhymes should be carefully selected to appeal to specific age groups.
The first My Book House series consisted of six volumes: Volume 1, "In the Nursery" (1920); Volume 2, "Up One Pair of Stairs" (1920); Volume 3, "Through Fairy Halls" (1920); Volume 4, "The Treasure Chest" (1920); Volume 5, "From the Tower Window" (1921), and Volume 6, "The Latch Key" (1922).
The six-volume set contained cover art and illustrations by leading illustrators of the era. Volume 1 illustrators included Donn P. Crane, Maginal Wright Enright, Bert Elliot, Dorothy Hoff, Portia Jacob, and Milo Winter. Volume 4 illustrators included M. D. Charleson, Donn Crane, Bert Elliott, Glen Ketchum, Milo Winter, and N.C. Wyeth. P. T. Barnum, Charles Dickens, and Theodore Roosevelt were among the featured authors in Volume 4.
The 1920, 1921, and 1922 volumes had black cloth bindings with paste-on pictures. In 1925 and 1926, the binding color switched to light green and silver simulated leather. Although the six volumes were split to create a new 12-volume set, the six-volume set remained in print for 1932, 1934 and 1936 editions, this time with a green/silver cloth binding.
In 1927, the six-volume set, along with three volumes of the My Travelship series, were sold in a wooden house storage box. The house had gray walls, a window at each end, a red roof and two red chimneys.
For more information, see the websites Childscapes and My Book House. Olive Beaupré Miller's papers are part of the Sophia Smith collection at Smith College.
Value depends on which edition you own. A first edition of Volume 1 "In the Nursery" ranges in value from $350 to $450. Prices for the other five first edition volumes are between $45 and $60. The full set has pair/set value. A set of the six first edition volumes in very good or better condition is valued around $750. If the volumes you own are first editions and in very good or better condition, I recommend buying the missing volume to complete the set.
—————————————
QUESTION: When I was 11 years old and living in Reading, Pa., I attended a Philadelphia Warriors vs. New York Knicks basketball game at the Hershey Sports Arena on March 2, 1962. This was the night Wilt Chamberlain scored 100 points. I have a copy of The Wigwam, the program for the game, and my ticket. The 50th anniversary celebration of this historic sporting event caused me to ponder the value of the program and ticket.
– G.F., State College, Pa., via e—mail
ANSWER: In December 1961, Chamberlain scored 78 points in a game, breaking the previous record of 71. Wilt's 100 points broke this record and was only one of many records established that evening. Wilt set a record for the most free throws made in a game. The final score of 169-147 is the record for the most points scored in a National Basketball Association game.
The game was not televised. No members of the New York press were present as the Yankees and newly founded New York Mets opened spring training in Florida. The only audio recording extant is of the fourth quarter. Two photographers and a stringer representing the Associated Press, United Press International, and The Philadelphia Inquirer provided coverage.
Frank McGuire, the Warrior's new coach, was determined that Chamberlain would play a full 60 minutes of every game. By the March 2, 1962 game, Chamberlain had only missed eight minutes and 33 seconds in the course of the season.
Only five games remained in the season when the Warriors, in second place behind the Boston Celtics, met the last-place New York Knicks. Only 4,124 people, approximately half-capacity of the Hershey Sports Arena, attended the game. Most came to see the exhibition baseball game between players from the Philadelphia Eagles and the Baltimore Colts that preceded the NBA game.
Wilt had scored 41 points at half-time. The game well in hand, McGuire directed his team to give Wilt the ball and see what he could do. By the end of the third quarter, Wilt had scored 69 points. The Knicks quadruple-teamed Wilt. It did not work. With six minutes remaining, the Knicks started fouling other players and slowing play. The Warriors retaliated by fouling Knick players. Wilt scored his 100th-point with 46 seconds left.
When an historic sporting event occurs, attendees kept programs and tickets as souvenirs. While scarce, programs and ticket stubs from the game continue to surface. Nate Sanders Monthly Auctions currently is offering a game program with a minimum opening bid of $1,000. In June 2005, Sotheby's sold a game ticket stub, program and black and white wire photograph for $5,000. The estimate was $8,000 to $10,000 with an opening bid of $4,000.
The publicity surrounding the 50th anniversary of the March 2, 1962 game has caused a celebrity bounce for souvenirs from the game and Wilt Chamberlain-related items. If offered for auction within the next six months, your program and ticket could match or exceed the $5,000-figure, assuming both are in very good or better condition.
[Author's Aside: The ball that Chamberlain used to score his 100th point remains missing.]
—————————————
QUESTION: I have 10 collector-edition porcelain dolls designed by Angelina Visconti. The faces are hand-painted. There is a certificate of authenticity sewn on each doll's back. The dolls range in size from 16 to 18 inches. Each has its own metal stand and resides in its never-opened, period box. What are they worth and where do I find a buyer?
– LB, Redding , Ca., via e-mail
ANSWER: Here is the good news. "You cannot give it away" does not apply. I found a website that gave an Angelina Visconti doll away free.
The information on the back of the packaging for an Angelina Collection's "handmade and handpainted (sic.) genuine porcelain doll with high quality materials assembled by professional craftsmanship" includes "production limited to one year only," an advertising ploy used during the 1960s and 1970s by manufacturers of "limited" edition collectibles. I was under the mistaken impression that the one-year production limit sales pitch disappeared in the 1980s. Alas, it reared its ugly, useless head again in the late 1990s/early 2000s.

There is nothing limited about "one year only." It means simply as many as can be sold. If the production facility only produced 100 dolls per day on a five-day a week basis, the annual count would be 26,000. The daily count was more likely in the high hundreds, if not thousands. Five to 10 is limited. More than 10 is not limited.
My efforts to locate historical or biographical information about Angelina Visconti or the manufacturer of these dolls on the internet met with failure. I am assuming they were sold via a cable television home shopping channel.
Angelina Collection dolls, whether with or without their period boxes, are a glut on the secondary resale market. Angelina Collection dolls listed on eBay with "Buy It Now" prices starting at $9.99 go begging. Those on eBay with a bidding reserve usually fail to attract a buyer. A Goodwill website failed to find a buyer for an example priced at $9.99.
Given the above, it is safe to assume that the value of each doll is around $10, with the value being play rather than collecting. This is a "cheaper than new price." This is the price that you can expect if you sell the dolls at auction.
All information, especially that available on the Internet, has to be critically evaluated. The following two examples serve as proof. I found an internet dealer advertising the "lowest" and "best" price at $49.99. It is clear what type of buyer this seller hopes to hook—a sucker. The winner of my "who in their right mind would believe this answer" award is Bette Ball Limited Edition Dolls, who posted this answer on Aug. 28, 2010 on Ask.com: "An Angelina Visconti 2003 limited edition porcelain doll is valued at $89. As time passes along, the porcelain doll will be worth more in the market. It is a collector's item."
In time, what passes will not be money.
—————————————
Rinker Enterprises and Harry L. Rinker are on the Internet. Check out Harry's Web site..
You can listen and participate in Harry's antiques-and-collectibles radio call-in show "Whatcha Got?" on Sunday mornings between 8 a.m. and 10 a.m. Eastern Time. It streams live on the Genesis Communications Network.
"Sell, Keep Or Toss? How To Downsize A Home, Settle An Estate, And Appraise Personal Property" (House of Collectibles, an imprint of the Random House Information Group), Harry's latest book, is available at your favorite bookstore and via Harry's Web site..
Harry L. Rinker welcomes questions from readers about collectibles, those mass-produced items from the 20th century. Selected queries will be answered on this site. Harry cannot provide personal answers. Send your questions to: Rinker on Collectibles, 5955 Mill Pond Court SE, Kentwood, MI 49512. You can e-mail your questions to harrylrinker@aol.com. Only e-mails containing a full name and mailing address will be considered. Please indicate that these are questions for WorthPoint.
Copyright © Rinker Enterprises, Inc. 2012
WorthPoint—Discover Your Hidden Wealth