Q & A with Harry Rinker: Brass Balance Scale, Banthrico Slush Metal Santa Bank

by Harry Rinker (12/15/12).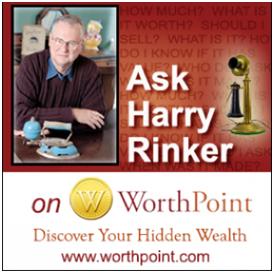 QUESTION: I recently acquired a large brass balance scale marked "J. A. L. / Portugal" on the top of its platform base. "Portugal," "J. A. L." and a crown mark appear at several places as well. The weights are in grams and housed in holes in the scalloped base. The height of the scale is 14 inches. The distance between the edges of the pans is approximately 20 inches. I would like to know how old the scale is and its value.
– BM, Kent, Ohio, via e-mail
ANSWER: The six pictures, especially the detailed images showing the marks, accompanying your e-mail were most helpful. The production quality of the scale is very high. The architectural details are exquisite. I especially like the C-shaped sea creature at the end of each of the two arms which hold the chains of the scale.
An Internet search failed to provide any history of a Portuguese company with the initials "J.A.L," which I assume to be those of the manufacturer. However, I did find several other Portuguese scales offered for sale with "J.A.L." markings. TW Conroy of Elbridge, New York, offered a miniature version (7 1/8-inches high) at auction estimated at $50 to $100. In 2007, Heritage Auctions sold a scale similar in design to the one you own, but measuring 62 inches high, for $896.25. Heritage attributed the scale to Romao and Company. Christie's in New York sold a Portuguese, 60 ¼ inches high, brass balance scale marked "Casa Das Balancas, Porto," in June 2012, for $750.
I found an Internet discussion blog questioning whether an identical scale to the one you own was a period piece or a reproduction. When examining your photographs, I was concerned about the lack of wear on the scale. However, if this scale was a reproduction, I would have expected to encounter additional examples on the Internet.
Assuming the scale is period, it dates from the late 19th to the early 20th century, 1880 to 1915. Its secondary market value is between $300 and $350.
—————————————
QUESTION: I have an old metal Santa bank I bought more than 30 years ago at a flea market. The slush metal bank features Santa in his red outfit with black gloves and boots, asleep in a gold easy chair. The back of the chair has a rectangular block which reads: "ERIE COUNTY / SAVINGS BANK / MAIN OFFICE: SHELTON SQUARE / BROADWAY OFFICE: 940 Broadway Near Fillmore / GRANT OFFICE: 101 Grant Street at Breckenridge." The bank appears to be from the 1940s or 1950s when local banks gave these away as premiums. It measures 5 ¾ inches high. There is paint loss on the boots, knees and elbows. What is the history of my bank?
– JK, Timberlake, Ohio, via email
ANSWER: Your bank was made by Banthrico Incorporated. In 1931, Jerome Aronson and Joseph Eisendrath purchased the assets of Banker's Thrift Corporation which, along with its subsidiary Stronghart, made coin banks. Aronson and Eisendrath named the new company Banthrico (Ban-thri-co).
Although some banks made in the 1930s retained the Banker's Thrift or Stronghart name, the company quickly adopted an incised Banthrico name that appeared on the trap door or base. Banthrico made more than 900 different metal banks, in custom orders of 500 to 1,000 units, for financial institutions, stores and other clients. Designs included animals, buildings, historical figures and vehicles.
The slush or white metal consisted of 95 percent zinc, 5 percent aluminum and traces of brass, copper and lead. A sculptor created the design. Since each bank was poured by hand, a mold maker created multiple molds based on the sculptor's design. Imperfections and burrs were removed using a belt sander and buffing wheel. An electroplating process was used to apply the color. Many banks had a coating of clear lacquer.
Banthrico's manufacturing facility was located in Chicago. At the peak of production, Banthrico employed 75 individuals. In addition to banks, the product line included bookends, figurines and trophies. "The Coin Bank People" was the company's motto. Toystalgia purchased the company in 1985.
James L. Redwine's "Coin Banks by Banthrico," published by Schiffer Publishing Ltd. in 2001, is the primary reference source. John Regan's history of Banthrico banks and his story of collecting them are available online.
I found more than a dozen references to your "Napping Santa Bank," also known as the "Sleeping Santa Bank," on the Internet. The assigned dates ranged from the late 1940s to the mid-1950s, more guesses than actual fact. I favor the early to mid-1950s. Several Napping Santa banks featured bank advertising on the back—Schenectady Savings Bank (N.Y.) and Penn National (Pa.). The Minneapolis Institute of Art has an example in its collection.
The Internet dealer asking prices for the Banthrico Napping Santa Bank started at $40 and ended at $65. I did not find any that sold through. Given the paint condition of your bank, its secondary market retail value is between $20 and $25. If sold near Erie, add a 50-percent premium to the value.
WorthPoint lists a plaster version of the bank that measures 7 inches high and which the seller attributed to 1948. It sold for $15.50 on eBay in 2007. A plastic reproduction of the bank featuring Santa in a green chair is currently in production.
—————————————
QUESTION: I own a 1970s Thomas electric organ. I would like to sell it. What recommendations do you have?
– D, Presque Isle, Maine

ANSWER: Edward G. Thomas founded the Thomas Organ & Piano Company in 1875. The company's early products were pump and pipe organs. In the early 1950s, Thomas George developed an electric organ with a single manual and ten stops. The early organs used a dial control, similar to that found on a radio or television. In 1956, George reorganized the Thomas Organ & Piano Company as the Thomas Organ Company with headquarters in Sepulveda, Calif.
The Thomas Organ Company reached its peak of production in the 1960s. Organist Bob Ralston played a Thomas electric organ on "The Lawrence Welk Show." Thomas Organ Co. also briefly held the manufacturing rights to the Moog synthesizer.
The streamlined console and solid state electronics of the Thomas electric organs made them ideal home instruments. The company also manufactured electronic organs under the Silvertone brand for Sears, Roebuck and Company.
The collector market is only one of the many secondary antiques and collectibles markets. In respect to Thomas electric organ, the collector market is slim to none. Since the electronic organ has little decorative value, unlike its earlier pump organ ancestors, its primary value falls into the reuse category. Alas, the reuse market for Thomas electronic organs is not much larger than the collector market.
A search of the website yakaz.com revealed almost a dozen Thomas electric organs being offered for sale. A Moreno Valley, California, sellers is asking $200 for a Thomas "Celebrity Deluxe" Model 821C. A Camino, California, seller is willing to take $50 for a Thomas "El Camino 150." A Canadian seller wants $261 for a Model 281. These prices indicate that the secondary market value is limited. I suspect all these prices are negotiable, even the $50.
Place a classified advertisement in your local paper. The less you are willing to take, the faster it will sell. If that fails, list the organ on Craigslist. Your third at-bat is to contact local churches or education institutions and offer to donate it. If this is not successful, you are aware of what is said about the proverbial third strike.
—————————————
QUESTION: I would like to add a Marvel Legends of Dragon Man, 12-inch action figure to my collection. When I checked eBay and other internet sale sources, I found prices ranging from $200 to $600. Are these realistic?
– W, Bristol, Tenn.
ANSWER: Toy Biz (2002-2006) and Hasbro (2007 to the present) produced multiple series of Marvel Legend action figures. The most common size is the 6-inch figure (150 mm). Spin-off lines include 4-inch, 8-inch and 12-inch figures. Toy Biz introduced the Dragon Man figure as part of the 2006 Fantastic Four Series 2 line.
Fewer of the large-scale 12-inch figures were made than the 6-inch figure. This creates scarcity. A YouTube review offers a realistic view of the figure. The printed commentary notes: "There is a dragon man on eBay, mint on card for $599, it is a crazy price." The presenter ends his commentary, "For the casual collector, he [dragon man figure] is not worth what he is selling on eBay." The suggestion is that the action figure is worth less than $100.
However, it is difficult to argue with a sell-through price. A 12-inch Dragon Man action figure sold on eBay for $212.20 on April 10, 2011. There were seven bids, which does not mean there were seven bidders. My guess is there were three to four bidders at the most.
My advice is simple. Wait a few years until the demand lessens. You should be able to acquire the figure, assuming you still want it, in the $75 to $100 range. In the interim, haunt the flea markets and toy shows. Chances are you will find a seller that did not do his/her research and snatch the piece up at a bargain price.
—————————————
Rinker Enterprises and Harry L. Rinker are on the Internet. Check out Harry's Web site..
You can listen and participate in Harry's antiques-and-collectibles radio call-in show "Whatcha Got?" on Sunday mornings between 8 a.m. and 10 a.m. Eastern Time. It streams live on the Genesis Communications Network.
"Sell, Keep Or Toss? How To Downsize A Home, Settle An Estate, And Appraise Personal Property" (House of Collectibles, an imprint of the Random House Information Group), Harry's latest book, is available at your favorite bookstore and via Harry's Web site..
Harry L. Rinker welcomes questions from readers about collectibles, those mass-produced items from the 20th century. Selected queries will be answered on this site. Harry cannot provide personal answers. Send your questions to: Rinker on Collectibles, 5955 Mill Pond Court SE, Kentwood, MI 49512. You can e-mail your questions to harrylrinker@aol.com. Only e-mails containing a full name and mailing address will be considered. Please indicate that these are questions for WorthPoint.
Copyright © Rinker Enterprises, Inc. 2012
WorthPoint—Discover Your Hidden Wealth