Q & A with Harry Rinker: Celebrity Earthquake Relic, Pop-Up Books, Glass Negatives

by Harry Rinker (09/05/12).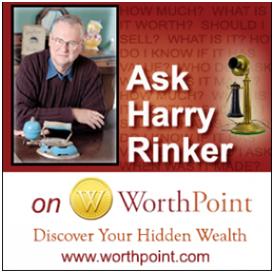 QUESTION: I own a wooden plaque that contains a ceramic dinnerware border fragment, measuring 1 inch by 1 ½ inches, beneath which is a label reading: "FRANK SINATRA / Genuine Celebrity Earthquake Relic / January 17, 1994 4:31 am / Removed from his home following the L.A. Quake / Guaranteed Authentic Article Number: ______." It was sold by Baby Jane Auction. Do I own anything of value?
– R.S., Cincinnati, Ohio
ANSWER: The famed Northridge earthquake occurred on Jan. 17, 1994, at 4:31 a.m. Pacific Standard Time. The magnitude 6.7 earthquake had its epicenter in Reseda, Calif., near the junction of Reseda Boulevard and Strathern Street. The quake lasted 10 to 20 seconds. Contrary to popular opinion, the quake did not take place along the famed San Andreas Fault.
In the late 1940s, Frank Sinatra and his family moved into 320 North Carolwood Drive in Bel-Air, a suburb west of Los Angeles and directly south from Reseda. It is possible that the Sinatra residence suffered damage during the Northridge earthquake, although I could not find any evidence to substantiate this.
The certificate of authenticity below the ceramic dinnerware border fragment is worthless. The text contains the "raise the hair on the back of your neck" buzz words that I teach the students in my authenticating classes—genuine, guaranteed and number. First, if you see the ceramic fragment, it is genuine. No one sells non-genuine anything. Second, who is backing the guarantee? This information is conspicuous by its absence. Third, what does the number mean? Who has the list?
I did find a Facebook listing for a Baby Jane Auction in Mount Sterling, Ky., definitely not the auction house in question. I did find a website for Baby of Jane Hollywood located at 7985 Santa Monica Blvd., West Hollywood, Calif., 99046. The store specializes in: "UNIQUE Celebrity Collectibles. Famous for our Celebrity Earthquake Ruins…." I envision Roy, the owner, running around with his shovel and bucket following L.A. earthquakes hoping to discover treasure in celebrity misfortune. Does he sneak into temporarily abandoned homes, cut a deal with the clean-up crews, or blatantly approach the grieving owners? How has reality television missed this individual?
Assuming, which I most certainly have no intentions of doing without more proof, that the ceramic dinnerware border fragment was recovered from the Sinatra residence following the Northridge earthquake, the overriding question then becomes: "Who cares?" The number of "Old Blue Eyes" memorabilia collectors is minimal. Collector focus is on his records.
You own what is best described as a curious oddity. If you paid less than $25, you are fine. If you paid more, you have my sympathy.
—————————————
QUESTION: I own a copy of E. Joseph Dreany's "Indians in Pop-Up Action Pictures." It is in very good condition. What is it worth?
– B., Reading, Pa.
ANSWER: "Indians in Pop-Up Action Pictures" was published by Maxton Publishers in 1951. Maxton published children's books from the late-1930s through the 1950s. The Maxton Books for Little People was the series title. Some titles were "A Child's Book of Horses," "A Child's Book of Planes," "Alice in Wonderland," "King Thrushbeard" and "The Tinder Box." Maxton published "Rudolph the Red-nosed Reindeer" in 1939. Maxton's titles were competitors to Whitman's Little Golden Books.
E. Joseph Dreany was a children's book illustrator. In addition to illustrating a number of titles in the Maxton Books for Little People series, Dreany illustrated Steffi Fletcher's "Lone Ranger," Irwin Shapiro's "Walt Disney's Old Yeller," Augusta Stevenson's "George Washington: Young Leader" and Charles Pain Verral's "Lassie and the Daring Rescue." Attempts to find a detailed biographical sketch of Dreany failed.
The website Abe Books contained several listings for Dreany's "Indians in Pop-Up Action Pictures" and its companion volume, "Cowboys in Pop-Up Action Pictures." Asking prices ranged from $18 to $22.
—————————————
QUESTION: I have 45 glass negatives in my possession. Each negative is separated by a black square of paper. These glass negatives belonged to my grandmother and appear to date from the early 20th century. What is their value?
– E.M., Mantua, Ohio
ANSWER: Authenticators and appraisers need information in order to provide accurate answers. In the case of your glass negatives, three key pieces of information are missing: (1) what is the size of the negatives; (2) what is the subject matter of the images; and (3) what is the condition of the images? Having stated this, here are some general guidelines to see if the negatives have potential secondary market value.
If the images are head and shoulder portraits of people that you cannot identify wearing "Sunday-best" dress, they are worthless. If the images feature soldiers, workmen in occupational dress or individuals holding animals and/or toys, they have value.
If the images are rural scenic homestead views that are not identified, their value is minimal. If it is a homestead view with people, carriages and/or vehicles, and other period artifacts, the negatives have some value.
If the negatives are of town street scenes, they have value even if the location is not identified. Street scene images often have hidden details that, coupled with the provenance of the negatives, allow for identification.
The larger the size of the image, the more valuable it is. While there are exceptions to this rule, it is a good rule to follow.
If the image is damaged, especially if the emulsion is flaking, it has either no or minimal value. The glass plate must be printable to have value.
—————————————
QUESTION: I paid $65 on eBay for a Bela Horvath oil on board rural landscape painting of a barn. "Old Barn / Scenic near / Dayton" is written on the back. The painting measures 23 ¾ inches by 18 inches. The modern frame increased the dimensions to 31 inches by 25 ¼ inches. What is my painting worth?
– R.S., Cincinnati, Ohio
ANSWER: Although a listed artist in reference sources, little is known about Bela Horvath (1888-1973). He was born in Pinkafő, Hungary, and died in Pompano Beach, Fla. He immigrated to the United States and settled in Dayton, Ohio. He taught painting and sculpture from his apartment. Many of his students attended Dayton University. The University of Dayton's annual Horvath Exhibition, held in conjunction with the Stander Symposium, began in 1975. Josephine Horvath, Bela's widow, provided the endowment.
Horvath was an academically trained realistic painter. He painted primarily landscapes and folk scenes. A painting featuring a young girl in native Hungarian costume playing with a doll was offered for sale by the San Rafael (Calif.) auction gallery in 2008. The estimate was $300 to $500 with a starting bid of $150. It did not sell.
Although his proponents and family will object to what follows, Horvath appears to be what I refer to as a "bank art" painter. "Bank art" is a term I use for works by academically trained (the degree to which varies greatly) and amateur local artists who exhibit their artistic efforts at banks, local art galleries (especially in tourist areas) and restaurants. Their works sell initially for prices beginning in the low hundreds and ending in the low thousands. Many develop a local following for periods ranging from a few years to three or four decades. Their artistic sphere of influence is between 50 and 100 miles.
Interest in "bank art" disappears within a few years following the artist's death. When the artist's work appears on the secondary market, even when the artist is alive, it usually sells for considerably less than its initial purchase price. The vast majority is discarded by subsequent generations who "cannot stand the stuff."
Occasionally, interest in a "bank art" artist reemerges. A retrospective exhibit by a local art museum or historical society can trigger a collecting renaissance. Being a female artist helps. Sex often overrides aesthetics. An identified local scene is a plus.
"Regional" art is one of the hot trends in the 21st-century collecting market. Regional collectors are building collections of "named" artists from their area who painted between 1900 and 2000. Horvath's realistic style and his association with the University of Dayton make his work a desirable commodity in the Dayton (western Ohio) region.
The $65 you paid is a bargain. In the western Ohio art market, the painting has a secondary market value in the $150 to $200 range. It may bring more providing you can create an auction environment in which two local collectors are competing.
—————————————
Rinker Enterprises and Harry L. Rinker are on the Internet. Check out Harry's Web site..
You can listen and participate in Harry's antiques-and-collectibles radio call-in show "Whatcha Got?" on Sunday mornings between 8 a.m. and 10 a.m. Eastern Time. It streams live on the Genesis Communications Network.
"Sell, Keep Or Toss? How To Downsize A Home, Settle An Estate, And Appraise Personal Property" (House of Collectibles, an imprint of the Random House Information Group), Harry's latest book, is available at your favorite bookstore and via Harry's Web site..
Harry L. Rinker welcomes questions from readers about collectibles, those mass-produced items from the 20th century. Selected queries will be answered on this site. Harry cannot provide personal answers. Send your questions to: Rinker on Collectibles, 5955 Mill Pond Court SE, Kentwood, MI 49512. You can e-mail your questions to harrylrinker@aol.com. Only e-mails containing a full name and mailing address will be considered. Please indicate that these are questions for WorthPoint.
Copyright © Rinker Enterprises, Inc. 2012
WorthPoint—Discover Your Hidden Wealth