Q & A with Harry Rinker: Clinchfield Pottery Plate, Lafayette Rittgers Figurines

by Harry Rinker (01/12/12).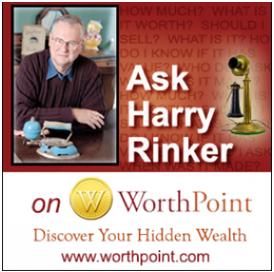 QUESTION: I am trying to identify an earthenware dinner plate that belongs to a cousin. The body has a white glaze. There is a medallion at 12 o'clock on the flat front border that features a head-and-shoulder portrait of a pretty lady inside a horseshoe that is flanked on each site by a swastika and floral arrangement. The backstamp consists of a crown on top of a circle. Within the border inside the circle is: "CLINCHFIELD / CHINA." "S. P. I." is in the center of the circle. Beneath the mark is the number "4-26." Can you help?
– S.B., via e-mail
ANSWER: The detailed images of the medallion and mark attached to your e-mail were helpful in dating and identifying the maker of your plate.
The woman's image and the surrounding presentation are typical of images used on ceramics in the late 1910s and early 1920s. The swastika, an equilateral cross whose arms are bent at right angles in either a clockwise or counter clockwise motion, is a decorative symbol that dates back to antiquity. The word's origin is suastika, a Sanskrit word associated with any lucky or auspicious object. Cultures as diverse as Buddhism, Greco-Roman, Hinduism, Native American, and Slavic used the symbol.
[Author's Aside: The swastika is found in right-facing (counterclockwise) and left facing form (clockwise motion). The example on the plate is right-facing, the same image that eventually become the symbol for the National Socialist German Workers Party (NSDAP) from the 1920s through 1945. Although the two images are identical, there is no association between them. The designer of the medallion on the plate selected the swastika for its "good luck" connotation in support of the horseshoe surrounding the pretty lady.]
In the middle of the 1910s, the Clinchfield, Carolina and Ohio Railroad sought to encourage new industry along its line. E. J. Owen, formerly associated with the East End Pottery in East Liverpool, Ohio, Owen China Company in Minerva, Ohio, and Paden City Pottery, founded Clichfield Pottery in Erwin, Tenn., in 1917. The first products were dinnerware, often featuring gold trim and applied decals.
In 1920, Clinchfield Pottery was incorporated as Southern Potteries Incorporated (S.P.I.). From 1917 until 1938, most pieces were marked with the crown Clinchfield China mark. A limited number, approximately 15, dinnerware blanks were utilized to produce pieces, variety created by changing the applied decal or trim. The company also produced a large number of advertising ceramics, such as calendar plates during this period. The number "4-26" most likely indicates the mold blank (4) and the decal number (26).
Collectors for Clinchield period Southern Pottery pieces number fewer than 50, perhaps even 25. Your plate has more curiosity than dollar value. Its secondary market value is less than $5.
—————————————
QUESTION: I have nine, 1940s Lafayette Rittgers figures that include two baseball players and an umpire, two football players, a lady and male bowler, and a boxer and referee. How much are they worth?
– S.P., Phoenix, Ariz., via e-mail
ANSWER: Lafayette (Fay) L. Rittgers (April 15, 1904-Feb. 14, 1984) grew up in Oklahoma City. Upon finishing high school, he moved to Denver, where he met and married Helen in May 1929. While in Denver, he was employed as a window decorator at the John A. Brown Department Store. In 1937, Lafayette and Helen moved to Chicago. Lafayette enhanced his sculpting skills by attending art school. Eventually, he established his own studio.
Rittgers introduced his first commercial novelty figurines in 1939: a standup and tied-up wrestler. An umpire with a chest protector appeared in 1940. The baseball player, another wrestler, football player and bowlers (male and female) appeared in 1941. Sports series were sold in sets of two or three, depending on the grouping, wholesaling for $2 and retailing between $3 and $5.
By 1941, Rittgers employed six individuals to produce and paint his humorous figures. In 1943, he moved his novelty business from his 51st and Harper Avenue location to a storefront building near 56th and Harper. A year later the company moved to 5628 South Lake Park Ave.
Rittgers sold his novelties through Suttle and Asmus, a wholesale distributor who displayed at gift shows throughout the Midwest. While Rittgers Novelties did not issue catalogs, examples of Suttle and Asmus catalogs featuring Rittgers pieces survive.
Rittgers signed and copyrighted his work. Although Rittgers ended his novelty business in 1956, he continued to sculpt models on a commission basis for advertising and other purposes. Rittgers figures appeared in a series of 1950 Buick advertisements.
The label on the bottom of a figure dates it. Two labels were used from 1941 to 1945: (1) "Original Humor by / RITTGERS / Copyrighted by Lafayette L. Rittgers / CHICAGO" and (2) "Distributed by / SUTTLE & ASMUS / CHICAGO, ILL." The label "DISTRIBUTED / Exclusively by / SUTTLE and RITTGERS Inc. / Evanston, Illinois" dates from the mid-1940s through the early 1950s. "Copyright by / LAFAYETTE LASO RITTGERS / CHICAGO 37, ILL." is the last label used.
The difficulty in providing a value for your figurines is that variations abound. Molds were changed slightly. Decorators used various paint schemes. Some baseball players and other sports figures feature specific team or company logos on their uniforms.
Charlie Bulko's "Collecting Rittgers: The Complete Collector's Guide," published by the author in 2011 (ordering information available by e-mailing cbulko@excite.com) contains a detailed history of Rittgers Novelties and a desirability scale. With 10 indicating most desirable and 1 least desirable, your sports sets are in the 1 to 2 range.
Common baseball, wrestling and bowling sets, assuming very good or better condition, sell between $175 and $225 at auction. Add another $50 for the football set. Individual figures begin around $65 and go up in value depending on scarcity. Buy It Now prices on eBay tend to be higher. Figurines with damage of any kind are tough sells.
—————————————
QUESTION: I have a vintage Santa with a label reading "Rushton Star Creation" on one side and "The Rushton Company / Atlanta, Ga. / 1" on the other. Santa is 18 inches tall and a Coca Cola collectible. He has a Coke bottle under one hand. The bottle is dark molded with the letters "Coca Cola" beneath which is "Trademark registered." The bottle cap reads: "Drink / Coca Cola / Reg. US Pat. Off." His face and hands are molded plastic. His eyes are brown. His belt is black plastic. His boots are black vinyl and not molded. The boots have white stitching around the sole. The examples I have found on the internet have molded white or black boots. Listings indicate these were made in the late 1950s. I believe my Santa dates back to the 1940s. Can you help me date it?
– G.S., Mars Hill, N.C., via e-mail
ANSWER: Yes, your Santa dates from 1957. The Rushton Coca-Cola Santa was introduced in that year to market Coca-Cola during the holiday season. The company did not exist in the 1940s. The 1957 selling price was $3.98. The labels you describe above were attached to the soles of the feet.

There are several listings for Rushton Coca-Cola Santas with "stitched vinyl boots," which indicate yours as an early version of the doll. There are three sizes—14, 15 and 16 inches. How precisely did you measure your doll? In your defense, I did find an 18-inch Rushton Star Creation Santa online.
The period bottle is a value-added feature. Most examples listed either are missing the bottle or are being sold with a replica bottle.
For more information about the history of Rushton Company here.
—————————————
QUESTION: I have a "BURRY'S 10 CENTS OFF COUPON FOR PEPSI COLA" with an expiration date of December 31, 1961. I found the coupon in the bottom of a friend's kitchen cabinet during remolding. The coupon was to be mailed to the Burry Biscuit Corporation of Elizabeth, New Jersey. Does the coupon have any value in today's marketplace?
– M.L., Florida, via e-mail
ANSWER: The Burry Biscuit Company, Elizabeth, N.J., traced its history back to 1888. In 1959, it was a division of Quaker Oats, which subsequently sold off Burry in the early 1980s. In 2003, Burry was part of Interbake Food, Inc., which canceled the Burry trademark in 2005. Burry's former Elizabeth, N.J. factory suffered a major fire on Dec. 22, 2011.
Burry produced a variety of cookies in the 1960s, including Gauchos (a peanut butter-cream filling inside an oatmeal shell), fudge-filled shortcake, and pecan penuche. Burry also made Girl Scout cookies in the 1930s and possibly later.
Your coupon has no redeemable value and very little collector value. Alas, society has long passed the point where a 10-cent rebate is viewed as an incentive. A Pepsi collector might pay $1 to $2 based more on novelty than collectible value, but do not hold your breath.
—————————————
Rinker Enterprises and Harry L. Rinker are on the Internet. Check out Harry's Web site..
You can listen and participate in Harry's antiques-and-collectibles radio call-in show "Whatcha Got?" on Sunday mornings between 8 a.m. and 10 a.m. Eastern Time. It streams live on the Genesis Communications Network.
"Sell, Keep Or Toss? How To Downsize A Home, Settle An Estate, And Appraise Personal Property" (House of Collectibles, an imprint of the Random House Information Group), Harry's latest book, is available at your favorite bookstore and via Harry's Web site..
Harry L. Rinker welcomes questions from readers about collectibles, those mass-produced items from the 20th century. Selected queries will be answered on this site. Harry cannot provide personal answers. Send your questions to: Rinker on Collectibles, 5955 Mill Pond Court SE, Kentwood, MI 49512. You can e-mail your questions to harrylrinker@aol.com. Only e-mails containing a full name and mailing address will be considered. Please indicate that these are questions for WorthPoint.
Copyright © Rinker Enterprises, Inc. 2012
WorthPoint—Discover Your Hidden Wealth