Q & A with Harry Rinker: Five Vol. 'Decline and Fall of the Roman Empire' Set

by Harry Rinker (03/07/12).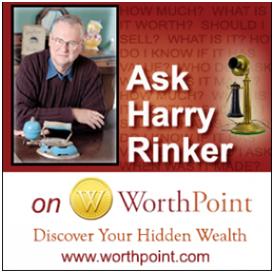 QUESTION: I have a five-volume set of Edward Gibbon's "The History of the Decline and Fall of the Roman Empire." The Rev. H. H. Milman authored the notes. The title page indicates this is a new edition and contains a complete index of the work. Henry T. Coates & Son of Philadelphia is the publisher. There is no copyright. In the past, you recommended Abe Books as a search tool for book values. However, I was not able to find the set listed on that site. My local librarian also was no help. Anything you can tell me about the set would be greatly appreciated.
– S.T., via e-mail
ANSWER: Edward Gibbon's "The History of the Decline and Fall of the Roman Empire" was first published as a six-volume set. Volume one appeared in 1776, Volumes II and III in 1781, Volumes IV, V, and VI in 1788-89. The history begins in 98 A.D. and ends in 1590, covering both the western and eastern Roman empires. Gibbon blames Rome's fall on the loss of civic virtue. The work was subsequently reprinted in editions utilizing from three to seven volumes.
In 1848, Robert Porter and Charles Davis founded Davis & Porter Company, a Philadelphia firm specializing in the printing of trade books. When Henry Coates joined the firm in 1867, it was renamed Davis, Porter, & Coates. Davis retired in 1867. G. Morrison Coates, Henry's brother, joined the firm in 1869. Porter retired in 1895, at which point the firm became Henry T. Coates. The company is famous for creating Home and Garden magazine and publishing the Horatio Alger Junior titles. In 1904 Coates retired and sold his company to John C. Winston.
Although not dated, your books are part of the 1904 "New Acorn" Library series consisting of 123 volumes of popular and standard titles. The books retailed for 50¢ each.
I had no troubled finding several listings for your five-volume, brick-red cloth cover with leather veneer pastedown labels set on abebooks.com. I inserted "Edward Gibbon" in the Author slot and "Henry T. Coates" in the Keyword slot. As a backup, I clicked on "Advanced Search" in the tool bar. I inserted "Edward Gibbon" in Author slot, "The History of the Decline and Fall" in the Title slot, and "Henry T. Coates" in the Publisher slot. This search produced identical results to the first.
The asking price for a single volume from the five-volume Coates set begins around $8.50 and ends at $14.50. A full five-volume set lists between $55 and $65. These are asking prices. The books have not sold. The values are optimistic. Values do not include shipping costs.
—————————————
QUESTION: I own a vertical oval wall plaque, approximately 5 ½ inches tall, that features a relief head of an Indian maiden. The glaze is turquoise in color. The back contains several inscribed marks include two back-to-back As, Van Briggle, Colo Spgs, and So Ya Zhe (Little Star). I am interested in finding out more about this piece.
– C.F., Early, Texas, via e-mail
ANSWER: Artus and Ann Van Briggle established Van Briggle Pottery in Colorado Springs, Colo., in 1900. The company's first art pottery was produced a year later.
Previously, Artus Van Briggle developed an international reputation while painting in Paris and other European locations and later worked at the Rookwood Pottery in Cincinnati. While at Rookwood, he developed several matte glaze formulas. Having contracted tuberculosis, Artus and Ann moved to Colorado in 1899 in an attempt to recover his health.
Van Briggle continued his work, focusing on recreating Chinese glazes. When exhibited in Europe, his pieces were declared "a supreme discovery." Van Briggle died in 1904. Ann operated the pottery until 1912. Subsequent owners followed. The pottery experienced an ebb and flow of good and bad times. A new facility was established at a renovated railroad roundhouse located on Midland Road in 1955. In 1969, Kenneth Stevenson, an employee, gained control of the company. Kenneth died in 1990. His wife Bertha and son Craig now run the pottery.
Collectors divide Van Briggle into pre-1912, 1912 through the 1920s, and New Era pieces. The Just Art Pottery website notes: "After 1920, Van Briggle Pottery became harder to date as the consistency of the bottom markings decreased. Pieces from the 1920s are typically dated based on bottom markings and clay color. The 1920s pieces are characterized by clay that is sandy colored with either a grainy appearance or a buff bottom. Another consistent characteristic of the pottery in the 1920s is the bottom markings VAN BRIGGLE and COLO SPGS with all words in capital letters." Your "Colo Spgs" features upper and lower case letters, a practice used in the New Era.
Your wall plaque is part of a pair—an Indian chief and maiden. An eBay listing for a pair of plaques dating from the mid-1980s closed at $27.97 plus $14.95, failing to meet the reserve. Another eBay seller had each plaque listed at a "Buy It Now" price of $79 plus shipping. Why would anyone pay this amount when a pair did not achieve $30 in open bidding?
A realistic secondary market retail value for your wall plaque is between $15 and $20.
—————————————
QUESTION: My friend owns several Big Sky Carvers, Manhattan, Montana, sculptures that she would like to sell. These include five ducks—one of which is a mallard—a rainbow trout, a grouse, a pheasant and a white goose. They are in excellent condition and 10 to 12 years old. My friend paid between $80 and several hundred dollars each. She does not want to sell on eBay. What suggestions do you have for her?
– K.J., Bozeman, Mont., via e-mail
ANSWER: The secondary market for products from Big Sky Carvers fluctuates. My findings support Rinker's Thirty Year Rule—for the first 30 years of anything's life, all its value is speculative.
Buying a brand new Big Sky Carvers figurine, especially at full retail, is like buying a new car. When a person drives a new car out of the showroom, he/she understands that secondary market resale value drops 50 percent or more "now that it is used." It takes decades to recover initial retail value, if this happens at all.
Your friend is correct in assuming that eBay is not a good selling source for her Big Sky Carvers figurines. Pieces that sold through on eBay brought between 25 and 30 cents on their initial purchase dollar.
The secondary market is local. The sculptures and artist are collected primarily in Big Sky Country.
First, ask Big Sky Carvers if they are willing to resell your figures on consignment. A "yes" would surprise me. But, you will never know unless you ask.
If you are willing to consider the Internet, I recommend Craigslist. When doing the listing for each sculpture, include detailed pictures, especially of the artist's signature, in addition to a full-size image. Insert a ruler into the image so buyers can understand size.
Returning to consignment, approach local antiques malls or hunting and fishing stores. The sportsman/woman crowd is the obvious market.
Auction is your final choice. Find a local auctioneer who is acquiring material for a hunting, fishing and firearms auction. Put the sculptures in and let them fly. Do not attend the sale and be happy with any money generated. The sculptures are gone and she will have cash.
—————————————
QUESTION: I have a child's musical telephone music box made by Marco Music Crafts. The plastic body is white. What is its value?
– H., Franklin Lakes, N.J.
ANSWER: Marco Music Crafts, headquartered at 325 West 16th Street in New York City, made toys in the late 1950s. Information about the company is scarce.
An advertisement in the November 1959 issue of Popular Mechanics magazine for a Marco Music Crafts' bird's cage perch reads: "Musical Bird Perch starts to play when a pet bird alights on the bar to admire himself in the mirror. When it flies away, an automatic shut-off stops the music. The perch hangs inside a bird cage where the Swiss musical movement in the wood housing can be wound easily from the outside."
WorthPoint has a listing for a Marco Music Crafts' music box telephone. This phone has a green plastic body, wooden base, and plays "This Old Man Came Rolling Home." It sold on eBay on July 10, 2008, for $12.99 plus shipping.
Your music box telephone has collector and novelty/conversation value. While it is on the appeal periphery for music box collectors, the music box telephone will attract collectors of infant toys. Telephone collectors view it as a novelty item.
Assuming it is in very good or better condition, your music box telephone's value is around $15.
—————————————
Rinker Enterprises and Harry L. Rinker are on the Internet. Check out Harry's Web site..
You can listen and participate in Harry's antiques-and-collectibles radio call-in show "Whatcha Got?" on Sunday mornings between 8 a.m. and 10 a.m. Eastern Time. It streams live on the Genesis Communications Network.
"Sell, Keep Or Toss? How To Downsize A Home, Settle An Estate, And Appraise Personal Property" (House of Collectibles, an imprint of the Random House Information Group), Harry's latest book, is available at your favorite bookstore and via Harry's Web site..
Harry L. Rinker welcomes questions from readers about collectibles, those mass-produced items from the 20th century. Selected queries will be answered on this site. Harry cannot provide personal answers. Send your questions to: Rinker on Collectibles, 5955 Mill Pond Court SE, Kentwood, MI 49512. You can e-mail your questions to harrylrinker@aol.com. Only e-mails containing a full name and mailing address will be considered. Please indicate that these are questions for WorthPoint.
Copyright © Rinker Enterprises, Inc. 2012
WorthPoint—Discover Your Hidden Wealth