Q & A with Harry Rinker: Kid's Batcycle, Roosevelt's 'The Naval War of 1812, Part II'

by Harry Rinker (08/20/12).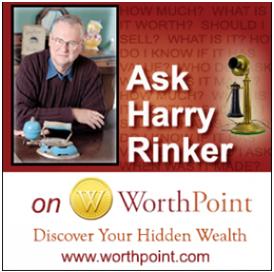 QUESTION: My husband and I have been searching high and low for information on a vintage Batman motorcycle toddler bicycle from his youth. The bicycle is approximately 35 to 40 years old. The molded plastic body is blue. The front wheel features the black Batman symbol on a yellow hub. The seat is white, the exhaust pipes silver and the pseudo-spoke molded rear hub is yellow. When was it made, who is the manufacturer and what is its value?
– Mrs. C. T., via e-mail
ANSWER: I found an identical "parts" example of your Batcycle, so badly scuffed that its only worth is to be disassembled for parts, offered for sale on eBay (#303756206161) for $60. The seller found information on the Batcycle that said: "National Periodical Publ. Inc." and "1975." The copyright date suggestions your toddler's Batcycle bicycle was made in 1975 or later.
I found another Batcycle made from the same mold but with a different color scheme. The body was black, the seat and pedals were yellow. There were several additional body decals with a black and yellow theme. Finally, the attached training wheels had hubs with the black Batman symbol on a yellow ground.
I was not able to determine the manufacturer. Perhaps thumbing through a run of 1975 and 1976 Playthings magazine might reveal an advertisement for the toy. If a reader knows the manufacturer, e-mail the information to harrylrinker@aol.com so that I can share it.
National Periodical Publications was the result of merger between National Comics, itself a 1944 merger between National Allied Publications and Detective Comics, Independent News (a distributorship) and several other entities. National Periodical Publications went public in 1961. Today, DC Entertainment, Inc., a division of Warner Bros. Entertainment, owns the rights to Batman and many other DC Super heroes.
The Batcylce first appeared in the 1966 "Batman" TV series. The first Batcyle was a 1965 Harley Davidson with an attached sidecar. It was used for only one episode. Kustomotive customized a Yamaha Catalina 250 for use in the 1966 "Batman" movie and the rest of the TV series. Although your cycle was manufactured 10 years later, its body shape somewhat resembles a 1960s Harley.
The pictures that accompanied your e-mail indicated that the round Batman face mascot is missing from the center of the front yoke. I also was not able to determine how much scuffing, if any, is on the frame.
Like you, I had trouble finding specific information about this toy, the primary reason being that any internet search involving the words "batcyle" or "Batman's motorcycle" produced information about the full-size versions. All refinement attempts failed. My suspicion is that the toy is more common than scarce.
Assuming your example is in very good condition and the only defect is the missing circular mascot from the middle of the front wheel yoke, its value is between $75 and $90.
—————————————
QUESTION: I have a copy of Theodore Roosevelt's "The Naval War of 1812, Part II" published by G. P. Putman's Sons in 1910. What is its value?
– RP, via e-mail
ANSWER: Theodore "Teddy" Roosevelt (Oct. 27, 1858 – Jan. 6, 1919), 26th President of the United States, was also an author, explorer, hunter and soldier. While studying at Harvard University between 1876 and 1880, he became interested in naval history. Prior to graduation he completed two chapters of a historic account of the U. S. Navy in the War of 1812. Roosevelt used his multitasking capabilities to research original resources, produce intricate drawings of ship maneuvers, numerous armament analysis charts and detailed ship-to-ship encounters. In 1882, one year after being elected to the New York State Assembly, Roosevelt's "The Naval War of 1812" was published. Roosevelt was immediately acknowledged as a serious scholar and historian. The book has remained in print for more than 130 years.
In 1884, Roosevelt convinced Putman to make him a special partner. Although an enthusiastic recruiter and submitter of proposals, most proved unpractical. Putman eventually did publish several of Roosevelt's titles including "The Winning of the West."
Roosevelt's fascination with naval history did not end with the publication of the book. In 1897, President William McKinley appointed Roosevelt to the position of Assistant Secretary of the Navy. Because Secretary of the Navy John D. Long had little interest in his position, Roosevelt was effectively in charge. When word arrived at the Naval Department of the destruction of the battleship U.S.S. Maine, Secretary Long was out of the office for a massage. In the four hours until he returned, Roosevelt ordered the navy worldwide to prepare for war, ordered supplies, consulted experts and appeared before Congress asking for permission to recruit sailors. Once the 1898 Declaration of War was passed, Roosevelt resigned from the Navy Department to form the First U.S. Volunteer Cavalry Regiment, known as the "Rough Riders."
Roosevelt's "The Naval War of 1812" appears in most multi-volume compendiums of his works. I found several copies of the Putman Part II title listed on Abe Books. Asking prices ranged between $20 and $35. Because the book still is in print, those wishing only to read it have no need to secure an older copy. Likewise, later reprints abound, thus placing all the emphasis on the first (1882) printing. Conservatively, your book has a value between $12 and $15.
—————————————
QUESTION: I own a 1924 Vocalion Red Records catalog. It is 128 pages in length and measures 5 inches by 7 inches. The catalog contains an alphabetical index of records and classified record list of exclusive Vocalion artists and their biographies. Vocalion Red Records was a label of the Aeolian Company, Aeolian Hall, New York. Does this have substantial value?
– K.B., Reading, Pa, via e-mail
ANSWER: Aeolian Piano Company created the Vocalion record label in 1916. The Vocalion Organ Company, a division of the Aeolian Piano Company, was the label's name source. Initially, the company issued single-sided records, switching to double-sided records in 1920.
The "red" came from the reddish-brown shellac used to coat the company's records. "Red Records last longer" was one of the company's early advertising slogans. Vocalion Red Records established a reputation for a high quality audio fidelity and pressing.
Vocalion issued a number of record series. Its 1,000 Series "race" records contained titles that appealed to the African American community. The 15,000 series featured jazz. Brunswick Records acquired the Vocalion label in 1925, continuing to issue records with the Vocalion label, as well as adding some Brunswick titles to the line.
Warner Brothers bought Brunswick in April 1930. In December 1931, Warner Brothers licensed all Brunswick and Vocalion titles to the American Record Corporation. Brunswick label records sold for 75 cents and Vocalion for 35 cents. When CBS bought the American Record Company in 1938, Vocalian became a Columbia Records subsidiary. The Vocalion label was discontinued in 1940. There were later revivals using the Vocalion name.
I found a March 19, 2012, eBay auction listing for a 1924 Vocalion Red Records catalog. The seller's listing reads: "RARE Aeolian Vocalion Red Records catalog 1924, 128 pages race Records Blues. This is the full catalog for 1924…complete listing of their Red Records…as nice as you will find, pages not browned." Years ago, I wrote a Rinker on Collectibles column about the overuse of "rare" as a descriptive word in internet sale descriptions. Rare suggests a high value. The final sale price was $25.
The low number surprised me. I expected it to be higher. However, Internet research revealed several library sources that have copies of the catalog available to scholars. This greatly reduces the need to acquire a period example.
—————————————
QUESTION: I have an individual ceramic bean pot that holds a large can of baked beans. The outside top half is chocolate brown, and the bottom half is a soft white. The bottom has raised letters reading: Supplied by Burnham and Morrill / Portland." What is its value?
– R., Presque Isle, Maine
ANSWER: George Burnham and Charles S. Morrill founded Burnham and Morrill in March 1867. The company's first products were canned fish, meats and vegetables. The company opened a corn cannery in Paris, Maine, in July 1868.
Burnham and Morrill began experimenting with the canning of oven-baked beans in the 1920s. The company's Brick Oven Baked Beans entered the market in 1927. In 1931, the company launched a national advertising campaign in The Saturday Evening Post. Brick Oven Baked Beans still were Burnham and Morrill's main product in the 1950s, but exposed to heavy competition from Campbell's and Heinz's canned pork and beans.
I was not able to determine when Burnham and Morrill offered individual bean pots as a premium. My best guess is the late 1930s or the late 1940s/early 1950s, with the late 1940s/early 1950s more likely than the late 1930s.
When the individual Burnham and Morrill bean pots are offered for sale on eBay, the asking price is between $10 and $12 plus shipping. When sold in groups, the average price is around $8. Realistically, think $4 to $6.
—————————————
Rinker Enterprises and Harry L. Rinker are on the Internet. Check out Harry's Web site..
You can listen and participate in Harry's antiques-and-collectibles radio call-in show "Whatcha Got?" on Sunday mornings between 8 a.m. and 10 a.m. Eastern Time. It streams live on the Genesis Communications Network.
"Sell, Keep Or Toss? How To Downsize A Home, Settle An Estate, And Appraise Personal Property" (House of Collectibles, an imprint of the Random House Information Group), Harry's latest book, is available at your favorite bookstore and via Harry's Web site..
Harry L. Rinker welcomes questions from readers about collectibles, those mass-produced items from the 20th century. Selected queries will be answered on this site. Harry cannot provide personal answers. Send your questions to: Rinker on Collectibles, 5955 Mill Pond Court SE, Kentwood, MI 49512. You can e-mail your questions to harrylrinker@aol.com. Only e-mails containing a full name and mailing address will be considered. Please indicate that these are questions for WorthPoint.
Copyright © Rinker Enterprises, Inc. 2012
WorthPoint—Discover Your Hidden Wealth