Q & A with Harry Rinker: Lamb Bros. & Green Table Lamp, Toy Locomotive

by Harry Rinker (04/11/12).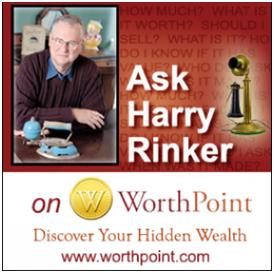 QUESTION: I own a Lamb Bros. & Greene table lamp. The round, sloped base, numbered "320" on the bottom, leads to tapered Grecian urn-shaped metal standard. The leaded shade has descending rows of white opaque glass rectangles. Each quadrant of the shade's base had a pond scene featuring two water lilies and a cattail. The finial is translucent white glass shaped like a triangular arrowhead. An oval decal label on the standard reads: LAMB BROS & GREENE / LAMB LAMPS/ ARE BEST / NAPPANEE, IND." I would like to know the history and value of my lamp.
— B.W., via e-mail
ANSWER: The Photobucket images of the lamp and the details of its base, shade and decal were helpful. The decals on most Lamb Bros & Greene lamps have been lost over time. Attribution often is based on catalog research and guesswork. It was a delight to see an example that still retains its period label.
Failing to find a detailed history of Lamb Bros. & Greene on the Internet, I called Peg Dudzinski, reference manager of the Nappanee Public Library (157 North Main Street, Nappanee, Ind. 46550) and requested her help. She e-mailed me a copy of Jan Lamb's brief history of the Lamb family companies in Nappanee and transcripts of newspaper clippings from The Nappanee News. The following history is compiled from this information.
In March 1900, George L. Lamb moved his brush, easel and novelty factory from Goshen to a former furniture factory in Nappanee, Indiana. In September 1903, Lamb added a two-story addition and dry kiln to the former furniture factory. Lamb constructed a new building for his novelty furniture business in late 1906.
In July 1908, Lamb displayed a selection of mission lamps at a Chicago merchandising show. Lamb's mission lamps sold well. Wishing to capture a portion of the growing leaded-shade lamp market, George L. Lamb, David Lamb, and H. B. Greene created a new business entity to manufacture art glass shades in April 1909. A newly built, three-story factory building, located on Jackson Street, housed the factory.
George L. Lamb continued as sole owner of his novelty furniture business as well as serving as a partner in the new enterprise. George's brother David moved from Los Angeles to manage the new factory. Harry B. Greene, George Lamb's son-in-law, was the assistant cashier of the Farmers & Traders Bank. J.C. Newsom of Louisville, Ky., was hired to head marketing.
Forty workers were employed. The Oct. 5, 1910 issue of The Nappanee News reported: "The elegant styles and finish of their goods is finding a market for them in Texas and Canada, as well as in nearly all the states of the Union … They operate two dynamos, one used in the plating process room and the other for lighting the factory. They also have their own gas plant which furnishes fire for the bench men in the soldering room …"
Lamb Bros. & Greene initially imported art glass shade designers and craftsmen from Chicago. Charles McFall, a graduate of the Chicago Art Institute, remained in Nappanee, eventually marrying Charles Lamb's youngest daughter Mabel Irene. Madeline Campbell also designed Tiffany-style lamps for the company. One of Campbell's designs was inspired by a robin's nest containing four eggs in a tree outside her window. Campbell's red and white stripe and blue shield with stars design was removed from inventory when the United States government complained about Lamb Bros. & Greene's commercialization of the flag.
George Lamb withdrew from Lamb Bros. & Green in 1925. As tastes shifted from art glass to silk lamp shades, business declined. To help make ends meet, the company did plating for outside contractors. In June 1931, a receiver sold the real estate and personal property of Lamb Bros. & Greene, a victim of changing tastes and the Great Depression.
[Author's Aside: I wrote this short history of Lamb Bros. & Greene in hopes that those who collect or sell Lamb Bros. & Greene lamps will reference it in the future.]
A dealer on Ruby Lane is offering a Lamb Bros. & Greene table lamp with a custard panel shade for $1,250. Counteroffers are welcome. Lampsaler lists an example with an elaborate leaded glass shade for $445. A dealer on electricrevival.com has a matched pair of Lamb Bros. & Greene lamps for sale priced at $2,500 each or $4,800 for the pair. An overly optimistic eBay seller (there seems to be a great many of them) has a Buy It Now price of $3,400 on an average-appearing Lamb Bros. & Greene lamp.
The secondary market value of your lamp is between $800 and $1,000. This value is based upon the beauty of the shade and an above average base.
—————————————
QUESTION: I have a battery-operated, lithographed tin "Silver Mountain" locomotive. It is numbered 3525. How old is it, what is its history, and what is it worth?
— R., Reading, Pa.
ANSWER: My Tin Toys provides this information: "The Silver Mountain Train Loco was made by Modern Toys in Japan. Dates to early to mid 1960s. It's battery operated and runs on two D cells. The engineer figure moves back and forth as the train runs around the floor. While he looks like Popeye, I don't think that is intentional.
"This is a noisy toy . . . Most Silver Mountain trains are found with battery damage, or are just beat up. But, these aren't rare, or even desirable. They are fun to play with, though."

Modern Toy was a brand name for Masudaya Toy Company, a Japanese firm dating its origins back to 1724. Following World War II, the company manufactured aircraft, boats, cars, military vehicles and other transportation toys. Masudaya also produced household appliances and products used in space exploration. For more information, see: William C. Gallagher's Modern Toys from Japan: 1940s-1980s (Schiffer Publishing, 2007).
Examples posted on eBay with Buy It Now prices of $12.95, $34.95, $49.95, and $135 failed to attract any bids. The price spread is laughable. EBay was a lot more fun when it was primarily a no reserve auction site. The good news is that eBay keeps earning income from the listing costs. The bad news is that the sellers do not seem to understand this.
If you would like to see the Silver Mountain Express in action, check out this You Tube video: http://www.youtube.com/watch?v=btntptcxBLk.
A second variation of this locomotive exists. A dealer on Ruby Lane is offering a 1950s, 16-inch-long Silver Mountain Flash in fair condition for $39.
Check the battery chamber of your Silver Mountain locomotive. If there is any rusting, its value is minimal; a few dollars at best, even if the toy is in working order. In working order, the locomotive is valued between $15 and $20.
If this rings the nostalgia bell in the mind of a reader, check out the $12.95 example for sale on eBay. However, beware: some Buy It Now sellers post a low purchase price and achieve the price they really wanted by charging shipping fees far in excess of the actual shipping cost. If the shipping exceeds $7.50, do not buy.
—————————————
READER'S REPONSE: In an answer to a question about a decaled plate that was once part of a game set, I encouraged the reader to (1) check the decal and (2) the mellowness of the gold. Marti Masters wrote to remind me that decal decorations were used throughout the 20th century on game and porcelain pieces and that gold came in various finishes. I should have qualified my decal reference by noting that a dot pattern seen under a loupe indicates a more modern decal. Masters' detailed comments are worth noting:
"It is a well-established fact that full-color decals were used by ALL the German manufacturers since the 1900s and that does mean the entire object is a reproduction. There is a distinction made between hand-painted art porcelain and factory-decorated porcelain. Hand-painted art porcelain is . . . an original artist's creation using porcelain as the medium instead of canvas. All other porcelain is made using outline transfers, which are overlaid with hand painting, or full color decals with hand-painted details . . .
"I also find objection to your comment that shiny gold means an object cannot be old because it dulls over time. If that's the case, then please explain to me why the fired gold on the objects in my rather extensive porcelain collection are still shiny . . . There are many types of gold finishes—from shiny to matte—and if properly cared for, gold does not 'dull' with age. More likely, gold will tend to rub off the edges of antique porcelain objects and the handles of vases, ewers, pitchers, pots, and urns if handled on a regular basis."
Thanks Marti for sharing your insights.
—————————————
Rinker Enterprises and Harry L. Rinker are on the Internet. Check out Harry's Web site..
You can listen and participate in Harry's antiques-and-collectibles radio call-in show "Whatcha Got?" on Sunday mornings between 8 a.m. and 10 a.m. Eastern Time. It streams live on the Genesis Communications Network.
"Sell, Keep Or Toss? How To Downsize A Home, Settle An Estate, And Appraise Personal Property" (House of Collectibles, an imprint of the Random House Information Group), Harry's latest book, is available at your favorite bookstore and via Harry's Web site..
Harry L. Rinker welcomes questions from readers about collectibles, those mass-produced items from the 20th century. Selected queries will be answered on this site. Harry cannot provide personal answers. Send your questions to: Rinker on Collectibles, 5955 Mill Pond Court SE, Kentwood, MI 49512. You can e-mail your questions to harrylrinker@aol.com. Only e-mails containing a full name and mailing address will be considered. Please indicate that these are questions for WorthPoint.
Copyright © Rinker Enterprises, Inc. 2012
WorthPoint—Discover Your Hidden Wealth