Q & A with Harry Rinker: Madame Alexander Pussy Cat Doll, Goebel Co-Boys

by Harry Rinker (06/08/12).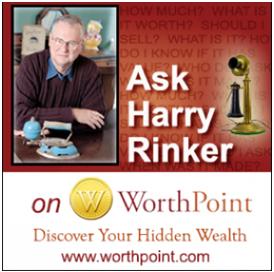 QUESTION: I purchased a Madame Alexander Pussy Cat Doll for my daughter when she was born in 1969. She carried it around by its hair, causing a large amount of loss. I was going to have it restored but put it away. I rediscovered the doll recently while cleaning a closet. I am downsizing and am trying to decide whether to sell or toss it. What do you recommend?
– D.H., Allentown, Pa, via e-mail
ANSWER: If I interpret a listing I found on Amazon.com correctly, it still is possible to buy a new Madame Alexander Pussy Cat Doll. Amazon shows a list price of $94.96, discounted to $48. A check of eBay provided a "smile on my face" moment. The first listing for "Madame Alexander Pussy Cat Doll" was for a "Vintage 1965 Pussy-Cat Doll" with a Buy-It-Now price of $150. The second listing was for a "1965 Madame Alexander 17" Pussy Cat Vintage Rare Doll," that is identical to the one in the picture attached to your e-mail, for a Buy-It-Now price of $34.98, shipping free. Buy-It-Now price differentials never cease to amaze.
While citing prices at the beginning of an answer may appear to be starting backward, it is the necessary first step to answer your question. As you indicate in your question and the picture attached to your e-mail clearly shows, your doll is in rough condition. The missing hair is only one problem. The composition body appears to have crack damage. Some parts of the costume are missing.
A sophisticated buyer first calculates restoration costs before buying any damaged object. The restoration cost plus purchase cost must be less than the value of acquiring a non-restored example. In this instance, a buyer wishing to own an example of your doll can acquire one in very good or better condition for under $35. My estimate of the restoration cost for your doll, including replacing the missing costume parts, far exceeds this amount.
The logical conclusion is the landfill. However, before sending the doll there, do two things. First, call your daughter and ask her if she wants the doll. Her answer may surprise you. Second, if your daughter's answer is no, place the doll outside on top of the trash can on collection day. My suspicion is that the doll will disappear before the trash is picked up. Given its condition, do not donate it to Goodwill or a similar organization. They will put it in the trash rather than recycle it.
—————————————
QUESTION: I have the opportunity to buy several Goebel Co-Boys, but the different marks on the bottom are confusing me. The mark on "Bit the Bachelor" I acquired from my grandmother differs from the mark on the examples I am being offered. Can you clarify this?
– A.O., Toano, Va., via e-mail
ANSWER: Wishing to take advantage of the 1970s collector edition figurine craze, Goebel—the same company who manufactured Hummel figurines—created a number of new figurine lines. Charlotte Byj's Redheads are one example. The Co-Boy Gnomes are a second.
In order to market the Co-Boys, Goebel created a fictional back story. The Gnomes live in Coburg, Germany. There actually is a Coburg, Germany, a town of over 40,000 inhabitants located on the Itz River in Bavaria. How the residents of Coburg feel about their association with Co-Boys is unknown.
The fictional story is that the Coburg residents forgot how to laugh. One day, a resident came up with the bright idea to resurrect a long forgotten world of gnomes who lived in the area. It is not clear why this revelation caused people to laugh again, but it did. Or, at least, so the story goes. Given the initial sales success of the figurines, clearly the management at Goebel was laughing.
The Co-Boys represent city inhabitants, primarily focused on occupation. Among the more than 60 figurines in the collection are: Al the Trumpet Player; Ben the Blacksmith; Bert the Soccer Player; Bob the Bookworm; Carl the Chef; Chris the Shoemaker; and so forth. Fortunately, there is no Harry the _______.
Goebel produced its Co-Boys between 1971 and 1987. As a result, some figurines can be found with as many as three different Goebel backstamps—the 3-line mark (1964 to 1972), the Goebel V (1972-1979), and Goebel (1979-1990). The Goebel mark featured a © next to Goebel below which was "W. Germany." The illustration that accompanied your e-mail shows the third of the three marks, meaning the piece was made between 1979 and 1987.
Researching values on the Internet, I found several websites for dealers specializing in the sale of collectible figurines. Prices for Co-Boys range from $75 to a high of $245. I always recommend comparison shopping. When I did this, I found a strong consistency between dealer prices. If I was a skeptical person, I might suspect price-fixing. EBay's Buy-It-Now prices also are surprisingly close to dealer asking prices. Examples that sold through on eBay brought less. The ready availability of these figurines suggests an oversupply in the marketplace. Buy wisely and do not be afraid to negotiate.
—————————————
QUESTION: Part I: Where can I found out about Tom Mix? I have an 8mm-movie entitled "Fight to Victory." The movie must be old because I found it with an old projector.
– P.P., via e-mail
Part II: I have a .22 rifle with the name Tom Mix on the stock. What is its value?
– J, Rockford, Ill.
ANSWER: It is moments like this that make me want to head for the nearest cliff. Who is Tom Mix? How could anyone forget one of the greatest B-movie western cowboy stars? Seventy-one-plus years have passed since Thomas Edwin "Tom" Mix (born Thomas Hezikiah Mix) died on Oct. 12, 1940 near Florence, Ariz. in a car accident while driving his 1937 Cord 812 Phaeton on Arizona State Route 79. Perhaps it is unreasonable to expect anyone under the age of 40 to know who Tom Mix is.
Tom Mix was one of the first "Kings of the Cowboys," a worthy successor to William S. Hart (do not even ask). Mix made 291 movies, more than 160 of which were westerns. Some films are lost. There two Tom Mix Museums, one in Dewey, Oklahoma and another in Mix Run, Pennsylvania. A Tom Mix Festival was held in DuBois, Pennsylvania from 1980 to 1989. It moved to Las Vegas (1990), Guthrie, Oklahoma (1991-1994), TERU Ranch (1995), Peru, Indiana (1996), and TERU Ranch (1997 and 1998), returning to DuBois in 1999. The last festival was held in 2004.
TRIVIA QUIZ: What was the name of Tom Mix's horse?
The 8mm projector was a popular means of viewing film at home from the 1930s through the 1950s. Companies such as Atlas, Blackhawk Films, Carnival, Castle Films, Hollywood Films, Pictoreels, and Regent made 8mm sound and silent cartoons, features and short subjects.
I checked several Tom Mix filmographies and found no reference to "Fight to Victory." 8mm home movies often were only excerpts from longer films. It is likely that your film was such an excerpt and re-titled. If sound, the movie dates from the early 1930s. If silent, it is most likely from the 1920s, but not necessarily so. Some sound movies were converted to silent for the home market since not all projectors had sound capability.
Most 8mm film used for these home movie shorts becomes brittle and deteriorates over time. Be aware of this if you plan to show your film. In terms of collectability, the box in which the film came is more collectible than the film. Box graphics usually have very colorful artwork.
Mix was a performer in Wild West Shows such as The Miller Bros. Wild West Show (1906-1909), the Widerman Show in Amarillo, Texas, and the Will A. Dickey Circle D Ranch Wild West Show. After retiring from film, Mix toured with his Tom Mix Circus (1936 to 1938). During his film career and in his appearances, Mix used Marlin rifles.

In 1924, the Marlin Rockwell Corporation, one of the largest machine gun producers during World War I, was sold at auction. Frank Kenna, Sr., a lawyer, bought the company for $100, assuming its $100,000 mortgage as part of the agreement. Under Keena's leadership, Marlin introduced the Model 100s .22 rifle.
In an effort to promote firearm safety among youth, Marlin hired Tom Mix, wishing to capitalize upon Mix's renewed popularity thanks to the Tom Mix Ralston Straight Shooters, a radio program first aired in 1933. Shortly thereafter, Marlin introduced the Marlin Model 100 Tom Mix Special .22 rifle. The Tom Mix designation is rollmarked onto the barrel.
A Marlin Model 100s Special .22 books between $75 and $100. The Mix version retails at double these prices. At $150, it is an easy sell. At $200, a seller needs to find the "right" buyer.
—————————————
QUESTION: I own a tin Edgemont Crackers box. The bottom is marked "Green & Green Co. / Dayton, OH / © 1924 GNT." It is in very good condition. What is its value?
– J, Reading, Pa.
ANSWER: I found multiple examples of your 7½-inch-wide, 8-inch-high Edgemont Crackers box on the internet for sale at prices ranging from $20 to $55, depending on condition. The light green and black color scheme speaks 1920s.
The only internet reference I found to Green and Green Company was: "Cheese Crackers were sold by Green & Green Brothers of Dayton, Ohio in May 1921." The next step, if you choose to accept it (with apologies to Mission Impossible), is to contact the Dayton Public Library or the local historical society to see what information they can provide about the history of Green & Green Co.
TRIVIA QUIZ ANSWER: Tom Mix rode Tony and Tony, Jr.
—————————————
Rinker Enterprises and Harry L. Rinker are on the Internet. Check out Harry's Web site..
You can listen and participate in Harry's antiques-and-collectibles radio call-in show "Whatcha Got?" on Sunday mornings between 8 a.m. and 10 a.m. Eastern Time. It streams live on the Genesis Communications Network.
"Sell, Keep Or Toss? How To Downsize A Home, Settle An Estate, And Appraise Personal Property" (House of Collectibles, an imprint of the Random House Information Group), Harry's latest book, is available at your favorite bookstore and via Harry's Web site..
Harry L. Rinker welcomes questions from readers about collectibles, those mass-produced items from the 20th century. Selected queries will be answered on this site. Harry cannot provide personal answers. Send your questions to: Rinker on Collectibles, 5955 Mill Pond Court SE, Kentwood, MI 49512. You can e-mail your questions to harrylrinker@aol.com. Only e-mails containing a full name and mailing address will be considered. Please indicate that these are questions for WorthPoint.
Copyright © Rinker Enterprises, Inc. 2012
WorthPoint—Discover Your Hidden Wealth