Q & A with Harry Rinker: Military Division History, Moon Wagon, Fisher Price Circus

by Harry Rinker (05/09/12).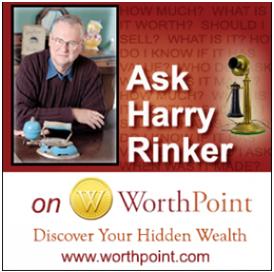 QUESTION: I own a copy of William de Jarnette Rutherfoord's "165 Days 25th Division on Luzon," self-published in 1945. This first printing has a blue cloth cover with a color paste-on showing the division's patch. The pages are stapled. The book is in good condition. What is it worth?
– J.K., Reading, Pa., via e-mail
ANSWER: Division histories from any war are eagerly sought by military collectors. This 175-page book included 176 pen-and-ink frames tracing the combat route of the 25th Division's Philippines liberation campaign, from its landing in the San Fabian area of Luzon on January 11 until its retraining departure on June 30, 1945.
I was not able to locate a detailed biography of Rutherfoord on the Internet. In the introduction to his book, he wrote: "To my way of thinking, an infantry man in combat is the only soldier who is fully equipped to comprehend the nature of that infamous scourge called war."
The 25th Infantry Division, nicknamed "Tropic Lightning" and formed from the 27th and 35th Infantry regiments of the Hawaiian Division, was activated on Oct. 1, 1941. It was based at Schofield Barracks in Honolulu. Following the attack on Pearl Harbor on Dec. 7, the 25th was moved to beach positions. The Division served in Guadalcanal from Dec. 17, 1942 through Feb. 5, 1943. The 25th fought in the New Georgia campaign from July 21, 1943 through the end of August 1944.
The 25th Division's Philippines liberation combat route took it across the Luzon Central Plain, the occupation of Umingan, Lupa, and San Jose, and eventually into the Caraballo Mountains. It cleared Highway No. 5, capturing Santa Fe on June 30, 1945. Following the conclusion of World War Two, the 25th Division served for five years as part of the Japanese occupation force.
World War II division histories published in the two decades immediately following the war usually are priced between $50 and $100. More than a dozen copies of Rutherfoord's "165 Days 25th Division on Luzon" are listed for sale on various internet sites. Damaged copies begin at $50 and end at $75. Copies in very good and better condition are priced between $110 and $150, the high price reflecting the "comic book" nature of the presentation.
PacificWrecks offers a reprint edition of Rutherfoord's history, issued by Kessinger Publishing, for $18.95. The reprint's cover does not feature the 25th Division's patch.
—————————————
QUESTION: I have a metal Moon Wagon made by the Big Boy Manufacturing Company. It has a purple circular body with a "U" shaped back rest. The wagon has a fifth wheel under the back rest. When you pull up on the handle, the front of the wagon lifts up so that you can perform "wheelies." A manufacturer's label is on the back of the back rest. I believe it dates from the late 1960s. What can you tell me about it and what is it worth?
– G, Bozman, Mont.
ANSWER: The growth of suburbia following World War II spawned a backyard/patio barbecue craze. In August 1953, Merle L. Persinger of Glendale, Calif., and Laverne O. Persinger of Burbank, were copartners involved in the manufacturing and sale of barbecue equipment. The two partners incorporated Big Boy Manufacturing Company, Big Boy Barbecue Sales Company, and Big Boy Barbecue Export Company. The companies were located in Burbank, California.
Wain Enterprises, a Southern California restaurant business, selling a double-decked hamburger and using a fat infant in its advertising, sued the Persingers, claiming two trade-mark infringements and one charge of unfair competition. The district court dismissed the suit. Although concluding "there seems to be little likelihood of confusion of identity of products," the United State Court of Appeals Ninth Circuit reversed the district court's ruling and allowed a trial to proceed. I found no record of a trial. Since the Persingers continued to do business as the Big Boy Manufacturing Company into the early 1970s, a safe assumption is either (1) if a trial was held, the Persingers won or (2) Wain Enterprises decided not to press forward.
In 1956, The Big Boy Manufacturing Company in partnership with Kingsford Chemical, manufacturers of easy-light charcoal briquettes, published the Big Boy Barbecue Book subtitled "Shows how easy it is to cook on Spit or Grill." At least seven editions of the book were printed.
The Persingers filed numerous patents. Laverne O. Persinger received patent US2983218 for a barbecue grill attachment, US3016816 for an outdoor barbecue with slanting grill, US 3121386 for a barbecue assembly, US3667449 for a gas operated barbecue grill, and USD223551 for an anchor for boats. In 1968, Merle L. Persinger received patent USD212105, filed on June 17, 1967, for a toy wagon, manufactured as the "Moon Wagon."
A 1969 advertisement for the "Moon Wagon for Young Astronauts" pictures two models, one with seven wheels (two front wheels, two pairs of two wheels in the back, and an extended "wheelie" wheel) and one with nine wheels (a pair of double wheels in the front). The interior of the round seat had three (3) six pedal, star-shaped decals. Owners were instructed to "LEAN BACK / GIVE 'ER THE GUN."
WorthPoint contains eBay listings for two "Moon Wagons," one with a purple body and in fine condition sold on April 20, 2011 for $174.50. Another with a Dr. Pepper advertisement on the back of the back brace in the "U" shaped back and with surface rust on the body brought $105.89 on Jan. 1, 2007. A third exampled closed on eBay on March 24, 2012 at $100. A purple body example is available here for $70.
Assuming your wagon is in very good or better condition, its value is between $75 and $90.
—————————————
QUESTION: I have the circus wagon, animal figures, and accessory pieces from a Fisher Price Circus toy. The animal figures have white plastic arms and legs. I would like to know more about this toy.
– A, Windsor, Mo.
ANSWER: Your wagon, animal figures and accessory pieces are part of the Fisher Price Circus #900, sold in 1962 and 1963. The set contained 30 pieces, all of which must be present for the set to have full value.
The circus wagon measured 15 inches long and had hinged doors on each end that opened into a ramp. The wagon's bars were white, the base red and the four wooden wheels yellow. The top had two yellow ornamental pieces. The wagon was pulled by a red and white string with a blue wooden ball attached.
There were eleven figures with lithograph-paper on wood bodies and plastic arms and legs—bear, camel, clown, dog, elephant, giraffe, horse, monkey, ringmaster, seal and tiger. There were more than a dozen accessory pieces, all of which could be stored in the wagon—four (4) red wooden ladders with six (6) white plastic rungs, three (3) yellow plastic ladder connectors, a yellow trapeze, yellow plastic semi-circle with pegs, yellow plastic semi-circle with holes, black wooden tub, red plastic ball, and light blue plastic balancing board. There also was a set of instructions.
I have provided these checklists so that you can identify how many of the 30 pieces you have. The packaging also has display value. Hence, its absence makes the set incomplete.
The first Fisher Price Circus Set, #250 (Big Performing Circus) was issued between 1932 and 1938. A 1964 Big Performing Circus Set #900 contained one additional piece—a yellow plastic spinner. Between 1963 and 1970, Fisher Price marketed a 22-piece Junior Circus Set #902, packaged in a tube and without a wagon. Its 13-piece Beginner's Circus Set #904, with only six animals, was sold between 1965 and1968. Finally, Fisher Price Play Family Circus Train #990, featuring Little People, was produced between 1973 and 1986.
EBay values for the Fisher Price Circus #900 set range from sellers asking between $50 and $120 for incomplete sets, with prices in the $180 to $224 dollars for complete sets. The latter are "Buy It Now" prices. Hence, a safe assumption is that the asking price is high and possibly negotiable.
—————————————
QUESTION: I have a ceramic female cow figurine that measures 12 inches long and 8 inches high. It is marked on the bottom "B & G / 2161." What is its value?
– M, Bozman, Mont.
ANSWER: Your Bing and Grondahl figurine of a standing cow licking its side still is in production and available for sale on dozens of internet storefront sites. Lauritz Jensen designed the figurine.
The DPH Trading website lists a first quality example at $538.24 retail (discounted to $480.57) and a second quality example at $430.69 (discounted to $387.53). The Stan Tillotson website shows the figurine with a list price of $865 and a selling price of $435, a 50-percent discount. The price on World Antiques is $569.
Like a new car, whose value declines the minute it is driven out of the showroom, the same applies to any modern ceramic figurine. Even if purchased at 50 percent of the company's suggested list price, the sale price includes profit to the seller and one or more wholesalers in the distribution chain.
A safe secondary market value for your B & G 2161 cow figurine is between $250 and $300.
—————————————
Rinker Enterprises and Harry L. Rinker are on the Internet. Check out Harry's Web site..
You can listen and participate in Harry's antiques-and-collectibles radio call-in show "Whatcha Got?" on Sunday mornings between 8 a.m. and 10 a.m. Eastern Time. It streams live on the Genesis Communications Network.
"Sell, Keep Or Toss? How To Downsize A Home, Settle An Estate, And Appraise Personal Property" (House of Collectibles, an imprint of the Random House Information Group), Harry's latest book, is available at your favorite bookstore and via Harry's Web site..
Harry L. Rinker welcomes questions from readers about collectibles, those mass-produced items from the 20th century. Selected queries will be answered on this site. Harry cannot provide personal answers. Send your questions to: Rinker on Collectibles, 5955 Mill Pond Court SE, Kentwood, MI 49512. You can e-mail your questions to harrylrinker@aol.com. Only e-mails containing a full name and mailing address will be considered. Please indicate that these are questions for WorthPoint.
Copyright © Rinker Enterprises, Inc. 2012
WorthPoint—Discover Your Hidden Wealth