Q & A with Harry Rinker: Signed First Edition of Sandburg's 'Remembrance Rock'

by Harry Rinker (11/13/12).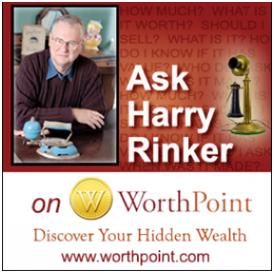 QUESTION: I own an autographed copy of Carl Sandburg's "Remembrance Rock," published by Harcourt, Brace and Company in 1948. The copyright page reads: "FIRST REGULAR EDITION / AFTER PUBLICATION OF 1000 DE LUXE EDITION COPIES / THE DE LUXE EDITION CONSISTS OF 1,000 COPIES ON ALL / RAG PAPER, NUMBERED AND SIGNED BY THE AUTHOR, OF / WHICH 975 COPIES ARE FOR SALE." Included with the book is a printed "Memorandum from / Carl Sandburg / Marbridge" on which the following handwritten note appears: "Dear Mrs. Logan, / The prayer you mention / is published in my novel "Remembrance Rock."… Ever good wishes / Carl Sandburg." The book is in good condition. What is the book with the memorandum worth?
– C.G., Omaha, Neb.
ANSWER: Carl Sandburg (Jan. 6, 1878 to July 22, 1967) had won two Pulitzer Prizes, one for "Abraham Lincoln: The Prairie Years" (1926) and the second for "Abraham Lincoln: The War Years" (1940), when he wrote "Remembrance Rock," his first novel. "Remembrance Rock" traces the story of the American dream from the landing of the Pilgrims through America's dark days of Civil War. Readers often have trouble wading through the first chapter but tend to settle down and enjoy the book when the historical saga begins.
Sandburg was living at Connemara, his rural estate near Flat Rock, N.C., when he wrote "Remembrance Rock." He moved to Connemara in 1945 and lived there until he died. Sandburg wrote the last third of his literary efforts at Connemara. Although known primarily as a poet, Sandburg wrote biographies, children's literature, film reviews, history and novels and edited books of ballads and folk stories.
Copies of signed copies of Sandburg's "Remembrance Rock" are readily available on Amazon and eBay. The first edition was published with a dust jacket. The absence of the dust jacket impacts its value. While condition also is a factor, ownership provenance and inscription importance appear more important in establishing value.
Researching eBay is fun because its "Buy It Now" feature is a constant reminder of the silliness found in the antiques and collectibles marketplace. A signed copy of "Remembrance Rock" with a dust jacket in fair to good condition is listed at $250. A second copy with a dust jacket in good to very good condition is offered for sale at $400. A third copy is a first edition with a fine condition dust jacket and priced at $1,000. I have no idea why someone would pay $1,000 for a copy only one step above the one offered for $400. Unsigned first edition copies of "Remembrance Rock," a few including the dust jacket, are found on amazon.com for less than $10.
I am assuming your book no longer retains its dust jacket. As such, the value is in the memorandum. As a pair, they are worth between $175 and $200.
—————————————
QUESTION: I own a Mickey Mouse wind-up alarm clock. It has a white body and two red bells on the top. "Bradley" appears beneath the number 12. It also is marked "Made in Germany." The alarm clock is in working condition. What is my clock's value?
– A., Windsor, Mo.
ANSWER: Adolf Jerger KG Uhrenfabrik (clock factory), Nidereschack, Germany, produced this alarm clock in the early 1970s for Bradley. The clock is a licensed Disney product. The oval shaped clock measures approximately 6 inches wide and 4 ½ inches high, not counting the bells and handle.
The back of the clock should have a lion logo, the trademark of Adolf Jerger KG. The mechanism inside the clock also is stamped with the lion logo, "Jerger," and a serial number. Jerger first used the lion trademark in 1970. Jerger registered the mark in the United States in 1978. The company ceased operations in 1988.
Walt Disney's cartoons were as big a hit in Europe and around the world as they were in the United States. Disney secured licensing agreements with European manufacturers beginning in the early 1930s. Many of these European products were not marketed in the United States. Advanced Disney collectors began collecting European licensed material in the mid to late 1980s. The Internet made what was once scarce material more easily available to those American Disney collectors desiring it.
The standard Buy-It-Now price for your Mickey Mouse alarm clock on eBay is $49.99, with some greedy sellers asking more and a few asking less. There are multiple versions of the alarm clock, one having a white body and another with a chrome metal body.
Realizing that ebay.com is eBay's American website, I visited ebay.de, the German website. I tried a number of search patterns: (1) Mickey Maus +uhr, (2) Mickey Maus +Bradley (3) Mickey Maus +Jerger, and (4) Adolph Jerger. Only the first produced results, none of which matched the Bradley clock. My assumption is the entire production run was exported to the US.
A conservative secondary market value for your Mickey Mouse alarm clock is between $25 and $35.
—————————————
QUESTION: I inherited a trophy moose head mount. A plaque on the mount board indicates it was shot in Bangor, Maine in 1899. What is its value?
– C., Shillington, Pa.
ANSWER: The Boone and Crockett Club published the first guidelines to identifying trophy game in 1887. This measurement and scoring system is still used today for big-game species.
A trophy moose must be a bull and have a minimum 195 B & C score. A rack should have a 60-inch or greater spread. The measurements of the antler's length, width, mass and number of points add to the total. Antler points must be a minimum of one inch in length and longer than wide at the base. Ideally, there should be eight to 10 points per antler. The final measurement is the circumference taken at the narrowest place between the burr and paddle. The ideal is a thick antler.
[For more information, click here to learn how to spot a trophy and click here to learn how to score your trophy.]
You did not indicate the condition of your moose head mount, trophy or otherwise. At close to 115 years of age, its appearance is probably somewhat mangy. Unless the moose head mount was owned by a series of meticulous housekeepers, it possesses a well built-up layer of dust.
In checking several Internet websites that discussed the insurance value of a trophy moose mount, a general consensus suggests an insurance replacement value between $1,500 and $2,500. Mac's Taxidermy contains ready-to-go moose head mounts starting at $2,500 and ending at $4,900. A life-size moose is available for $9,000.
Realistically, your moose head mount is worth between $500 and $650, assuming it is in good or better condition.
—————————————
QUESTION: I purchased a still bank entitled "The Original Pocket Change Machine" at a local auction for $5. The bank is made of wood and has a glass front on which the above words appear. There is a round circular hole in the top to insert coins. Although it is dated 1904, I suspect it is of much more recent origin. What light can you shed on this?
– J., Lincoln, Neb.
ANSWER: "Original," a term almost never used in a product title, was more than enough to raise the hairs on the back of my neck. The first alarm bell sounded.
While every collector can recount stories of "stealing" pieces at auction, the truth is that experienced collectors, dealers and pickers haunt the auction scene. If the still bank was manufactured in 1904 or immediately thereafter, it would have sold for more than five dollars. Alarm bell No. 2 just went off.
Much to my surprise, when I did a Google search for "Original Pocket Change Machine" several listings appeared, the first two of which were on WorthPoint, showing an example that closed on eBay on Dec. 2, 2011 for $19. The cheap price is the third alarm bell.
The second WorthPoint listing settled the matter. This one, an example of "The Original Pocket Change Machine," sold on eBay on May 30, 2007, for $12.82. The eBay listing included four pictures—the bank, a detail of the glass, and two shots of the bottom. The first rule of authenticating is "if it looks new, it is new." The quarter moon wood closure on the bottom of the bank was raw wood. The detailed pictures also allowed me to determine that the "aging" of the wood was done with stain. The fire is now at five alarms.
The bank is a fantasy piece, an object that never existed historically. The date means nothing, proof once again that the best approach to authenticating is to question everything you see. Your bank has curiosity value. The good news is that you only are out $5.
—————————————
Rinker Enterprises and Harry L. Rinker are on the Internet. Check out Harry's Web site..
You can listen and participate in Harry's antiques-and-collectibles radio call-in show "Whatcha Got?" on Sunday mornings between 8 a.m. and 10 a.m. Eastern Time. It streams live on the Genesis Communications Network.
"Sell, Keep Or Toss? How To Downsize A Home, Settle An Estate, And Appraise Personal Property" (House of Collectibles, an imprint of the Random House Information Group), Harry's latest book, is available at your favorite bookstore and via Harry's Web site..
Harry L. Rinker welcomes questions from readers about collectibles, those mass-produced items from the 20th century. Selected queries will be answered on this site. Harry cannot provide personal answers. Send your questions to: Rinker on Collectibles, 5955 Mill Pond Court SE, Kentwood, MI 49512. You can e-mail your questions to harrylrinker@aol.com. Only e-mails containing a full name and mailing address will be considered. Please indicate that these are questions for WorthPoint.
Copyright © Rinker Enterprises, Inc. 2012
WorthPoint—Discover Your Hidden Wealth