Q & A with Harry Rinker: 1941 Stahl Pottery Turk's Head Cake Mold

by Harry Rinker (10/31/12).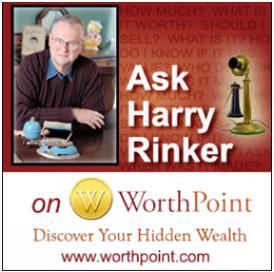 QUESTION: I own a glazed, redware Turk's head cake mold signed by Thomas Stahl, September 1941. I am 83 years old and it is time to sell some of my prized possessions. What is its value?
– L.S., Altoona, Pa., via e-mail
ANSWER: Carl's Hill in Zionsville, Pa., where I lived from 1980 to 2000, overlooked Powder Valley, the home of the Stahl Pottery. The historic pottery survives today, thanks to the efforts of the Thomas Stahl family.
Charles Stahl founded the wood-fired, earthenware pottery. His sons Thomas and Isaac continued the tradition, eventually joined by Russell Stahl and Carrie Stahl Schultz. The Stahls produced utilitarian and some decorative pottery following forms and decorations associated with the Pennsylvania Germans. When Russell died in 1986, descendants of Thomas Stahl purchased the pottery at public auction, organized the Stahl Pottery Preservation Society, developed the historic site, and sponsored an annual pottery festival.
In addition to attracting regional and Pennsylvania German collectors, Stahl pottery is collected nationally as "folk art," especially the sgrafitto-decorated plates. Besides their names or initials and dating many pieces, the Stahls often included extraneous comments on the bottom such as notes about the weather or events of the day. These comments add a premium to the value.
There is little value distinction between pieces produced by each Stahl. However, collectors tend to value earlier dated pieces over similar later dated examples.
Your Turk's head mold was meant for use. Its secondary market value is between $175 and $200. I recommend selling it at an eastern Pennsylvania regional house such as Alderfer, Horst, or Pook & Pook.
—————————————
QUESTION: I have been trying to locate a geography game called Globetrotters, which I played as a young child with my family. I do not know the manufacturer. Can you assist me?
– J. McL., via e-mail
ANSWER: The website Board Game Geek contains a wealth of information about the Globetrotters game, as well as other games. Ken Evoy designed Globetrotters. First sold in 1984, Irwin Toy, Ltd., produced the English edition. Casper (Swedish), Competo/Marketoy (Finnish), and Selecta Spel en Hobby (Dutch) also manufactured versions of the game.
The box lid notes: "The Game of Travel and Adventure. Travel the world by air, land or water, to collect keys from around the world. Whether you plan your course strategically or react spontaneously to the game, your challenge is to defeat both your opponents and chance. Only you can decide whether to go for adventures in any of the major cities of the world, roll for the jackpot in gambling cities like vibrant Las Vegas or steamy Macao, or sail to lush tropical islands such as Hawaii, Fiji, or the Seychelles….Globetrotters has been designed to accommodate any level of play. As you progress from novice traveler to seasoned globetrotter, you will discover a contest of extraordinary depth." The number of players ranges from two to six.
Sam and Beatrice Irwin of Toronto, Ontario, Canada began importing and distributing dry goods and clothing in 1926. Within a short time, the company focused on toys. In the 1980s, the company profited by acquiring the Canadian distributing rights for the Atari Video Computer System and Sega video game brand. During the 1990s, Irwin distributed most of the popular American toys in the Canadian market. The North American Free Trade Agreement reduced the need for American manufacturers to have Canadian branches. In 2003 Irwin Toys, now owned by Richard Ivey and Jean Marie Halde, declared bankruptcy. The company's factory is now the Toy Factory Lofts condominiums. The company resurfaced after bankruptcy as itoys.inc.
Instead of checking eBay for a listing of the game, focus on eBay.ca, the Canadian version of eBay. The game is more likely to appear for sale there. In very good condition, the game sells between $10 and $12. A near mint example might reach $15.
—————————————
QUESTION: I have two dark blue tone souvenir plates, each bearing a Rowland and Marsellus Company mark. The first features scenes from Allentown, Pennsylvania—the center picture is the Pike and the border has scenes of the Lehigh River, Hospital at 17th and Hamilton, the Square, Zion Reformed Church, the Water Works, and the Duck Farm. The back notes that the plate is imported and designed for Hess Bros. The second plate was made expressly for the Ladies Auxiliary of St. Paul's Union Church in Trexlertown through the auspices of L. H. Yeager Company, Allentown. The plate features portraits of the five pastors who served the church from 1859 to 1909. Both plates have no nicks or cracks. What are the plates worth?
– B.D.H., Allentown, Pa., via e-mail

ANSWER: Rowland & Marsellus Company of New York, circa 1893-1938, were importers, retails and wholesalers. The company contracted with numerous English potters in the Stoke-on-Trent Staffordshire district. Rowland & Marsellus is noted for its role as the middleman in the creation of souvenir plates and other items.
Most Rowland & Marsellus historical scenic plates featured a cobalt blue transfer. The plates generally featured a central scene with multiple smaller oval scenes around the boarder. In addition to souvenir plates for cities, churches and other institutions, historic subjects like "Famous Musicians and Composers" also were made.
As in the case of your two plates, Rowland and Marsellus contracted with local department stores and merchants. These plates were made in limited quantity and sold regionally.
As a result, their secondary market value is strongest in the region pictured on the plate. The Allentown souvenir plate sells between $35 and $45 in Pennsylvania's Lehigh Valley, in part because of its crossover value as a Hess Bros. collectible. Outside a 50-mile radius of Allentown, its value decreases to $12 to $15.
The St. Paul's Union Church plate will command a slightly higher value, $45 to $55. Fewer examples were manufactured than the Allentown souvenir plate. Although the potential buyers' market is constricted, the competition is greater. Once again, outside a 25-mile radius, the value drops dramatically.
I see Rowland and Marsellus souvenir plates priced at $65 and more in malls and shows. During a second visit, I usually see them again. Sellers mistake age for value and overestimate the interest and availability sophistication of the regional collector.
—————————————
QUESTION: I have a pair of bronze cast bookends that belonged to my grandmother. Each features a seated Airedale on an oval base. "U.S. Airedales" is on one side of the base and "J.B. 2037" on the other. I have searched the internet and asked numerous dealers to help me identify them. I have not had any luck. I cannot believe they are one-of-a-kind. What is your take?
– R.W., via e-mail
ANSWER: Your bookends are not one-of-a-kind. "2037" is a stock number. "J.B." is the mark of the Jennings Bros. Manufacturing Co. of Bridgeport, Conn., which operated between 1892 and 1953. Kovels pictures a gilt metal box with the initials "J. B." attributed to the Jennings Brothers Manufacturing Company.
The Antique Bookends website features the following listing in its offerings of Jennings Brothers Mfg. Co. bookends: "'German Shepherd' – Jennings Bros. – circa. 1930. 6" high x 4-1/2" wide x 2-1/4" deep. Gray metal with plated bronze & copper finish. Inscribed JB 2408. Modeled after French animalier Louis Riche (b.1877) who sculpted this shepherd in 1910…."
The similarity in markings as well as the detail in the sculpture of your Airedales and the German Shepherds makes a convincing case for the Jennings Bros. attribution.
Jennings Bros. Manufacturing Co. introduced bookends into its line in the 1920s and continued producing them until the advent of the Second World War. The bookends are cast gray metal with a bronze finish. Jennings Bros.' commitment to producing highly detailed bookends added to the production cost, eventually creating financial difficulties for the company.
Your bookends are valued between $175 and $200.
—————————————
Rinker Enterprises and Harry L. Rinker are on the Internet. Check out Harry's Web site..
You can listen and participate in Harry's antiques-and-collectibles radio call-in show "Whatcha Got?" on Sunday mornings between 8 a.m. and 10 a.m. Eastern Time. It streams live on the Genesis Communications Network.
"Sell, Keep Or Toss? How To Downsize A Home, Settle An Estate, And Appraise Personal Property" (House of Collectibles, an imprint of the Random House Information Group), Harry's latest book, is available at your favorite bookstore and via Harry's Web site..
Harry L. Rinker welcomes questions from readers about collectibles, those mass-produced items from the 20th century. Selected queries will be answered on this site. Harry cannot provide personal answers. Send your questions to: Rinker on Collectibles, 5955 Mill Pond Court SE, Kentwood, MI 49512. You can e-mail your questions to harrylrinker@aol.com. Only e-mails containing a full name and mailing address will be considered. Please indicate that these are questions for WorthPoint.
Copyright © Rinker Enterprises, Inc. 2012
WorthPoint—Discover Your Hidden Wealth