Q & A with Harry Rinker: A Vincent Price Collection Oil Painting from Sears

by Harry Rinker (02/07/12).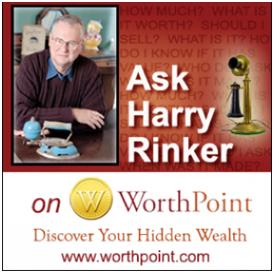 QUESTION: I received a Robert Watson oil-on-canvas painting from my parents, who purchased it in the 1960s as part of the Vincent Price Collection sold by Sears, Roebuck & Co. The work is titled "Old Building." It measures unframed 25 inches by 17 inches. The black-and-white tone scene features two small figures standing in front of what appears to be a warehouse wall. The frame has the "Vincent Price Collection" label on the back. What is the value of my painting?
– SH, Ottumwa, Iowa, via e-mail
ANSWER: The following information is from The Ape Sheet: The Vincent Price Collection" was an experiment started by Sears, Roebuck and Co. to sell fine art to the general public. They hired Vincent Price to assemble the collection because he had a recognizable name and a reputation as an art collector. The actor purchased more than 2,700 works and the first 100 went on sale in October of 1962. To the store's surprise, it worked. People clamored to buy pieces by artists such as Albrecht Durer or Reginald Pollack. Discontinued in 1971, the Vincent Price Collection has been forgotten as an odd art historical moment."
A 1967 Sears catalog featured a Pablo Picasso oil on canvas entitled "Girl with a Boat" (Maya Picasso) for $800. I wish I had purchased it.
Robert Watson (Jan. 28, 1923 – Dec. 14, 2004), born in Martinez, Calif., is classified as a surrealist and neo-romanticist. He honed his skills studying old masters at the Metropolitan Museum of Art in New York and worked briefly with Frederick Taubers at the University of Wisconsin. He lived for many years in Berkeley, Calif. Gump's in San Francisco sponsored his first one-man show in 1947. His work is in museum collections around the world. His celebrity clients included Ray Bradbury, Clark Gable, Armand Hammer, Burt Reynolds and Ed Sullivan. Watson did the painting used to illustrate the 1953 edition of Bradbury's "Martian Chronicles." To learn more about Watson, visit www.robertwatsonart.com.
On May 28, 2007, Heritage Auctions sold an oil on canvas entitled "Figures" that measures 32 inches by 18 inches that is similar to your painting, based on the photograph image that accompanied your e-mail. It is from the same series. The final selling price was $2,390.
In researching Robert Watson painting values, there was a price disparity of more than 50 percent between prices realized at auction and asked by galleries. Based on modern trends in the surrealist/neo-romanticist market, your painting has a secondary market auction value around $3,000.
—————————————
QUESTION: My mother has a copy of a 1984 article you wrote for the Allentown Morning Call in which you talked about a ceramic Jell-O cow pitcher worth $525. My mother acquired a Jell-O cow pitcher in the 1950s and has kept it stored in her dish cabinet since that time. It is in great shape. Now, she would like to sell it. Any information you can supply would be helpful.
– TC, Bethlehem, Pa, via e-mail
ANSWER: I am not the author, at least not to my knowledge. "Rinker on Collectibles" did not begin until late 1987. The author was most likely another syndicated antiques and collectibles columnist and her husband who will remain nameless.
Wondering what caused a ceramic Jell-O cow pitcher to have such a high value in 1984, I did research. The answer is Prescott Baston, creator of Sebastian miniatures. After completing a series of Sebastian miniatures for Jell-O between 1951 and 1955, Baston designed a cow pitcher for Jell-O in 1956.
The Sebastian World website is the source for information about Sebastian figurines: Prescott W. Baston (1909-1984), who attended the Vesper George School of Art in Boston, created his first miniatures for Exeter and Deerfield Academies in 1930. During the Depression, Baston worked for a Boston clock company, a furniture moving company and as a mural painter. In 1938, he designed a miniature for the Shaker Glen House Restaurant. This led to his working with Carborne, a Boston wholesale gift distributor. Between 1939 and 1941, Baston developed a cottage industry producing and painting miniatures in his basement. In 1945, he moved to Marblehead and set up a studio.
Starting in 1950, Baston focused on producing commercial miniatures for advertising and/or giveaway promotions. Radio station WEEI and Jell-O were among his clients. In the early 1960s, Baston expanded his product line to include pen stands, religious pieces and Toby Jugs. Lance Corporation of Hudson, Mass., produced pewter figures based on Baston's designs starting in 1969. In 1976, Lance assumed production and distribution of all Sebastian miniatures. The Sebastian Miniatures Collectors Society began in 1980.
Sebastian collectors identify the Jell-O cow pitcher as LC-13. It measures 6 ¾ icches long and 4 ¾ inches high. Jell-O offered the pitcher as a premium for $1 plus a coupon from a national Jell-O advertisement. A Japanese manufacturer produced 100,000 pieces.
Current book values vary. The website Sebastian World shows a value range between $210 and $220, although a notation indicates the value was last revised in 2003. Kyle Husfloen's "Antique Trader Pottery and Porcelain Ceramics Price Guide, 5th Edition" (KP/Krause Publications, an imprint of F+W Publications, 2006) values the pitcher between $345 and $375. When using any price source, it is critical to check the copyright or value source date. The secondary market constantly changes.
A Jell-O cow creamer with glaze damage to one of the hooves listed on eBay with an opening bid of $48.99 (plus $9 shipping) failed to attract any bidders. WorthPoint price information includes an example in very good condition that sold on eBay on October 5, 2007 for $92.99.
Interpreting this price information produced the following results. First, if $525 was a fair secondary market value in the mid-1980s, the secondary market has lost between 40 and 75 percent of its 1984 value, depending on what source you wish to believe. Second, price guides are slow to reflect secondary market price declines. No one likes reading that the value of their favorite antique or collectibles has declined. Third, the secondary market is flooded. Thus, a realistic secondary current market value is between $75 and $85. Fourth, the number of Sebastian miniature collectors has decreased by more than two-thirds (my best guess) from its mid-1980s high. Finally, the likelihood of a future resurgence of collector interest in Sebastian miniatures is slim to none. While there always will be collectors, their numbers will be small.
—————————————
QUESTION: I have a tin pail about the size of a paint bucket. It is made of metal and painted with a shiny black ground and features a spread-winged eagle with three stars above its head and its talons holding arrows. The pail and the lid hinge are held together by rivets. Is this a piece of folk art someone created?
— LT, Janesville, Wis., via e-mail
ANSWER: Forget about any folk art attributions. Your pail is a manufactured commercial product.

When I first looked at the images of the pail that accompanied your e-mail, I thought 1930s Colonial Revival accessory. After a few moments' reflection, I moved the date to the 1950s.
Although living in Michigan for more than a year, Linda and I still are unpacking boxes. Missing in the move, but most certainly among the unpacked boxes, is my collection of merchant (trading) stamp redemption catalogs. If I look at the Colonial Revival maple furniture and accessory pages from a late 1950s or early 1960s catalog, I am certain I will find your pail.
While most collectors think of 1950s maple as western-themed furniture, over half was Early American (Colonial) in motif. Eagle motifs on black surfaces were found on lamp shades, boxes and a host of other decorative accessories.
While your pail has little collector value, it does have decorator and reuse value. An antiques mall dealer would price it between $25 and $35.
—————————————
QUESTION: I have a commemorative plate. The front states: "To commemorate the Bi-Centenary of the discovery of Australia 1770-1970." The image features the HMB Endeavour, Capt. James Cook, and a variety of coats of arms and emblems. The back contains a blurb about Cook and his ships plus "This plate is no. 199 of limited hand painted edition, produced by Wood and Sons Ltd., Burslem, England." Would you have any idea of its worth?
– KMcM, Brisbane, Australia, via e-mail
ANSWER: I found the following reference on the United Kingdom version of eBay: "Wood & Sons Ltd. Australia Bi-Centenary black & white commemorative plate of the discovery of Australia 1770-1970. Plate is 10" in diameter with decorative scenes of H.M.B Endeavor at sea, picture of Capt. James Cook RN, and various coats of arms. Back of plate has a brief history of James Cook and His Majesty's Barque Endeavor and backstamp of Woods & Sons Ltd of Burslem. Condition is good." Since the description matches your plate, they must be one in the same.
The seller is asking £19.99 plus £4.60 for shipping. Since no one has purchased the plate, this number is high. The limited edition number is meaningless.
Your plate has its greatest value in Australia. My recommendation is to search Australian eBay, until you find an example that sells through. The final price should be between $10 and $15 Australian.
—————————————
Rinker Enterprises and Harry L. Rinker are on the Internet. Check out Harry's Web site..
You can listen and participate in Harry's antiques-and-collectibles radio call-in show "Whatcha Got?" on Sunday mornings between 8 a.m. and 10 a.m. Eastern Time. It streams live on the Genesis Communications Network.
"Sell, Keep Or Toss? How To Downsize A Home, Settle An Estate, And Appraise Personal Property" (House of Collectibles, an imprint of the Random House Information Group), Harry's latest book, is available at your favorite bookstore and via Harry's Web site..
Harry L. Rinker welcomes questions from readers about collectibles, those mass-produced items from the 20th century. Selected queries will be answered on this site. Harry cannot provide personal answers. Send your questions to: Rinker on Collectibles, 5955 Mill Pond Court SE, Kentwood, MI 49512. You can e-mail your questions to harrylrinker@aol.com. Only e-mails containing a full name and mailing address will be considered. Please indicate that these are questions for WorthPoint.
Copyright © Rinker Enterprises, Inc. 2012
WorthPoint—Discover Your Hidden Wealth