Q & A with Harry Rinker: Vintage Canadian Coca-Cola Sign, Aluminum Tea Kettle

by Harry Rinker (06/25/12).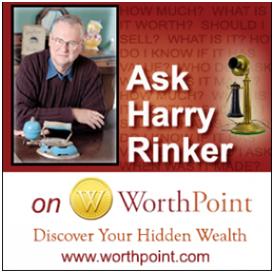 QUESTION: I have a cardboard, double-sided Coca-Cola sign that measures 57 inches by 28 inches. One side features an image of a frilly dressed daughter in a sunbonnet serving a coke bottle on a tray to a frilly dressed mother in a sunbonnet and sitting in a wooden lawn chair. "Hospitality" is in the upper left field and a circular Coca-Cola label in the upper right field. The reverse pictures a blonde-haired woman with the fingers of her left hand under her chin and her elbow resting at a soda fountain counter. A purse rests on the counter to her left. She holds a coke bottle in her right hand. "Coca-Cola" appears in the pper left field and "Refreshing" in the upper right field. The sign is marked "Canada" and "display in spring and summer" on the front and "display in fall and winter" on the reverse. What is it worth?
– J.R., Medicine Hat, Alberta, Canada, via e-mail
ANSWER: I did not find either image in Allan Petretti's "Petretti's Coca-Cola Collectibles Price Guide, 12th Edition: The Encyclopedia of Coca-Cola Collectibles" (Krause Publications, an imprint of F+W Publications, 2008). I was able to determine that the "Hospitality" and "Refreshing" phrases were used on 1948 American Coca-Cola signs. I also recognized the woman's face from your sign in the artwork for another 1948 American sign.
Your inquiry serves as a reminder that American collectors must remember that America is not the sole source for a company's advertising art. Coca-Cola has a strong presence in Canada, although Pepsi is dominant in some provinces. Further, artwork used in the United States for advertising is not always duplicated in other countries.
Petretti's book contains a number of examples of Canadian-based Coca-Cola advertising. In 1952, Coca-Cola issued two advertising jigsaw puzzles, one with an English text and the other with a French text, in Canada. They are scarce finds in the American market.
Petretti notes: "Condition is very important when evaluating these cardboard signs. Every tear, bend or mark will have a negative effect on the value." The pictures attached to your e-mail suggest your sign is in very good or better condition. Its value is between $450 and $550.
—————————————
QUESTION: I own a Griswold cast aluminum, colonial-style tea kettle. The bottom is marked with "535" and "Sept, 9, 1913." What can you tell me about it?
– H., Pottsville, Pa.
ANSWER: Matthew Griswold and J. C. and Samuel Seldon formed the Seldon-Griswold Manufacturing Company, located in Erie, Pennsylvania, in 1865. Initially, the company made door hardware and stove fixtures. Skillets, pots and other types of kitchenware were introduced into the product line in the 1870s. The Griswold Manufacturing Company was the result of an 1887 reorganization.
In 1889, Griswold began experimenting with cast aluminum production. The cast aluminum tea kettle was one of the first products introduced into the Griswold line. Enameled cookware was introduced in the 1920s. In 1946, a group of New York investors bought Griswold. Numerous ownership changes followed. Production at the Erie plant ended on Dec. 7, 1957.
Griswold made a four-quart and an eight-quart, Colonial-style, cast aluminum tea kettle. The bottom of the eight-quart kettle is marked "8 QT. COLONIAL DESIGN CAST ALUMINIUM ERIE, PA. U.S.A. 538A." Since the eight-quart tea kettle is 538A, it may be that what you think is "535" is actually "538." Check again. The four-quart and eight-quart Colonial-style cast aluminum tea kettles were made between 1920 and the 1940s.
The asking price for four-quart tea kettles ranged from $25 to $45. It increased to $50 to $60 for the eight-quart version. Market demand is minimal. Collectors will not buy any example with damage, a missing knob or broken handle.
—————————————
QUESTION: I own a bronze or brass, rectangular metal paperweight that measures 3 ¾ inches by 2 5/8 inches. The top banner contains an association logo beside which is the text: "ASSOCIATION OF EDISON / ILLUMINATING COMPANIES / 44TH ANNUAL MEETING / OLD POINT COMPORT / October 1-5, 1923." The center of the paperweight is a relief of the Confederate ironclad Merrimac sailing up a bay. There is a fort in the background. The text on the bottom reads: "IRON FROM PLATING OF IRONCLAD MERRICMAC ….1862." The back of the paperweight is marked "Medallic Art Co., NY." What is my paperweight worth?
– B.H., Marlborough, Mass, via e-mail
ANSWER: The Battle of Hampton Roads, also known as the Battle of the USS Monitor and Merrimac(k), actually the CSS Virginia, occurred on March 8 and 9, 1862. The battle resulted in a standoff. The Confederates abandoned Norfolk on May 9, 1862. The CSS Virginia was taken to Craney Island in Portsmouth and burned. Some of the plating used for the CSS Virginia is on display at the Norfolk Naval Shipyard in Portsmouth, Va.
Henri Weil, a French sculptor, founded the Medallic Art Company in New York City in 1903. While working in the fashion industry, Henri became acquainted with the Janvier pantograph, a die-cutting machine. When the demand for Art Nouveau castings diminished, Henri recognized the potential use of the machine to create commemorative medals. Medallic Art moved to Danbury, Conn., in 1972, to Sioux Falls, South Dakota, in 1991, and Dayton, Nevada, in 1997. The company remains in business as a manufacturer of commemorative medals. A detailed history is available on the Medallic Art Company website.
The AEIC (Association of Edison Illuminating Companies) is still an active organization. According to its website, it "encourages research and the exchange of technical information through a committee structure, staffed with experts from management of member companies. AEIC committees exchange information, ideas and solutions to succeed in the ever-changing electric industry . . ." Founded in 1885, the AEIC initially was the licensing agency for Edison's inventions and patents. The AEIC became a professional association in 1895.
The creation of commemorative memorabilia made from or incorporating pieces from historic buildings, vehicles, and historic sites gained popularity as the nineteenth century evolved into the twentieth. The "E-mail Token and Medal Mini Sale List #31" of H. Joseph Levine's Presidential Coin & Antique Company (PO Box 277, Clifton, VA 20124) contained this listing: "2. U.S. CONSTITUTION RELIC WITH MEDAL & PLAQUE, 1927. This is an original 5 ½- x 4 ½-inch section of oak from the U.S. Frigate Constitution. Mounted on wood is a 65 mm bronze medal and 25.5 x 76.5 bronze plaque. The medal bears the legend: OLD IRONSIDES U.S.FRIGATE CONSTITUTION around a view of the ship. Below: LAUNCHED 1797/ 1804 TRIPOLI 1812 GUERRIERE / 1835 CYANE JAVA / LEVANT. The medal is in About Uncirculated condition. The plaque bears a 4 line inscription. PIECE OF OAK TAKEN FROM / U.S. FRIGATE CONSTITUTION / 'OLD IRONSIDES' / WHEN REBUILT AT BOSTON NAVY YARD / 1927 THORUGH 1930. $375."
The website USA Military Medals has a $200 sale listing for an identical paperweight to the one you own. A second example is being offered for sale on eBay with a starting bid request of $200. Two hundred dollars seems low. But, who am I to argue with market realities?
—————————————
QUESTION: I own a paperback copy of "Paul Harvey's The Rest of the Story." I have been told it is worth $600. Am I that rich?
– A, Stony Brook, N.Y.

ANSWER: Paul Harvey Aurandt (Sept. 4, 1918 – Feb. 28, 2009) was a radio broadcaster and newspaper columnist. He introduced his "The Rest of the Story" feature in 1946.
Bantam Books published the paperback edition of "Paul Harvey's The Rest of the Story" in 1985. The cheapest copy I found listed on Abe Books was $3.50 plus $3.25 shipping. I found several versions of a 1978 Bantam printing beginning at $1 plus shipping.
In 1980, William Morrow published a hardcover "More of Paul Harvey's The Rest of the Story." The cheapest used copy was listed for $75 plus $3.25 shipping. This copy was signed by Aurandt. Paperback versions of this title issued by Bantam in 1984 start at $1 plus $2.95 shipping.
Whoever told you your paperback was worth $600 was either pulling your leg or did not know about what he/she was talking. My suggestion is to call the person and tell him/her that you are prepared to make a deal—you'll take $200—and he/she could be the next proud owner. You realize the price is a bargain, but one that you are making because you know the paperback will find a good home.
—————————————
Rinker Enterprises and Harry L. Rinker are on the Internet. Check out Harry's Web site..
You can listen and participate in Harry's antiques-and-collectibles radio call-in show "Whatcha Got?" on Sunday mornings between 8 a.m. and 10 a.m. Eastern Time. It streams live on the Genesis Communications Network.
"Sell, Keep Or Toss? How To Downsize A Home, Settle An Estate, And Appraise Personal Property" (House of Collectibles, an imprint of the Random House Information Group), Harry's latest book, is available at your favorite bookstore and via Harry's Web site..
Harry L. Rinker welcomes questions from readers about collectibles, those mass-produced items from the 20th century. Selected queries will be answered on this site. Harry cannot provide personal answers. Send your questions to: Rinker on Collectibles, 5955 Mill Pond Court SE, Kentwood, MI 49512. You can e-mail your questions to harrylrinker@aol.com. Only e-mails containing a full name and mailing address will be considered. Please indicate that these are questions for WorthPoint.
Copyright © Rinker Enterprises, Inc. 2012
WorthPoint—Discover Your Hidden Wealth