Rinker on Collectibles: Advice on Selling a Collection

by Harry Rinker (04/11/12).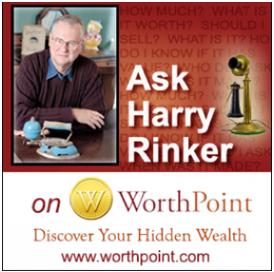 The Chicagoland Antique Advertising, Slot Machine & Jukebox Show is one of the legendary shows in the antiques and collectibles trade and is bills as "the largest show of its type in the world." It has been on my "shows I need to attend" list for more than 25 years.
I crossed the show off my list, thanks to my friend Don Friedman of Chicago, who insisted I accompany Allan (Mr. Ice Cream) Mellis, Gordon Addington, Jeff Brown and Sheila Landsman, on Sunday, April 1, to the exhibition halls of the Pheasant Run Resort Hotel in St. Charles, Ill., where the show is held.
Although it was the third day of the show, there was a strong crowd. The day was the ideal antiquing experience—camaraderie, a great show featuring quality merchandise and dealer friends I have not seen for years, fun purchases, and an enjoyable lunch.
Auctioneers who rent booth space to solicit quality merchandise from the show dealers and entice collectors to consider their sale venue when disposing of collections is an indication of a quality antiques and collectibles show. Morphy Auctions from Denver, Pa., and Rich Penn Auctions of Waterloo, Iowa, had booths at the show.
During a conversation with Rich Penn, we talked about the advanced age of many major collectors with whom we were friends. "There will be some major collections coming into the market in the next 10 years," Rich said. We were not talking about ceramics, glass or furniture. Rich Penn Auctions specializes in selling country store, advertising and coin-operated machines.
Our conversation was on point. I recently had initial conversations with Morphy Auctions and Heritage Auctions about auctioning/representing my jigsaw puzzle collection. Within the past year, several major collectors sought my advice concerning the disposal of some or all of their collection. I receive at least one e-mail a month similar to the one that follows:
"I'm looking for some advice and direction as I begin to sell the toys that I have been collecting for many, many years and maybe you can help me . . . I have a very wide and large collection of toys that I have had for up to 20 years or so. My collection is heavy in G.I. Joe, Star Wars and Starting Lineup figures. I also have rare toys from properties such as Nightmare Before Christmas, Batman, Tonka, Barbie, etc. I started putting these toys away to save them for my children as they got older but now I'd rather just sell many of them because they have overtaken my basement.
"Where I am lost is how to go about selling them so that I get the maximum price and that I deal with professional collectors. I don't want to give this stuff away and leave lots of money on the table! For example, my Nightmare Before Christmas figures have a very high price in the price guide that Justin [Moen, "Toys & Prices 2011," (Krause Publications)] published in 201l, but yet on eBay they are selling for less than half the price that he put on them. All of my toys are in pristine condition as I put them away years ago and never touched them."
When selling any collectibles collections, especially if assembled after 1980, there are several truths a seller has to face. All have a "bad news" aspect and run counter to what the collector believes deep in his/her heart.
First, Americans became collecting conscious in the 1980s. Individuals began hoarding new collectibles, especially toys, as a hedge against increasing future costs to collect the material and/or as investments. In the mid-1990s, these hoards began flooding back into the market. The stream appears endless. EBay became the preferred selling platform. Those who listed early benefited. Those who listed later suffered. The good news is that eBay now has survived long enough that the sell-through prices, not the asked prices, are now realistic and reliable indicators of what collectibles are worth in the 2010s secondary marketplace.
Second, price guides have traditionally reflected asking prices in the field and not sell-through prices on eBay and other internet auction and storefront sites. While it would be false to accuse a general guide such as "Toys & Prices" of being a market prop, its prices—as well as those in any general or specific guide—require field testing to determine their accuracy.
Third, objects are bought at retail and sold at wholesale. The collector's dream is that every object bought increases in value over the years so that when it is sold, its value is substantially higher than when purchased. This is only a dream for the vast majority of objects.
There are exceptions, thousands of them. If the collector bought right, substantially below the retail price, the chance of selling an object for more than the object's initial cost is a possibility. If the object is a masterpiece (ultimate unit) or upper-echelon piece, the value may have increased. But, masterpiece and upper-echelon pieces represent less than five percent of the objects in a collecting category. In the 2010s collectibles marketplace, common and hard-to-find objects are most likely declining in value.
Fourth, every collector wants to pass along his/her collection to another individual who will love and cherish the objects as much or more than he/she did. Such individuals are few and far between. Collectors with identical interests most likely already own most of the objects in a collection being offered for sale. Their interest only rests in acquiring objects that are not already in their collection. "I do not want the junk" is a common response.
Fewer new collectors are being attracted to advanced collectibles categories. In the last decades of the 20th century, advanced collectibles categories meant objects from the 1940s and 1950s. Today, it means objects from the 1960s through the early 1980s. Do the math: 1977 is 35 years ago. If you were 10 at the time, you are 45 today. If you are 30 today, 1977 is "a long time ago in a galaxy far, far away."

Fifth, auctioneers specializing in the sale of collectibles collections are no longer able to sell the $10-, $25- and $50- lots profitably. The minimum lot threshold is now $300. A jump to a $500 lot minimum in the near future is inevitable.
When selling a large collectibles collection, the auctioneer is forced to group objects into lots ranging in size from two to 20 objects to obtain the minimum. When this happens, the collector seller feels cheated. His anger increases when he sees that the majority of the buyers are dealers, who have to buy at wholesale so they can make a profit so they can stay in business, and he has to pay between 15 and 25 percent of the final bid price as the auctioneer's commission. The auctioneer and dealers are doing their jobs. The true value of any object is what it brings at its moment of sale.
Given the above facts, my advice to anyone selling a collectibles collection is simple. The decision to sell the collection is the hardest decision. Personal attachment is the hardest bond to break. Once broken, reality takes over.
How and where to sell depends on the amount of time and effort the collector wants to commit. Most collectors will try to find a buyer for the entire collection. This effort has a high failure rate, more than 95 percent. But most try.
Collectors who consider becoming a dealer and selling their collectibles collection are wise to carefully reconsider this option. After doing their first show, seeing the first month's sales results from a mall booth, or the account of the initial listings on eBay, the frustration level will be enormous. There is not a cliff high enough from which to jump.
Auction is the best choice. It is quick but can be painful. Deciding who, where and when is the tricky part. Timing is critical. The answer may be multiple auctioneers. At the very least, the auctioneer chosen should post his catalog on the Internet and accept Internet bidding. Collectibles buyers are a worldwide audience. Selling in-seat with no Internet bidding is an invitation to disaster.
Charitable donation also is an option. Today, however, museums are loath to accept collections without an accompanying monetary donation to provide for long-term curatorial, display and storage costs. I talked to several museums about some of my collections only to be told "we have enough examples of that" or "we are interested if you let us select only those items of interest to us." When you are trying to dispose of a pile, the latter is not acceptable.
My final advice is perhaps the hardest to accept. Be happy with what the collection brings. Any money is better than no money. The collector's response is almost always the same. "I will die with it before I sell it for less than it is worth."
Indeed, the collector will.
—————————————
Rinker Enterprises and Harry L. Rinker are on the Internet. Check out Harry's Web site..
You can listen and participate in Harry's antiques-and-collectibles radio call-in show "Whatcha Got?" on Sunday mornings between 8 a.m. and 10 a.m. Eastern Time. It streams live on the Genesis Communications Network.
"Sell, Keep Or Toss? How To Downsize A Home, Settle An Estate, And Appraise Personal Property" (House of Collectibles, an imprint of the Random House Information Group), Harry's latest book, is available at your favorite bookstore and via Harry's Web site.
Harry L. Rinker welcomes questions from readers about collectibles, those mass-produced items from the 20th century. Selected queries will be answered on this site. Harry cannot provide personal answers. Send your questions to: Rinker on Collectibles, 5955 Mill Pond Court SE, Kentwood, MI 49512. You can e-mail your questions to harrylrinker@aol.com. Only e-mails containing a full name and mailing address will be considered. Please indicate that these are questions for WorthPoint.
Copyright © Rinker Enterprises, Inc. 2012
WorthPoint—Discover Your Hidden Wealth