Rinker on Collectibles: America's Cultural Landscape is in a Devolution

by Harry Rinker (03/15/12).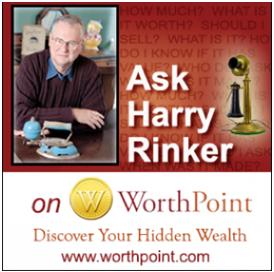 Devolution defines the transfer of power from a national government to a regional entity, such a state or local governing body. In its broader context, devolution describes an adherence or preference for a prior method of operating as a reaction to changes causing moving in a different direction. Kurt Andersen used this broader definition in "You Say You Want a Devolution?" his article in the January 2012 issue of Vanity Fair magazine.
Ian Atkin, a Canadian who listens to WHATCHA GOT?, my syndicated antiques and collectibles call-in radio show on the Internet, is aware that I constantly search for articles describing economic, political, social and other trends and theories that are helpful in explaining developments in the antiques and collectibles trade. An e-mail from Ian alerted me to Andersen's article.
The article begins: "For most of the last century, America's cultural landscape—its fashion, art, music, design, entertainment—changed dramatically every 20 years or so. But these days, even as technological and scientific leaps have continued to revolutionize life, popular style has been stuck on repeat, consuming the past instead of creating the new."
The fashion, art, music, design and entertainment changes that Andersen describes are the divides used to separate antiques and collectibles collecting eras—1920s to 1940, 1945 to 1963, 1963 to 1980, and 1980 to the present. When considering the time spans between these years—20, 18, 17, and 32, Anderson's concern with the current lack of change into the key lifestyle areas for fashion, art, music, design and entertainment is justified.
In previous columns, I have written about my concerns that our present day appearance and thinking more closely reflects that of the 1945-to-1963 period rather than a progressive or major change from the 1980s. Hairstyles, fashion and other lifestyle choices look to the distant past rather than the mid-1960s and 1970s—the Age of Aquarius, bell-bottoms and refrigerators available in avocado, golden harvest and rust. Today's men look more like George or Marty McFly from the movie "Back to the Future" than the characters in the movie "Easy Rider."
Such an approach appears to favor the antiques and collectibles trade. Nostalgia is one of the prime commodities the trade sells. The difficulty is that today nostalgia is defined in thousands of different ways. The antiques and collectibles business is strongest when the number of its selling focuses is limited to a few hundred. Today, the number of selling focuses is infinite. The marketplace suffers from disorder rather order.
Andersen continues: "Since 1992, as the technological miracles and wonders have propagated and the political economy has transformed, the world has become radically and profoundly new. … Here is what's odd: during the same 20 years, the appearance of the world (computers, TVS, telephones and music players aside) has changed hardly at all, less than it did during any 20-year period for at least a century. The past is a foreign country, but the recent past—the '00s, the '90s, and even a lot of '80s—looks almost identical to the present. This is the First Great Paradox of Contemporary Cultural History."
Change is another of the prime commodities the antiques and collectibles community sells. As each generation reaches their early 40s, it develops a desire to recapture their adolescence and early adulthood. Today's fortysomethings were adolescents in the 1980s and young adults in the 1990s. They have no need to turn to the antiques and collectibles community to recapture their past. They can go to Crate and Barrel, Pottery Barn, Target and Walmart and achieve the same goal. What they can buy today is close to, if not identical, that with which they grew up. Further, they prefer new over old, another point of grave concern.
The car industry is a case in point. Car styles experienced a continual evolution in body design from the late 1940s through the early 1980s. After the mid-1980s, car body design change slowed significantly. My 2002 Buick Park Avenue's external design is not much different from the 2012 Buick LaCrosse. The big change is on the inside—a technological revolution.
Andersen cites example after example of modern day products ranging from action movies to the Aeron chair whose similarities far outnumber differences from previous years. "Star Wars" is a B-movie western set in outer space. Remakes of movies, television shows and Broadway musicals abound. Some things should be left well enough alone. The television shows "Hawaii Five-0" and (for a time) "Charlie's Angels" are cases in point. I cringe every time I hear about the prospect of a new Hopalong Cassidy movie. I was sick for a month when the rumor spread that Bert Reynolds was interested in doing a Hoppy revival. There is only one Hoppy, and his name is William Boyd.
Andersen calls the phenomenon a "stylistic freeze." He notes: "Look at people on the street and in the mall—jeans and sneakers remain the standard uniform for all ages, as they were in 2002, 1992 and 1982. Look through a current fashion or architecture magazine or listen to 10 random new pop songs; if you didn't already know they were all things from the 2010s, I guarantee you couldn't tell me with certainty they weren't from the 2000s or 1990s or even earlier." I remember of the shock of seeing a person wearing blue jeans in church—an unheard of social faux pas in the 1950s—when attending the wedding of Gary and Laura Block in the 1990s.
Andersen believes society's social freeze results from an unconscious reaction to the accelerated economic, political, technological and scientific changes of the past 30 years. There is only so much change society can absorb at any one time. Maintaining a familiar lifestyle creates a level of security and comfort. Life was better in the old days (it makes no difference whether true or not) is deeply imbedded in the human psyche.
Andersen's insights into reality television shows' impact on society also helps explain developments within the antiques and collectibles trade. These shows have created a generation of "amateur stylists" who apply their interpretations to everything from room design to meals. This is Andersen's second paradox: "So, these two prime cultural phenomena, the quarter-century-long freezing of stylistic innovation and the pandemic obsession with style, have happened concurrently—which appears to be a contradiction, the Second Great Paradox of Contemporary Cultural History."

The question becomes: What is authentic? If the answer is whatever anyone decides, the consequences are frightening. When everything has the potential to be in (cool), there is no out. The antiques and collectibles trade sells "in" but only when "in" is definable. Andersen writes: "Today, Starbucks doesn't want to have to renovate its thousands of stores every few years. If blue jeans became unfashionable tomorrow, Old Navy would be in trouble. And so on. Capitalism may depend on perpetual creative destruction, but the last thing anybody wants is their business to be the one creatively destroyed." As I read this last sentence, my thoughts focused on dealers specializing in endangered antiques and collectibles collecting categories who desperately cling to the hope for a return to the past rather than shifting their merchandise to respond to today's customer demands.
While one might assume manufacturers and retailers embrace change, they desire predictability, especially in tough economic times. This is why generic games dominate the game shelves in Big Box and toy stores. I identified "trendiness" as one of the Top Ten changes that impacted the antiques and collectibles field in the last five years. The inability of dealers and others in the trade to predict what merchandise will sell in the months ahead has caused everything from dealer headaches to a decision to end their involvement in the trade.
While Andersen's article focuses primarily on the American scene, it has global application. The issues he raises are not unique to American culture. My European friends express the same concerns.
Like Andersen, I have been waiting for the next appearance/stylistic change. When it occurs, it will be the fourth through which I have lived. I do not want to die before it occurs. Its appearance will bring another period of profound change to the antiques and collectibles community, one which I look forward to identifying and chronicling.
When I began this column, my intention was to end with Andersen's concluding paragraph. Now, I chose not to. First, Andersen's summary and conclusion surprised me. It was not what I expected. Second, by offering this tease, hopefully you will read the full article.
—————————————
Rinker Enterprises and Harry L. Rinker are on the Internet. Check out Harry's Web site..
You can listen and participate in Harry's antiques-and-collectibles radio call-in show "Whatcha Got?" on Sunday mornings between 8 a.m. and 10 a.m. Eastern Time. It streams live on the Genesis Communications Network.
"Sell, Keep Or Toss? How To Downsize A Home, Settle An Estate, And Appraise Personal Property" (House of Collectibles, an imprint of the Random House Information Group), Harry's latest book, is available at your favorite bookstore and via Harry's Web site.
Harry L. Rinker welcomes questions from readers about collectibles, those mass-produced items from the 20th century. Selected queries will be answered on this site. Harry cannot provide personal answers. Send your questions to: Rinker on Collectibles, 5955 Mill Pond Court SE, Kentwood, MI 49512. You can e-mail your questions to harrylrinker@aol.com. Only e-mails containing a full name and mailing address will be considered. Please indicate that these are questions for WorthPoint.
Copyright © Rinker Enterprises, Inc. 2012
WorthPoint—Discover Your Hidden Wealth