Rinker on Collectibles: Is There a Baby Boomer Bubble?

by Harry Rinker (08/14/12).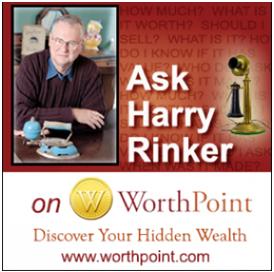 I received an e-mail from Todd Miller recently that reads: "As a Gen X collector, I am becoming increasingly concerned about the cashing-out of Baby Boomer collectors when they retire or expire. What will this do to the collectibles markets, especially in the pop culture collecting categories?"
He goes on to say "We all know the Baby Boomers are the largest generation and control nearly 70-percent of America's wealth. Many high-end, pop culture Baby Boomer collectibles—such as Beatles memorabilia, blues records, classic cars, and comic books—have shot up tremendously in price to levels that I believe are out of the range of affordability for most Xers like myself.
"For example, I collect comics. I see high-grade Gold- and Silver-Age books reaching absurd prices that both frustrate and frighten me.
"On the other hand, I always have considered collecting Marx playsets. But, I hesitate because I would be buying at Top Floor prices with no place for future prices to go but down. I am concerned that while prices are at historic highs, supply suddenly will exceed demand, thus causing a Day of Reckoning.
"Is there a Baby Boomer Bubble? Am I being unfair? Paranoid?"
Todd raises a number of issues in his e-mail, some of which I have addressed in previous "Rinker on Collectibles" columns. Supply versus demand and its impact on prices became a major concern with the arrival, in the late 1980s, of Internet auction sites, especially eBay. No one built an ark in anticipation of the event. Many in the trade floated as best they could in the raging waters. Some drowned.
In the late 1980s, I developed Rinker's One Generation Rule, which asks the question: "What will happen to a generation's collectibles when those who grew up, played and lived with them, die?" The rule initially explained the falling prices in the late 1980s for many pop culture collectibles of the 1920s and 1930s. The rule was meant to expand as new generations reached senior citizen status. Pop culture items from the 1940s would see a decline in value the late 1990s; 1950s memorabilia in the late 2000s; and 1960s objects in the late 2010s. Secondary market tracking indicates the rule is running true to form.
Rinker's One Generation Rule was never meant to imply the decline and disappearance of an entire generation's pop culture collectibles in the secondary collectibles marketplace, the issue raised at the end of Todd's e-mail. Yet, Todd's question is worth considering. While pop culture collectibles from the Victorian era to the 1920s-1930s survive, those that are affordable often beg for buyers. Few want the "old stuff," as most collectors do not identify with it.
William Strauss and Neil Howe's "Generations: The History of America's Future, 1584 to 2069" (Perennial, 1992) is responsible for the generation designations such as Baby Boomer, Gen X, and Millennials. The Pew Research Center's Internet & American Life Project, April 29-May 30, 2010 Tracking Survey offers this generational table:
| | | |
| --- | --- | --- |
| Generation Name | Birth Years | Percent of Adult Population (2010) |
| G. I. Generation | Born before 1936 | 9% |
| Silent Generation | 1937-1945 | 7% |
| Older Boomers | 1946-1954 | 14% |
| Younger Boomers | 1955-1964 | 20% |
| Gen X | 1965-1976 | 19% |
| Millennials | 1977-1992 | 30% |
I like the way Pew Research Center approached Baby Boomers, dividing them into two groups. I always had trouble classifying a person born in 1948 in the same group as one born in 1963. I am leery about being identified as a member of the Silent Generation. I am far from silent. Oh well, one shoe does not fit all feet.
When the history of collecting is written, particularly pop culture collecting, the mid-1970s to late 1990s will be identified as the golden age. It was during this era that collectors built large collections of 1950s, 1960s and 1970s material. It was affordable and fun. Thousands of pop culture collecting categories, from condoms to snow globes, came out of the closet in the 1980s. When eBay collapsed its Collectibles Division, its research suggested there were more than 30,000 separate collectibles collecting categories, the vast majority in the pop culture arena.
Market research shows that a generation's collectibles reach their peak value when the generation who grew up with them is between 45 and 55 years of age. When collectors reach their mid-60s, they tend to stop or greatly limit their collecting. Thoughts of selling begin in their early 70s. The tragedy is that the secondary market is long past its prime and, in most instances, in a heavy state of decline. The time for Todd to begin collecting Marx playsets is 2025, when he will buy them at pennies on today's dollar.

The end of the 2000s saw a major revival of the speculative boom in mid- and late-20th-century high-end pop collectibles, such as comic books, movie posters and sports memorabilia, thanks in part to Heritage Auctions of Dallas, Texas, and a number of specialized pop culture auction houses. Prices for high-end objects have exceeded the pocketbook of the average collector. Heritage Auctions just sold a copy of X-Men #1 comic book, CGC-graded 9.8, for $492,938. While that sounds like a lot, it is only a record price for this particular comic book issue and not comic books in general (See: The Two-Million Dollar Superman). At the high end, the pop culture collectibles secondary market has an early to mid-1980s feel, a time when everyone assumed there was no upper limit to how valuable something could become. The late 1980s showed this was a false assumption.
Survival of a generation's pop culture collectibles is not measured by the few high-end survivors but rather by the common and above average pieces. Such pieces are rapidly disappearing from the marketplace for the generations who grew up in the 1920s through the 1950s. Memorabilia from the 1960s is not far behind. Todd is right. There is a Day of Reckoning for every collecting category. When that day comes, some collecting categories will fare better than others.
Common and above-average American pop culture collectibles are part of the collections of museums, such as The Strong Museum of Play and the Smithsonian American History Museum. But, will they be displayed? A recent visit to the Smithsonian's American History Museum raised serious concerns. Far too many exhibits focused on one-of-a-kind pop culture iconic pieces—Archie Bunker's chair, an early Kermit the Frog and a jersey worn by Roberto Clemente. Instead of thinking "I owned one of those," my mind kept repeating "I saw this on television, in the movies or at the stadium."
Dozens of specialized pop culture museums arrived on the scene from the 1970s through the 1990s. Survival has proven difficult. The Atlanta Toy Museum closed its doors in 1986. Auctioneer Noel Barrett needed five cataloged auction sales to dispense its holdings. The Roy Rogers Museum moved from Victorville, Calif., to Branson, Missouri in 2003. It closed its doors in 2011. Christies' sold its contents, including Trigger, for $2.9 million. The final amount seems low. The Liberace Foundation has announced the closing of the Liberace Museum in Las Vegas on Oct. 17, 2012. In its heyday, it had 450,000 visitors a year. Who remembers Liberace? Is the answer only the aged and infirmed?
Author's Aside: There are times I want to kick myself in the you-know-where. This is one of them. During the last 25 years, I have read about numerous pop culture museum closings. I should have kept a list. I did not. It is time to create one. If you know of a pop culture museum that has closed in the last 25 years, e-mail harrylrinker@aol.com and provide me with the name, location and closing date.]
There are multiple Baby Boomer Bubbles. The "older" Boomers' bubble is in the early crash stages. Its crash is prolonged and not sudden like most bubbles. The "younger" Boomer bubble is about to begin losing air. I am not happy to report this; even less happy to suggest that the Silent Generation bubble has all but deflated.
What happens to the common and above-average pop culture items when a bubble bursts? To where do the items disappear? This question has been churning in my mind for several years. I have not found a satisfactory answer as yet. When I do, I plan to share it with my readers.
—————————————
Rinker Enterprises and Harry L. Rinker are on the Internet. Check out Harry's Web site..
You can listen and participate in Harry's antiques-and-collectibles radio call-in show "Whatcha Got?" on Sunday mornings between 8 a.m. and 10 a.m. Eastern Time. It streams live on the Genesis Communications Network.
"Sell, Keep Or Toss? How To Downsize A Home, Settle An Estate, And Appraise Personal Property" (House of Collectibles, an imprint of the Random House Information Group), Harry's latest book, is available at your favorite bookstore and via Harry's Web site.
Harry L. Rinker welcomes questions from readers about collectibles, those mass-produced items from the 20th century. Selected queries will be answered on this site. Harry cannot provide personal answers. Send your questions to: Rinker on Collectibles, 5955 Mill Pond Court SE, Kentwood, MI 49512. You can e-mail your questions to harrylrinker@aol.com. Only e-mails containing a full name and mailing address will be considered. Please indicate that these are questions for WorthPoint.
Copyright © Rinker Enterprises, Inc. 2012
WorthPoint—Discover Your Hidden Wealth