Rinker on Collectibles: How Behavioral Economics Effect Our Purchases

by Harry Rinker (01/18/12).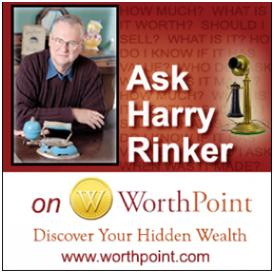 The antiques and collectibles business does not operate in isolation in respect to economic, marketing, scientific and sociological principles that govern other business practices. Since there is no formal "theory of the trade," I searched other business and scientific operating theories seeking possible connections to the antiques and collectibles trade.
The June 1, 2000 issue of "Science Daily" contained an article that discussed how the brain "fills in blanks" to help us see and interact with objects by inserting missing information. The scientific concept involved is perception theory.
Perception theory principles apply to the antiques and collectibles trade in numerous ways. I hear countless stories from individuals who tell me about examining and purchasing an object only to get it home and discover a crack, chip or defect they overlooked during the initial inspection. When buying jigsaw puzzles, I have to exercise care if the puzzle is assembled, placed on a dark cardboard, and shrink wrapped. If I look straight at the puzzle, I occasionally overlooked one or more missing pieces. Correcting what my eyes see, my brain fills in any missing pieces. Nature abhors a vacuum. So does the human mind.
Holding and examining the object at an odd angle or against an unfamiliar background is the method used to avoid seeing missing defects. The mind only corrects defects and missing information when the eyes view objects in the traditional/standard mode.
I keep ample reading material in the room where I usually find myself on a daily basis with time for reflection. AARP The Magazine is one of these resources. The May/June 2011 issue contained an article by David Kestenbaum entitled "Why We Fall for This." It is worth reading.
The article focuses on behavioral economics, "which explores how money plays tricks with our heads." The website Investopedia defines behavioral economics as: "The study of psychology as it relates to the economic decision-making process of individuals and institutions. The two most important questions in this field are: 1. Are economists' assumptions of utility or profit maximization good approximations of real people's behavior? 2. Do individuals maximize subjective expected utility?" Investopedia goes on to explain: "Behavioral economics explores why people sometimes make irrational decisions and why and how their behavior does not follow the predications of economic models . . ."
Is this scientific fact or hooey when applied to the antiques and collectibles field? The answer is fact.
[Author's Aside: I debated for months whether or not to write this column. I was a strong supporter of Mark Chervenka's efforts in providing the trade with authentication information that informed us how to differentiate between period pieces and reproductions (exact copies), copycat (stylistic copies), fantasy pieces and fakes. At the same time, Mark's efforts also provide information to manufacturers and fakers about how to correct the faults in subsequent production, thus making the authentication process more difficult. It is the perfect example of damned if you do and damned if you do not.
The same applies to what follows. By identifying and discussing several marketing traps and pricing tricks that fake out the brain, I am providing a methodology that unscrupulous dealers and others in the trade can employ. Since caveat emptor (let the buyer beware) governs the antiques and collectibles industry, I decided that to beware, one must be aware.]
Kestenbaum utilizes a cause and effect approach in his "Why We Fall for This" article. He notes: "Companies exploit . . . brain scrambling effects to get us to buy things we don't need. The good news: If you see them coming, you can use the same tricks to save money—and make money."
Using a high price to make a lower price seem reasonable even if it is not is one of the traps Kestenbaun identifies. He cites the example of a restaurant wine list that contains a $200 bottle of wine, which no one is likely to order, so that bottles of wine priced around $100 seem reasonable.
Applying this concept to the antiques and collectible field, especially at antiques malls and antiques shows, is easy. When examining merchandise in a booth or showcase, the first thing I check out is the merchandise pricing. Is it what I expect? If not, is it high or low? How do prices on one object relate to the others?
Aware of the above example, I recall numerous booths and showcases where there were one or two high (also read "over") priced objects that made the values on the other objects in the booth or showcase appear more reasonable than they were. Whether the sellers deliberately utilized the above behavioral strategy is open to question. My friend David Lindquist of Whitehall at the Villa Antiques always advises me "to give a dealer the benefit of the doubt." I prefer to consider dealers far smarter than David would like me to believe.
I was victimized by a variation of this trap early in my buying career. While attending a show, I saw numerous objects that I would have liked to own priced at or slightly more than $100—at the time, a challenging sum. When I encountered objects I desired priced between $35 and $45, I bought eagerly. At the end of the day, I had spent more than $400 on my "reasonably priced" purchases. I learned to add up my purchases as I made them to maintain a firm grasp of how much money I was spending.
There are two methods to avoid this trap. First, do market research before buying. Understand the scarcity level and the price-point spread of the collecting category and object. Second, know what you are willing to pay and do not pay more. Kestenbaum suggest that you pick an object at a set value—a concept known as a price anchor—and use it as a reference point. Compare what you are buying to the price anchor. Is paying more worth "the show" value?
Another behavioral trap is loss aversion. Once we own something, our concept of its value increases. "The pain of losing outweighs the joy of winning." Every month I receive letters and e-mails from individuals telling me they purchased an object at venues ranging from an auction to an antiques show to Goodwill and asking me to tell them what it is worth. Since they just bought it, they obviously know what it is worth. However, once they own it, they become obsessed with the concept that it has to be worth more than they paid for it. Everyone loves a bargain. I have lost track of the number of times that I have had to tell a person that he/she paid too much rather than too little.

The same applies to my use of the phrase "you should have kissed the hand and taken the money" at appraisal clinics. It is not difficult to tell when I provide a disappointing value. The owner's eyes are a giveaway. When I ask what the problem is, the owner says, "I was offered three times that amount five years ago." "Why did you not sell?" I ask. The owner's response ranges from "if that person thought it was worth that much, I knew it had to be worth more" to "since it is now five years later, the object has to be worth more."
Kestenbaum notes that in the stock market, "we tend to hold losers too long and sell winners too early." The same applies in the antiques and collectibles field.
What was just described also relates to another behavioral trap. The lure of a huge payoff overshadows low-odds situations. Everyone in the trade, from collectors to dealers, is out for the kill, the cheap purchase that sells for hundreds of thousands. Dreams, not reality, is one of the primary commodities sold in the antiques and collectibles industry.
Behavioral science most certainly has more to offer in terms of understanding how the antiques and collectibles trade operates than those examples offered above. I welcome any additional connections from readers who are behavioral anthropologists, economists, psychologists, or sociologists. Send your observations to harrylrinker@aol.com.
—————————————
Rinker Enterprises and Harry L. Rinker are on the Internet. Check out Harry's Web site..
You can listen and participate in Harry's antiques-and-collectibles radio call-in show "Whatcha Got?" on Sunday mornings between 8 a.m. and 10 a.m. Eastern Time. It streams live on the Genesis Communications Network.
"Sell, Keep Or Toss? How To Downsize A Home, Settle An Estate, And Appraise Personal Property" (House of Collectibles, an imprint of the Random House Information Group), Harry's latest book, is available at your favorite bookstore and via Harry's Web site..
Harry L. Rinker welcomes questions from readers about collectibles, those mass-produced items from the 20th century. Selected queries will be answered on this site. Harry cannot provide personal answers. Send your questions to: Rinker on Collectibles, 5955 Mill Pond Court SE, Kentwood, MI 49512. You can e-mail your questions to harrylrinker@aol.com. Only e-mails containing a full name and mailing address will be considered. Please indicate that these are questions for WorthPoint.
Copyright © Rinker Enterprises, Inc. 2012
WorthPoint—Discover Your Hidden Wealth