Rinker on Collectibles: Establishing Antiques and Collectibles Provenance – Part II

by Harry Rinker (06/15/12).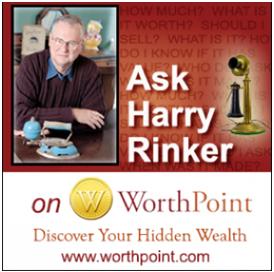 The first "Rinker on Collectibles" column in this two-column series identified three different types of provenance: (1) documenting the origin and creation of the object; (2) tracing the object's illustration, exhibition and sale history; and (3) chronicling the ownership of an object from the time it was created to the present. Establishing all three requires extensive research. As research is done, the sources need to be carefully noted, enabling anyone to retrace the documentation route.
The burden of provenance proof is greater in 2012 than it was in 1990. Today's sophisticated buyers recognize the difference between hype and fact. Therefore, they question everything they are told, accepting nothing at face value. Buyers are more reluctant than ever to accept a seller's word, no matter how reputable and established the seller. Everyone makes mistakes. I do. No one is infallible. "Show me undisputable proof" is the demand. Possibly, maybe and attributed to are not acceptable.
Documenting the origin of pieces is easier for mass-produced as opposed to handmade, one-of-a-kind objects. Mass production means duplicates. Chances are strong that others already have combed through a manufacturer's archives, catalogs, advertising and sales literature, often publishing their results as articles in trade papers and/or in reference books.
Most antiques and collectibles researchers are not trained academicians. They note their findings, but do not create detailed bibliographic (MLA) or reference (APA) lists. In-text source citations are rarities. I am often presented with photocopies of newspaper articles, pages from books and period documents as provenance proof. When I ask the person to identify the source, "I do not remember where I found it, but I made a copy (or note)" is a common answer.
Identical is an antiques and collectibles term whose definition is continually narrowing. An "apples to apples" comparison is no longer acceptable. Apples are found in dozens of varieties, each of which is different. Claiming that an object is identical to one illustrated in a reference book now requires interpretation. Is the one being compared in the same condition as the one illustrated in the book? If placed side by side, is it possible to distinguish one from the other? If yes, then they are not identical. The slightest difference voids identicalness.
The trade has reached an era when "similar" is a much more valid term than identical. Unless the object is the exact object used for the illustration in a reference book or auction catalog, it is not the identical object.
Finding an illustration of an object in a reference book or auction catalog is an important step toward establishing provenance. But, it is only one piece in an extensive chain of evidence. It alone is insufficient proof.
Publishing information in an article, book or on the Internet does not necessarily make it fact. Without an in-text citation backed up by a reference page or a footnote to document the source of the information, blind faith acceptance plays a major role in accepting what one reads in the trade. Guesswork plays a much greater role in antiques and collectibles information than many realize. This is especially true for unmarked pieces being attributed to a specific manufacturer or artisan. The phrases "looks like," "appears like" or "is similar to" should trigger alarm bells indicating that opinion rather than fact is being used.
Proof in the antiques and collectibles field requires backup confirmation from a second and even third independent source. Once again, caution, discretion and interpretation needs to be applied. Once published, false information in the antique and collectibles field perpetuates itself. Many authors rephrase or summarize the work of others. The amount of original research is minimal.
A healthy skepticism is required when dealing with sale provenance, especially if the piece is mass produced. Take the case of the cookie jars in Sotheby's nine-day sale of the Andy Warhol estate in 1987. Collectors and dealers were astonished when mass production cookie jars in the Warhol collection sold for five to ten times their book and field prices. Sotheby's placed a special Warhol sale sticker on the pieces. Within less than a month, fake Warhol stickers were available. If the Warhol estate were reassembled today, based upon stickered pieces, it would take Sotheby's several extra days to sell the material because the amount of material has grown by more than 50 percent.
[Author's Aside: Twenty-five years have passed since the Warhol estate sale. I wonder how many people in the trade today are aware of the fake Warhol stickers. There is nothing about them on the Internet.]
A picture in an auction catalog is no longer sufficient to establish sale provenance. A sale receipt needs to accompany the catalog. The same applies to any sale attributed to a specific dealer. A claim without a letterhead receipt is unacceptable.
Ownership provenance outside a family or collector who documents purchases is difficult to establish. Dealers are very reluctant to identify the sources of the objects they sell. They do not want buyers talking to previous owners. Concern that the original owner might find out what the dealer charged his buyer is only one reason. The previous owner still may have pieces the dealer wants to buy and does not want competition.

Family stories are the most common form of ownership provenance. Unfortunately, by the time an authenticator hears them, they are several generations removed from the source. Distortion is more common than accuracy.
When a family story is involved in documenting an object, it needs to be written down as quickly and in as much detail as possible. This is especially true if the piece descended through a secondary rather than a primary line. In today's age of divorce and multiple marriages, statements such as "it belonged to my first husband's aunt's husband's mother" cause authenticating nightmares, especially when "I do not know" is the response to the questions "what was her name" and "when and where did she live."
When going through the photographs involved in an estate, save all interior images picturing objects and individual photographs of people wearing costumes and jewelry that are being passed down through the family. Take the time to identify the location and name of the person on the back of the photograph. A date when the photograph was taken is a bonus.
Save paperwork, especially obituaries, related to the person or persons who owned the object. Look for written documents and/or a newspaper article(s) that might have mentioned the object. If the object was displayed as part of an exhibition, try to find a reference or catalog. Three objects I owned were exhibited at the American embassy in Russia as part of its 1976 Bicentennial exhibition. I have misplaced the paperwork and have no photographs of the exhibit. I would not blame anyone whose response to my story is bull-pucky.
If the object is associated with a specific event—such as an item purchased at a World's Fair or signed by a famous person, for example—try to document the fact that the owner was present at the event. If an autographed object, ask the signer to place a date under the signature. Assemble as much material as possible to prove the signer and you were at the same location, and, if possible, take a picture of the signer doing the signing. There can never be enough proof.
Although I identified the problems associated with a family genealogical chart in establishing provenance in the first column in this series, having one available falls into the "something is better than nothing" category. The genealogical chart should include birth, death and marriage dates for all family members. Ideally, it should trace the bloodline on both sides of the family. If the piece came down through a secondary line, this link needs to be clearly spelled out.
The standard family stories are (1) he/she received the object as a wedding gift or (2) it came over on the boat with relative X. I am continually amazed at how many objects that came over on the boat from the old country are marked "Made in the U.S.A." The object and the story date have to make sense.
Like an illustration, family genealogy is only one of many pieces of information needed to establish ownership provenance. If successfully established, most ownership provenances need to be subjected to the final test, the questions: (a) so what and (b) who cares?
I already have received a few e-mails from individuals who have shared provenance nightmares with me. If you have such a story, share it by e-mailing it to me at harrylrinker@aol.com.
—————————————
Rinker Enterprises and Harry L. Rinker are on the Internet. Check out Harry's Web site..
You can listen and participate in Harry's antiques-and-collectibles radio call-in show "Whatcha Got?" on Sunday mornings between 8 a.m. and 10 a.m. Eastern Time. It streams live on the Genesis Communications Network.
"Sell, Keep Or Toss? How To Downsize A Home, Settle An Estate, And Appraise Personal Property" (House of Collectibles, an imprint of the Random House Information Group), Harry's latest book, is available at your favorite bookstore and via Harry's Web site.
Harry L. Rinker welcomes questions from readers about collectibles, those mass-produced items from the 20th century. Selected queries will be answered on this site. Harry cannot provide personal answers. Send your questions to: Rinker on Collectibles, 5955 Mill Pond Court SE, Kentwood, MI 49512. You can e-mail your questions to harrylrinker@aol.com. Only e-mails containing a full name and mailing address will be considered. Please indicate that these are questions for WorthPoint.
Copyright © Rinker Enterprises, Inc. 2012
WorthPoint—Discover Your Hidden Wealth