Rinker on Collectibles: Heeding the Call to Buy

by Harry Rinker (07/10/12).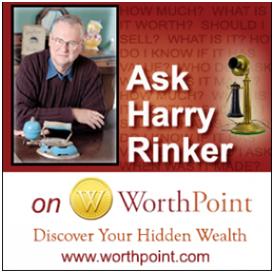 Linda and I recently visited the Allegan (Mich.) Flea Market. It is a throwback to the great flea markets of the 1980s and 1990s—a strong gate, a wide variety of merchandise ranging from antiques and collectibles for the traditional collectors to pizzazz and functional decorating pieces, a strong emphasis on the Country Look, and affordable merchandise. Most attendees left with one or more purchases. As I watched dealers record mid-afternoon sales, I noticed many using a second and third page. Several years ago, dealers considered themselves lucky to fill half a page. My general impression is that, at least in respect to Allegan, things are looking up.
Linda had specific shopping goals in mind—find an older plant stand for use on our front or back porch, add some additional pieces to her grandmother's Blue Willow pattern dinnerware service, which she recently rescued from the to-be-sold pile at The School in Vera Cruz (Pa.), and a fun conversation piece for the table entering her Davenport University office. Linda met all three of her goals, as well as adding two pieces of jewelry to her collection.
The call to buy always has fascinated me. What prompts a person to buy an antique, collectible or desirable? Functional need is too easy an explanation. While I am among those who tout the antiques and collectibles marketplace as a great source for cheaper-than-new buying, I do not see it as one of the prime buying motivators. The antiques and collectibles market does have things people need if they do not already own one, for example, a bed in which to sleep or a chair in which to sit. But, those with functional needs do not think of an antiques and collectibles sale venue as the first place to turn to fill these needs. The call to buy antiques and collectibles extends far beyond functional need.
When asked what prompts me to buy, I often tell the asker that I listen to the mystical voices in my head. As I walk through the aisles at an antiques and collectibles flea market, mall, shop or show, I hear voices calling to me. "Look over here," "take me home with you," "I have been waiting for you," "you need me" and "buy me" are a few examples. Having talked with thousands of individuals involved with the trade, I know that I am not alone. Such voices exist. Years ago, the voices were much stronger. Now, I am hearing impaired. Even when I am wearing my hearing aids, the voices are softer or silent.
I ceased trying to figure out why I suddenly stop and my eyes focus on a single object in a booth or case. Is it fate, coincidence, skill or something different? My eyes scanned hundreds, even thousands of objects prior to my stopping. Why did I pass all the others and focus on this one particular object? What called me to this particular object?
It is difficult, if not impossible, to pinpoint the origin of the call to buy. It is internal and personal. It begins as a hidden desire or want, in place long before the buy occurs. There are multiple explanations—a cherished memory, an urge or necessity to collect, a functional need, a coveting or simply a will to possess.
Deciding to explore an antiques and collectibles sales venue is the first step in awakening the call to buy. In the past, this meant attending an antiques and collectibles auction, reading the advertisements in a trade periodical, exploring a mail auction catalog, or visiting a flea market, mall, shop or show. Today, it involves turning on a computer and checking internet auction, direct sale, and storefront websites. In the 21st century, buying antiques and collectibles is a 24/7 experience.
The call to buy is primarily unconscious. Something, usually an object, triggers it. A friend's "isn't this what you have been looking for" comment works. Once the call to buy is triggered, the buyer's senses become acute. His/her eyes water. A heightened sense of awareness, a mental alertness, results from an adrenalin rush. The desire to reach out and touch, even to hold the object, is overwhelming.
The desire to buy and the call to buy are not the same. Linda left for Allegan with the desire to buy. She set specific goals. While she hoped to fulfill her goals, she was prepared to be disappointed. While at Allegan, she saw over a dozen different plant stands. Only one evoked the call to buy.
There also is a difference between the call to buy and completing the transaction. A potential buy begins when the call is heard. The successful completion of the sale involves a number of hurdles, any one of which can quickly prove insurmountable.

In an ideal world, a buyer has an unlimited supply of cash, thus allowing him/her to answer every call to buy. In reality, today's buyers are sophisticated and more cautious about parting with their hard earned dollars.
I buy based upon my "God means me to own it" theory: If God means me to own an object, I will find it in the condition I desire, at a price I am willing to pay, and with money in my pocket to pay for it. This three-part equation has failed at all points. It is especially painful when the first two criteria are met and the last is not.
Resistance to the call to buy takes the form of questions. What do I need this for? Can I do better if I continue the hunt? Does not this price seem high? How am I going to get it home? Where am I going to put it if I do get it home? What is my spouse/partner going to say? Questions such as these and more can derail the buying process.
The call to buy can be encouraged, something antiques and collectibles dealers are loath to do. Dealers are far to wedded to the "if I display it, they will come" concept. Many Allegan Flea Market dealers still adhered to the unorganized pile and stuff the booth merchandising techniques of the past. I walked passed dozens of uninviting booths because they were so cluttered and/or had no order to the merchandise displayed within them. If there was an object that would have triggered my call to buy, it went unseen.
A price tag is an offer, essential to triggering my call to buy. I do not buy from dealers who do not price their objects. While attending the Allegan Flea Market, I picked up an object in a booth where objects were not priced. Without even inquiring about my interest, the dealers said, "I can do fifty." I did not respond. Sensing my hesitation and again without any conversational exchange, he countered, "Make that thirty-five." I shook my head no. "I can do twenty-five." I put the object down and walked away.
In another booth, I picked up a small oval Blue Willow serving dish with a price tag of $95. Before I could show it to Linda, the dealer sitting in a chair at the opposite end of his booth called over "everything is half price." Even at half price, the object was overpriced.
The call to buy is an invitation to the seller to strike up a conversation, tout the merchandise and close the sale. Alas, most sellers think the call to buy is all that is needed to complete the sale. "The buyer looked really interested, but he walked away" is a common lament.
While the call to buy is inherent in everyone, it diminishes with age. Ten years ago, I felt differently. I turned 70 last year. Over the past several years, the number of objects I purchased when attending antiques and collectibles flea markets, malls, shops and shows has diminished yearly. In 2001, I bought an object a day on eBay. I did not buy one object on eBay in 2011.
Thank God for Linda. First, the call to buy still is strong within her. Our home would be filled with a great many more objects if I reduced the number of times I said to her, "You do not want that." Second, I buy more for Linda than I do for myself. She was not a collector when I met her nine years ago. In the interim, she caught a good case of the "collecting" disease.
Finally, my failure to answer the call to buy is due in part to the large amount of material remaining at The School in Vera Cruz that I have to sell because it does not fit into our home in Michigan and the more than 50 boxes of stuff in Michigan that still has to be unpacked and/or gone through before being placed in storage. Once done, I look forward to the call to buy returning. After all, a true collector always finds room for one more thing.
—————————————
Rinker Enterprises and Harry L. Rinker are on the Internet. Check out Harry's Web site..
You can listen and participate in Harry's antiques-and-collectibles radio call-in show "Whatcha Got?" on Sunday mornings between 8 a.m. and 10 a.m. Eastern Time. It streams live on the Genesis Communications Network.
"Sell, Keep Or Toss? How To Downsize A Home, Settle An Estate, And Appraise Personal Property" (House of Collectibles, an imprint of the Random House Information Group), Harry's latest book, is available at your favorite bookstore and via Harry's Web site.
Harry L. Rinker welcomes questions from readers about collectibles, those mass-produced items from the 20th century. Selected queries will be answered on this site. Harry cannot provide personal answers. Send your questions to: Rinker on Collectibles, 5955 Mill Pond Court SE, Kentwood, MI 49512. You can e-mail your questions to harrylrinker@aol.com. Only e-mails containing a full name and mailing address will be considered. Please indicate that these are questions for WorthPoint.
Copyright © Rinker Enterprises, Inc. 2012
WorthPoint—Discover Your Hidden Wealth