Rinker on Collectibles: The National Postal Museum is more than just Stamps

by Harry Rinker (05/09/12).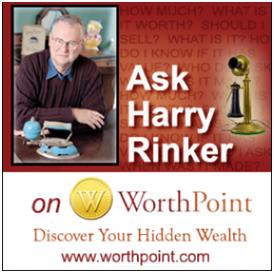 In the Fall of 2011, I received a letter from Postmaster General Patrick R. Donahoe appointing me to the Citizens' Stamp Advisory Committee (CSAC) for a three-year term, beginning January 2012 and ending December 2014. The CSAC is a 15-member committee that recommends to the Postmaster General stamp subjects that are contemporary, timely and relevant, while at the same time representative of the cultural diversity that is the United States.
Currently, CSAC meets four times a year in Washington, D.C., a town I visited frequently from the mid-1960s until the end of the 1970s. After 1980, the times I traveled to Washington, D.C. were quick in-and-out business trips. I never set aside time to check out new museums nor revisit those with whose collections I already was familiar, or at least thought I was.
Museums are an important source for gaining insight into antiques and collectibles. Ideally, curators have vetted and correctly labeled the displayed objects, thus providing a visual learning base to study collecting categories. In the early 1970s, I once asked an expert about Fraktur—a calligraphic hand and any of several blackletter typefaces derived from this hand—and how to differentiate between a period and reproduction (exact copy), copycat (stylistic copy) and fake (object deliberately meant to deceive) His answer was: "Study 500 period examples and you will have no problem identifying the problems." His advice was on point. Since then, I create opportunities whenever possible to study large groups of related objects, carefully examining them to learn the characteristics that make them period. Even though a museum's objects cannot be handled, at least those on display, they still are capable of providing a creative learning experience.
Washington, D.C. and its surrounds contain a treasure trove of museums. The opportunity to visit these museums was one of the prime reasons I accepted my CSAC appointment. My goal is to spend the day before each CSAC meeting visiting a new or familiar museum. Since CSAC is what brings me to Washington, D.C., it seemed appropriate that I begin with the National Postal Museum. This "Rinker on Collectibles" column is the first of a series of columns over the next three years discussing the museums I visit.
Before visiting an antiques and collectibles flea market, malls, shop or show, I do advanced research. It helps me to develop a visiting plan that maximizes the time I have available. In the past, museum research required going to the public library or local bookstore to see what reference material I could find about the museum. Today, I go to the Internet.
The National Postal Museum's website, like many museum websites, provides information far beyond information about the museum and its exhibits. The home page toolbar contains links for About the Museum, Exhibits, Collection, Educators, Stamp Collecting, Research, Getting Involved, Activity Zone, and Museum Library. After taking a Museum Virtual Tour, I reviewed the current exhibits, making a special note to spend time in the Alphabetilately gallery and at the current exhibit, "Fire & Ice: Hindenburg and Titantic."
The museum website divided the collections into two distinct types. The first is Philately—"objects that chronicle the evolution and history of U.S. stamp design and production; and the administration that controlled their issuance and use." The second is Postal Operations—"Objects that chronicle the development of the U.S. Postal system and the vital role mail plays in our daily lives." Since the website contains far more information than I was going to encounter during my visit, I spent half an hour clicking through the various home pages, making "remember to look here when a question arises" metal notes.
Janet Klug, a past president of the American Philatelic Society, is a CSAC member and chair of the New Initiative Committee on the Smithsonian National Postal Museum's Council of Philatelists. When I e-mailed Janet that I was planning to visit the National Postal Museum, she put me in touch with Dr. Cheryl R. Ganz, Chief Curator of Philately, a Hindenburg collector, and author along with Daniel Piazza, with help from M. T. Sheahan of the exhibit catalog for the "Fire & Ice: Hindenburg and Titantic" exhibit. Cheryl agreed to meet me upon my arrival for a personal tour of the collection. Our 45-minute walk-through provided me with an excellent overview.
The National Postal Museum is one of the Smithsonian's 19 museums, 16 of which are located in Washington, D.C. The National Postal Museum is located in the old Post Office at the corner of Massachusetts Avenue and 1st Street NE, just across from Union Station. The Smithsonian Institution and the United States Postal Service reached an agreement in 1990 to create the museum. It opened to the public in 1993.
In talking with Cheryl, she referred to the National Postal Museum as a "third day" museum, that is to say a museum visited during a family or group's third day of sightseeing in Washington, D.C. The Capitol, White House, Washington Monument, Lincoln Memorial, the Supreme Court, Air and Space Museum and American History Museum are the stars of day one and day two.

One reason for the National Postal Museum's third-day status is a public perception that its primary focus is stamps. The National Postal Museum is far more. There is something for everyone. An aviation buff will be attracted to the exhibits on moving mail by air. The military collector will be fascinated by the exhibit on "Mail Call: History of America's Military Mail," which covers the delivery of mail to soldiers serving on land and sea from the Revolution to Iraq and Afghanistan. Animal lovers will relish in the exhibit "Art of the Stamp: Owney the Postal Dog," which features Bill Bonds' sketches and artwork that led to the creation of the Owney stamp. Owney memorabilia appears throughout. Historians of the development of America can trace the history of the growth of America in the extensive exhibit "Binding the Nation." Police historians will pause at "Postal Inspectors: The Silent Service." As a historian of the History of Technology, I spent a third of my visit studying the changing technology and techniques that were developed to move the mail more quickly and efficiently.
When I ended my visit, I had a far greater appreciation for the thousands of objects and dozens of sub-collecting categories that comprise the general category of postal collectibles. While I was aware of most, I had not fully appreciated the variety within each sub-collecting category. I also came to realize that I was a closet postal collector. Dozens of objects within my other collections crossed over into the postal collectibles realm.
None of the above is meant to negate the importance of the National Postal Museum's stamp collection. Its stamp collection is one of the finest in the world. William H. Gross, founder of PIMCO and a stamp collector, has donated $10 million dollars to create a 12,000 square foot gallery devoted exclusively to the museum's philatelic collection.
I have learned from past experience that it is impossible to grasp the full extent of any museum's collection in a single visit. If the visit is to be meaningful and the education received remembered, it is best to concentrate on one aspect of the museum and return later to embrace other learning opportunities. During my advance research, I selected the Alphabetilately exhibit for special attention. Since I am trained to think alphabetically and categorically, it had appeal. It was the perfect test for what I knew, thought I knew and did not know. My visit confirmed that all three categories applied.
The Alphabetilately exhibit opened on Sept. 26, 2008 and was originally scheduled to close on Sept. 6, 2011. As of mid-April 2012, it still was open to the public. The exhibit begins with A for "Advertising Covers." I was familiar with the late 19th-century and early 20th-century material, thanks to my contacts with letterhead/billhead collectors. The case introduced me to the wealth of post-1920s material. I first encountered C for "Cinderella Stamp" when viewing a collection of Allentown, Pa., Cinderella stamps in David Bausch's collection. A Cinderella stamp is a non-postage printed label that is attached to an envelope. They range from advertising labels to charity seals. Now I know how to properly classify the Christmas Seals in my stamp collection. S is for "Se-Tenent," the term used to describe "to or more adjacent stamps having different designs, denominations or colors." Now I will know what this term means when used during a CSAC meeting.
Do not know what Kansas City Roulettes are? Check out the exhibit on the National Postal Museum's website or, better yet, visit the National Postal Museum the next time your travels take you to Washington, D.C.
—————————————
Rinker Enterprises and Harry L. Rinker are on the Internet. Check out Harry's Web site..
You can listen and participate in Harry's antiques-and-collectibles radio call-in show "Whatcha Got?" on Sunday mornings between 8 a.m. and 10 a.m. Eastern Time. It streams live on the Genesis Communications Network.
"Sell, Keep Or Toss? How To Downsize A Home, Settle An Estate, And Appraise Personal Property" (House of Collectibles, an imprint of the Random House Information Group), Harry's latest book, is available at your favorite bookstore and via Harry's Web site.
Harry L. Rinker welcomes questions from readers about collectibles, those mass-produced items from the 20th century. Selected queries will be answered on this site. Harry cannot provide personal answers. Send your questions to: Rinker on Collectibles, 5955 Mill Pond Court SE, Kentwood, MI 49512. You can e-mail your questions to harrylrinker@aol.com. Only e-mails containing a full name and mailing address will be considered. Please indicate that these are questions for WorthPoint.
Copyright © Rinker Enterprises, Inc. 2012
WorthPoint—Discover Your Hidden Wealth