Rinker on Collectibles: The Obsession with the Monetary Value of Objects

by Harry Rinker (09/26/12).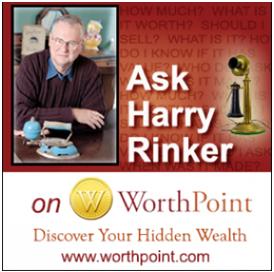 How much do you think it is worth? I am asked this question more than any other. The person asking is hoping I will reveal that the object is worth an astronomical sum, one that far exceeds any expectations and dreams. The individual is not interested in the object's history, its importance as a cultural reflection of the era in which it was created, nor the pride inherent in its ownership. More than anything else the person wants bragging rights—my object is worth more than any objects you have.
In 2012, value is dominant. Value assumed its "king of the hill" role in the early 1990s. In order to understand value's ascendancy, a short discourse on this history of American materialism and conspicuous consumption is required.
While there are ample historical materialism and conspicuous consumption antecedents, America's middle class love affair with these concepts occurred in the decades immediately following the Second World War, the era during which I grew up and was a young adult. Thorstein Velblen, an American economist and sociologist, introduced the concept of conspicuous consumption in his book "The Theory of the Leisure Class" (1899). It was not until the 1960s that conspicuous consumption became an integral part of the American dream. By the 1990s, the most frequent reason cited for attending college was to make a lot of money.
Remembering the homes and lifestyle of my grandparents, great aunts and uncles, parents and aunts and uncles, I realize how fortunate they were. All had sufficient means to lead a comfortable life. They were members of generations willing to make do with and be content with what they had. Objects were used until they wore out, often surviving because of numerous repairs. Objects were used primarily for the purpose for which they were purchased. There were a few knickknacks, souvenirs from vacation trips and family trinkets. When a new object was acquired, the old object often was stored or handed down in the family to a member that "could use it." No money changed hands.
My ancestors were savers, not collectors. Object value was perceived in terms of immediate use or potential future use. My parents inherited these values. In addition, they were products of the Great Depression and World War II, each requiring sacrifice that impacted their mindset.
My parents desired that their children have a better life than the one they experienced. As a member of a middle-class household, I still did chores to earn my weekly allowance and worked a variety of part-time jobs from an early age to pay for summer camps, vacation trips and things I wanted. I wore hand-me down clothes and furnished my first apartment through the generosity of my aunts and uncles, who shared their stash of "it is too good to throw out" items.
While a junior in college, my parents bought me a new car. The significance of this escaped me until I started thinking about this column's topic. The car represented my parent's and my entrance into the materialistic world. New is the key word. Used was not acceptable. The car symbolized the end of the hand-me-down era.
I was the first member of my immediate family to attend college, my father constantly telling me it was my ticket to fame and fortune. He believed it more than I did. While I received an excellent college education, I also discovered that I liked the materialism and conspicuous consumption concepts and made them a part of my life's mantra. Following the birth of Harry Jr. and Paulanne, I followed my parents' principle and pledged to make a life for them, which was better than I had. I typified my generation. When we accuse our children and grandchildren of believing they are entitled to the same lifestyle as us, we only need to look in the mirror to understand who is to blame.
My generation grew up in the "hobbies" era; a time when collecting was more focused on pleasure and occurred at a leisurely pace. Antique collecting was limited to a small number of collecting categories. Serious collectors were members of the upper, socially sophisticated class. Those less fortunate collected affordable objects such as match book covers, baseball cards, pocket change coins and rocks. Hobby stores sold kites, models and toy trains.
Edwin G. Warman published the first antiques and collectibles price guide in 1948. The Kovels issued the first edition of their price guide in 1970. The 1970s saw enormous growth in the antiques show circuit and regional and national publications. By 1980, an object's value became the central focus throughout the antiques and collectibles field.
As the distribution of wealth spread throughout American society in the 1960s and 1970s, Americans became value conscious. Americans felt rich, even those who were not. After all, America was the land of opportunity and the greatest nation on earth. America was a "rich man's world," a concept exemplified by the lyrics of the Swedish pop group ABBA's 1976 song "Money, Money, Money":
'Money, money, money
Must be funny
In the rich man's world
Money, money, money
Always sunny
In the rich man's world
Aha-ahaa
All the things I could do
If I had a little money
It's a rich man's world'
There is not a large enough mirror to reflect the images of all those individuals, groups and businesses responsible for making value the most important information associated with an object. I am in that reflection. I spent much of my career authoring and editing price guides, in theory documenting prices within the marketplace, but in reality supporting and setting prices as well. Everything from auction houses to the media became enamored with the "record price" concept, a phenomenon that has emerged with a vengeance in the past 10 years.

Starting in the 1990s, cable television featured shows devoted exclusively to the value of objects. Reality television has stretched the concept to the extreme, associating value with shrewdness and, in many cases, skullduggery. The Great Recession enhanced the emphasis in two ways. First, economically distressed individuals seeking any means to raise much needed cash are eager to know if the objects they acquired have resale value. Second, those involved in the trade are trying to weather what appears to be a never-ending decline in antiques and collectibles values.
Monetary value is one of many values an object has. It is momentary, one of the least-stable of an object's values. Monetary value is not inherent in an object. It is an artificial value. There are other values which are far more significant.
Auctioneers and dealers often suggest a direct connection between monetary and aesthetic value. While there are objects where this is the case, they are atypical. Is the most valuable stamp or coin dependent on it aesthetics or its scarcity and/or desirability? The real correlation is between monetary value and desirability, an extremely fickle benchmark.
I am a realist. I cannot change what is. My job is to report and not set the market. If there is an obsession with the concept of value as is relates to objects, then it is my responsibility to inform my readers.
Why then rant against monetary value? The answer rests in my obligation to point out inequities and even injustices when I encounter them. Having spent more than four decades studying the antiques and collectibles business and what makes an object worth what it is to the collecting mindset, I am aware that objects are sentient beings. Objects are living, breathing documents of the past. Reducing an object solely to its monetary value makes it a commodity, a chattel. The object's personality vanishes. Its soul is destroyed.
The fate of my soul in the afterlife does not concern me. I will be gone and highly likely forgotten. My objects will survive long past my death. It is important that their souls be kept alive by understanding, telling, and retelling the stories that made them come alive.
Who cares what the object is worth? If it has a good set of stories, it is invaluable.
—————————————
Rinker Enterprises and Harry L. Rinker are on the Internet. Check out Harry's Web site..
You can listen and participate in Harry's antiques-and-collectibles radio call-in show "Whatcha Got?" on Sunday mornings between 8 a.m. and 10 a.m. Eastern Time. It streams live on the Genesis Communications Network.
"Sell, Keep Or Toss? How To Downsize A Home, Settle An Estate, And Appraise Personal Property" (House of Collectibles, an imprint of the Random House Information Group), Harry's latest book, is available at your favorite bookstore and via Harry's Web site.
Harry L. Rinker welcomes questions from readers about collectibles, those mass-produced items from the 20th century. Selected queries will be answered on this site. Harry cannot provide personal answers. Send your questions to: Rinker on Collectibles, 5955 Mill Pond Court SE, Kentwood, MI 49512. You can e-mail your questions to harrylrinker@aol.com. Only e-mails containing a full name and mailing address will be considered. Please indicate that these are questions for WorthPoint.
Copyright © Rinker Enterprises, Inc. 2012
WorthPoint—Discover Your Hidden Wealth