Rinker on Collectibles: 'Psychic Income' is the Payoff for Collecting

by Harry Rinker (11/07/12).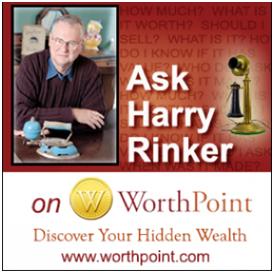 During my recent visit to Washington, D.C. to participate in a meeting of the Citizens' Stamp Advisory Committee, I spent an afternoon with Joseph Levine, Lehigh Class of 1962 and owner of Presidential Coin & Antiques, a firm specializing in commemorative medals and related historic materials. In addition to our Lehigh and antiques and collectibles connections, Joe and I also share another common bond. Each of us participated in the Washington Semester Program sponsored by American University as a representative of Lehigh. I was in Washington, D.C. during the fall 1961 semester. Joe preceded me.
Spending an afternoon with Joe was a busman's holiday. Joe picked me up at the Melrose Hotel and took me to his home, where we explored a portion of his collection. His wife Alice joined us for a wonderful lunch at Clyde's Willow Creek Farm. We reminisced about past and present friends, some of whom I was delighted to learn still were actively involved in the trade, and talked shop.
[Author's Aside: When filming "Collector Inspector" for HGTV, I used the phrase "busman's holiday." The director yelled "cut!" "You cannot use that phrase. No one will understand it." Puzzled, I asked the members of the crew to tell me what it meant. There was dead silence. We reshot the scene. A busman's holiday, a phrase dating back to 1893, is "a holiday or vacation during which one does something similar to what one does as work." Since I do not consider what I do in the antiques and collectibles field work, my use of the phrase is technically incorrect. But, I like it and use it when applicable.]
Joe graduated from Lehigh with a B.S. in business. I received a B.A. in history. During one of our conversations about what motivates collectors, Joe used the term "psychic income," a term with which I was not familiar. Dictionary.com defines psychic income as "the personal or subjective benefits, rewards or satisfaction derived from a job or undertaking as separate from its objective or financial ones."
I never accepted the concept that the antiques and collectibles community exists in isolation from other economic and social communities. As a result, I constantly search for scientific, quantitative and qualitative principles used by other academic disciplines that explain why things are as they are with antiques and collectibles. Psychic income applies.
The strong personal bond between a collector and his collection is well known. Serious collectors have difficulty parting with anything, even duplicates. They become one with their objects. The loss of any object is emotionally draining. Every object is precious. The decision to sell a collection, whether because of economic necessity, advanced age or lack of space can, and often does, cause serious depression.
Although the above focus was on the serious collector, a person who plans to die owning his/her collection and the sense of personal satisfaction involved in finding and buying an antique or collectible applies to everyone. When visiting an antiques flea market, mall, shop or show, watch the faces of the buyers at the conclusion of a sale. A wide grin or a sly smile is the standard response. The transition completion exudes a sense of exhilaration.
The conclusion of the sale is only the first phase of an extended period of satisfaction. Satisfaction continues when the buyer unpacks the object in his/her home, selects the location to display it and encounters it on a regular basis. Although the initial ardor felt at the time of purchase lessens over time, it never disappears.
The definition of psychic income is specific in eliminating the potential of economic gain. The concept does not apply to buyers acquiring objects for resale. There is no question that buyer satisfaction occurs when an object is bought at a low price and resold for a substantial profit. This satisfaction is not psychic income.
Understanding the mindset of antiques and collectibles collectors and buyers, I recognize the existence of a gray area. Although there are exceptions, most buyers of antiques and collectibles harbor a secret dream/desire that a day will arrive when an object will be worth two, three, 10 times or more than paid. The possibility it will lose value and may become worthless is unfathomable.
Financial value is only one value an antique or collectible possesses. Although difficult to measure and subject to individual interpretation, personal value exists. The easiest method to identify it is to ask a collector which objects in his/her collection are prized above all others. The assumption is that the collector will select those with the highest secondary market resale value. This often is not the case. The objects selected are those with the best stories—historic, acquisition, memory or otherwise. When visiting a former collector, one who has sold his/her collection, I always find a half-dozen or more objects still in the collector's possession. Once smitten, the love of collecting ends only with death.

My focus thus far has centered on the satisfaction portion of the definition of psychic income. Benefits and rewards remain. The joy of collecting is its greatest benefit. Merriam-Webster.com defines joy as "the emotion evoked by well-being, success or good fortune or by the prospect of possessing what one desires." Synonyms are delight, gratification and pride. While satisfaction is also a synonym, the definition of joy shows clear distinctions between the two words.
The joy of collecting is a complex concept. Its component parts include but are not limited to: the hunt, a community consisting of auctioneers, collectors, dealers, show promoters and others with a wide range of personalities, interests and foibles, the objects and the stories they contain and a sense of purpose and motivation.
The expansion of geographic horizons is one of the greatest benefits of collecting. My collecting interests have taken me to geographic areas in the United States and abroad that I would never had visited had I not collected. For those who have or are planning to visit Germany, I doubt if Grünhainchen is on their "must visit" list. However, if a person collects Wendt & Kühn angels and other figurines, it is. My wife Linda loves Wendt & Kühn. We have visited the factory once and are likely to do so again in the future.
In an era when value dominates antiques and collectibles decisions, it is worth recalling the "other" rewards inherent in collecting. The first is the sense of achievement collectors receive when they add a long-sought object to a collection or reach the point where a collection is or nearly is complete. Today's collectors narrowly define their collection goals in order to make them achievable. The era of the generalist collector is passed. Collections now have recognizable and manageable end points.
Historically, collecting was strongly linked to social status recognition. Collectors were viewed as sophisticated, urbane and endowed with a strong sense of aesthetics. The arrival and acceptance of collectibles dented this image. Aesthetics plays no role in collecting Hopalong Cassidy memorabilia. Collectors still are recognized for their collections, often the subject of a newsprint story, an invitation to appear on a regional television talk show, or a request from a local library or historical society to display a portion of their collection.
Uniqueness or individuality is the greatest reward derived from collecting. In an age that emphasizes conformity, collecting allows an individual to stand apart. No two collections are identical. Each contains objects another does not. In addition, collections reflect the personality of the collector. To the collector, the internal rewards far outnumber any external possibilities.
I do not feel different now that I know there is an academic scientific term that describes what I derive from collecting. However, the next time someone asks me why I collecting, I am going to answer, "for its psychic income." I cannot wait to see the look on his or her face.
—————————————
Rinker Enterprises and Harry L. Rinker are on the Internet. Check out Harry's Web site..
You can listen and participate in Harry's antiques-and-collectibles radio call-in show "Whatcha Got?" on Sunday mornings between 8 a.m. and 10 a.m. Eastern Time. It streams live on the Genesis Communications Network.
"Sell, Keep Or Toss? How To Downsize A Home, Settle An Estate, And Appraise Personal Property" (House of Collectibles, an imprint of the Random House Information Group), Harry's latest book, is available at your favorite bookstore and via Harry's Web site.
Harry L. Rinker welcomes questions from readers about collectibles, those mass-produced items from the 20th century. Selected queries will be answered on this site. Harry cannot provide personal answers. Send your questions to: Rinker on Collectibles, 5955 Mill Pond Court SE, Kentwood, MI 49512. You can e-mail your questions to harrylrinker@aol.com. Only e-mails containing a full name and mailing address will be considered. Please indicate that these are questions for WorthPoint.
Copyright © Rinker Enterprises, Inc. 2012
WorthPoint—Discover Your Hidden Wealth