Rinker on Collectibles: A Student of Our Own Profession

by Harry Rinker (09/11/12).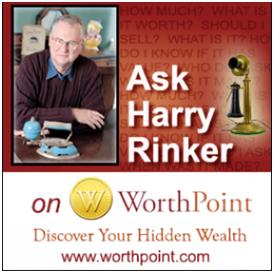 During a presentation to the faculty and staff at Davenport University as a candidate for the Dean of the Donald W. Main College of Business, Dr. Timothy S. Mescom, president and professor of management at Columbus State University in Georgia said, "We need to be a student of our own profession." The resonance of his comment caused me to reflect on its application within the antiques and collectibles trade.
The first consideration was a question of how many individuals consider their involvement in the trade as a profession. According to dictionary.com, there are several meanings of profession that apply: "1. a vocation requiring knowledge of some department of learning or science . . . ; 2. any vocation or business . . . ; 4. the act of professing; avowal; a declaration, whether true or false . . ."
Vocation and business are not necessarily synonymous. While one definition of vocation—from the 1979 edition of the Webster's New World Dictionary of the American Language, Second College Edition—is "any trade, profession or calling," another is "a call, summons, or impulsion to perform a certain function or enter a certain career." As opposed to "many are called but few are chosen" (Matthew 22:14), when it comes to collectors, many are called and most answer. Collecting is a calling. In theory, individuals are able through free will to choose whether or not to collect. Theory and reality are different entities. I argue that there are those who are compelled by some unidentifiable inner source to collect and are more whole because they collect than they would be if they did not.
It does not matter if a person is an auctioneer, collector, curator, dealer, mall owner or show promoter. If they are involved in any way, shape or form with antiques and collectibles, they are members of the antiques and collectibles profession. Denial is as futile as resistance to this concept.
The independent, secretive nature of the antiques and collectibles business has resulted in little available concrete data. I receive more than half a dozen phone calls a year from individuals wishing to know the amount of money generated annually from the sale of antiques and collectibles. Some callers are writers researching a story for a financial newspaper or periodical. Other calls are from individuals preparing business plans in hopes of securing bank funding or attracting investors. My first approach is to tell the person that I do not have the vaguest idea. "Can you take a guess?" is the standard response. Of course I can guess. Anyone can guess. The problem is that any guess is unreliable.
In the boom times of the 1990s, several trade periodicals surveyed their readers. While the results needed to be carefully interpreted, they provided helpful insights into the functioning and governance of the trade. When eBay had a divisional structure, the Collectibles division did extensive market research which it generously shared with the trade. Reliable market data ceased when the Collectibles division was eliminated.
Currently antiques and collectibles research is qualitative rather than quantitative. Consider a painting. Qualitative research is descriptive. It is data that can be observed but not measured. A qualitative description describes the picture's image, the technique used to create it and the results derived from applying the five senses. Quantitative deals with numbers, things that can be measured and analyzed. In the case of the painting, quantitative data include its dimensions, weight and cost.
The antiques and collectibles trade equates quantitative data akin to the national secrets act—the less divulged, the better. Few individuals or corporate entities in the trade reveal what they earned or lost. The information is proprietary. The fear is that the information would prove invaluable to rivals. Collectors never disclose what they spend, especially not to their spouses. Show promoters carefully guard their gate totals and revenue stream. Trade periodicals occasionally list circulation numbers, but their trustworthiness is questionable. Any expectation that this will change in the future is misplaced. The antiques and collectibles trade consists of privately held businesses. These entities have no obligation to report their financials to anyone other than state and federal taxing authorities.
There is one large block of quantitative data that does exist—auction house results. Websites such as WorthPoint and Artfact make that data available to subscribers. However, no analysis is provided. No trends are tracked. Individual statistical analysis is amateurish at best. The sampling patterns follow random rather than scientifically approved methodology.
While I have little faith that the antiques and collectibles trade will reach a share and share alike agreement, I issue the following pleas for the collection of basic quantitative data. Auctioneers and show promoters have national organizations. A combined effort to conduct a "who are the customers and what do they want" survey and then make the information available to the media would be helpful to those in and those who are considering entering the trade. A similar effort by the leading trade periodicals also would generate applause. Finally, I challenge the leading online sites to develop a common user survey and publish these results.
The old adage that numbers do not lie is true. The antiques and collectibles trade has nothing to fear from its numbers. My guess is they are better than even the most optimistic of us think.
"What is happening" information in the antiques and collectibles trade is qualitative. Ideally, it is based on a careful analysis of material appearing in the trade periodicals, field research and personal experience. In truth, it is far more like a guesstimate or someone's intuition, neither of which are accepted as reliable proof by the academic community.

The laissez-faire business attitude and an emphasis on surviving as opposed to short and long-term planning is why few studies appear about the antiques and collectibles profession. Why people collect is the only question that has engendered interest among academic scholars. The business of our business has not been deemed worthy, again because of the lack of easily accessible statistical data.
When I started writing Rinker on Collectibles, the trade's primary focus was on identifying/authenticating objects and determining their immediate secondary market value. Few cared about the collecting history and the past, short-term and long-term value of an object. I find the "why" question far more fascinating than the "what is it and how much is it worth" questions, never losing sight of it as I authored and edited price and reference guides.
There are identifiable trends in antiques and collectibles as there are in other professions. Understanding the past is the key to predicting the future. During the course of my career, I spoke with auctioneers, collectors, dealers and others whose insights suggested new ways to look at the trade. Many triggered past Rinker on Collectibles columns. Unfortunately, these conversations were the exception rather than the rule.
The primary purpose of this column is to encourage those in the trade who make the effort to observe and analyze what occurs around them to share this knowledge with others. Write articles for trade periodicals. Create a blog. If you are too timid to do this, at least e-mail your thoughts to me at harrylrinker@aol.com so I can consider it.
I also want to challenge people to stop being so involved in day-to-day activities of the antiques and collectibles profession and reflect on the "what can I learn from what I see" question. "Critical and creative thinking" is one of the nine principles in the Davenport University Excellence System. In the classroom, I tell my students that critical reading leads to critical thinking. In the antiques and collectibles field, critical seeing leads to critical thinking. Observation is the key to studying our profession.
In conclusion, this column is about learning to question—to constantly ask who, what, where, when, why and how. I do. While I am not always happy with the answers, the answers are what make me a student of my profession. Please join me.
—————————————
Rinker Enterprises and Harry L. Rinker are on the Internet. Check out Harry's Web site..
You can listen and participate in Harry's antiques-and-collectibles radio call-in show "Whatcha Got?" on Sunday mornings between 8 a.m. and 10 a.m. Eastern Time. It streams live on the Genesis Communications Network.
"Sell, Keep Or Toss? How To Downsize A Home, Settle An Estate, And Appraise Personal Property" (House of Collectibles, an imprint of the Random House Information Group), Harry's latest book, is available at your favorite bookstore and via Harry's Web site.
Harry L. Rinker welcomes questions from readers about collectibles, those mass-produced items from the 20th century. Selected queries will be answered on this site. Harry cannot provide personal answers. Send your questions to: Rinker on Collectibles, 5955 Mill Pond Court SE, Kentwood, MI 49512. You can e-mail your questions to harrylrinker@aol.com. Only e-mails containing a full name and mailing address will be considered. Please indicate that these are questions for WorthPoint.
Copyright © Rinker Enterprises, Inc. 2012
WorthPoint—Discover Your Hidden Wealth