Rinker on Collectibles: Understanding & Meeting the Demands of our Customers

by Harry Rinker (03/29/12).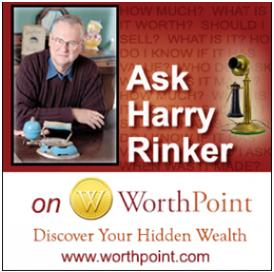 The three basic groups who buy antiques and collectibles: (1) collectors; (2) decorators, professional and amateur, more of the latter than the former; and (3) users, individuals who buy based on the principle that antiques or collectibles are cheaper than new. Which antiques and collectibles sell and how they are sold depends on which buying group is in the majority at any given moment of time.
When I became involved in the antiques and collectibles business in the 1970s, collectors dominated the marketplace, as they did since the beginning of the 20th century. By the end of the century, individuals buying for decorative purposes replaced the collector as the primary buying group. When I talk with individuals in the trade, whether in the field, via phone, or during conversations on "WHATCHA GOT?," my syndicated antiques and collectibles call-in radio show, I often ask for their insights into who they see as the principal buyers of our products.
During my travels to and from my February 2012 appearance as part of Lincoln City's Antiques Week annual celebration, I spoke with dealers Debbie and Randy Coe, show promoters Chris and Chuck Palmer, and the staff at the Little Antiques Mall in Lincoln City. To my surprise, I heard the same answer from each of them in response to my "who is buying" question. If they are correct—and additional research upon my return to Grand Rapids indicates they are—the user has replaced the decorator as king of the antiques and collectibles buying hill.
In an era where giving customers what they want, as opposed to telling them what to buy, is the key to survival in the antiques and collectibles trade, this is big news. It is a signal to dealers that a change in their merchandise might be worth considering. It also means that more customers are one-time buyers. Once their specific need is met, they withdraw from the antiques and collectibles marketplace. Repeat purchasers are a critical component in antiques and collectibles merchandising. Encouraging the user to return requires new approaches for antiques and collectibles marketing.
Dealers Debbie and Randy Coe are the best shifting market adapters I know. As individuals who earn a living selling antiques and collectibles, they alter their inventory to meet changing customer demand. Their success relies on volume sales. Between shows, malls, eBay and direct sales, merchandise flows out of their home on a daily basis.
Debbie and Randy have another quality: they willingly share their knowledge. Their commitment to assisting others in the trade is commendable. When I asked them to send me a list of the top 10 collecting categories that users are buying, they sent me a list that exceeded that number.
I divided the Coe's list into five categories—adornment, cooking and dining, household, gifts, and leisure. This represents a different way of viewing antiques and collectibles merchandise. Is it right for everyone in the trade? Absolutely not. Is it worth thinking about? Absolutely.
Adornment's focus is on inexpensive costume jewelry. The individuals who buy it wear it to complement their outfits. Cute is in. Animal, floral and sports-related theme pins sell well, especially if priced between $10 and $15. Necklaces made of glass, fresh water pearls (forget what they sold for initially), shell and stone move when priced in the $15 to $35 range. Note the absence of plastic from the list. Sterling, commonly used as a costume jewelry mount material in mid-20th century, often sells for melt as opposed to use value.
Three factors influence use value in the cooking and dining area. First, individuals are purchasing pieces to replace those which were broken or are missing from an inherited set. Second, many users also are environmentally conscious and want cookware that is safe. Third, users prefer items made in the United States. Whether this is driven by patriotism or the fact they are American brand-name-focused remains to be proven.
Blue Cornflower, Iris, Spice O' Life and all white are popular Corning cooking ware patterns. Pieces sell best when priced under $20. Within the past year, the number of users seeking four- and five-quart pieces for use as soup and stew pots has increased. These retail in the $30 range. In Pyrex, Butterprint, Gooseberry and Snowflake are the most popular patterns, pink and turquoise the most popular colors, and mixing bowls and casseroles the most popular shapes. Once again, pieces sell best when priced under $20.
Although young adults continue to prefer mix-and-match as their dining table setting choice, some dinnerware and glassware patterns remain strong sellers. In dinnerware, Pfaltzgraff's Naturewood, Tea Rose and Yorktowne, Fiesta's newer pieces, Liberty Blue (although prices are down considerably from a decade ago), Longaberger's Woven Traditions, and Royal China's Currier and Ives are desirable patterns. Substitute "Sold in the USA" for "Made in the USA" for the Longaberger pattern. Corning's Corelle moves when a 16-piece place setting is offered for less than $30. Glassware selling well includes Avon Cape Cod and Princess House's Fantasia and Heritage.
Cost is critical. Place settings and glass sets priced more than $15 are difficult to move. Serving pieces fall in the $12 to $20 range. Unmatched butter dishes, vegetable bowls and vases appeal when under $10. Some 1920s/1930s glass candlesticks, especially in pairs, can best $40.
In the household area, Colonial Revival/Early American living and bedroom suites from the 1920s through 1960s are a glut on the market. Prices above $500 for a full suite are unusual. However, smaller furniture pieces—such as bookcases, magazine racks, occasional tables and rocking chairs—attract users when priced under $95. Under $35 sells the piece even quicker.
Electric lamps, tabletop and floor models, delight (pun definitely intended) users. Twentieth century lamps priced from $15 to $85 undersell many modern examples found in Big Box stores. The variety and quality of antiques and collectibles lighting offer more design choices than available in the modern marketplace.

Users, especially those who resist the commercialization of taste dictated by stores such as Crate & Barrel and Pottery Barn, have discovered that antiques and collectibles make great gifts for family and friends. Gift section is occasion and function-focused. Users will spend up to $50. Items priced above $50 are tough sells.
Leisure breaks down into three distinct categories—crafts, play and reading. The 2008 Great Recession has fostered a craft revival. The 1950s cash-from-trash movement is alive and well. Sections of damaged quilts become pillowcases, toys serve as wall hangings and old flatware lives anew as a wind chime.
The durability of Fisher Price toys makes them a prime recyclable. All the parts have to be present, the toy has to work, and it has to be priced between $10 and $20 to attract a buyer. Kids are shooting marbles again. Packaged and priced for $1, marbles attract youngsters with their own money to spend. Although the Beanie Baby adult collecting craze is in the distant past, youngsters still love playing with them. Beanie Babies are a bargain when priced between $1.50 and $2.50 each. At this price, pet owners buy them as play toys for their pets—hey, any port in a storm.
A book never loses its value as a readable product. Children's books priced between 50¢ and $1 fly off the shelves. The same is true for adult books. Cooking and gardening books do better. They sell quickly when valued between $5 and $8.
I can hear my critics now: "Rinker is trying to turn the antiques and collectibles business into a glorified yard sale!" To some extent, Debby and Randy do run a glorified yard sale. But, they get far better prices because they pick and choose, supply what their customers want and turn over their merchandise within months of purchase.
The challenge faced by the antiques and collectibles trade is to hold these users as costumers and show them the value of owning (and yes, even using) more expensive antiques and collectibles. It can be done if the trade makes a commitment to doing it. What suggestions do you have to achieve this goal? E-mail your ideas to harrylrinker@aol.com.
—————————————
Rinker Enterprises and Harry L. Rinker are on the Internet. Check out Harry's Web site..
You can listen and participate in Harry's antiques-and-collectibles radio call-in show "Whatcha Got?" on Sunday mornings between 8 a.m. and 10 a.m. Eastern Time. It streams live on the Genesis Communications Network.
"Sell, Keep Or Toss? How To Downsize A Home, Settle An Estate, And Appraise Personal Property" (House of Collectibles, an imprint of the Random House Information Group), Harry's latest book, is available at your favorite bookstore and via Harry's Web site.
Harry L. Rinker welcomes questions from readers about collectibles, those mass-produced items from the 20th century. Selected queries will be answered on this site. Harry cannot provide personal answers. Send your questions to: Rinker on Collectibles, 5955 Mill Pond Court SE, Kentwood, MI 49512. You can e-mail your questions to harrylrinker@aol.com. Only e-mails containing a full name and mailing address will be considered. Please indicate that these are questions for WorthPoint.
Copyright © Rinker Enterprises, Inc. 2012
WorthPoint—Discover Your Hidden Wealth