Rinker on Collectibles: What It Is and When to Admit You Don't Know

by Harry Rinker (04/23/12).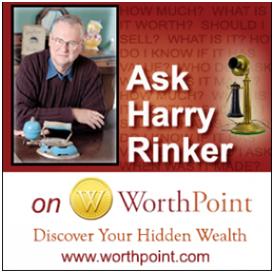 During an appraisal clinic at the Rio Grande Valley Home & Garden Show in McAllen, Texas, on April 13-15, a gentleman brought a tabletop glass condiment set consisting of a dimple-edged triangular tray upon which sat a matching salt and paper shaker and a cruet. The salt and pepper shakers and cruet were molded in a hobnail pattern and shaded from a light rose color at the top to a blue-gray on the bottom. As the gentleman unwrapped the tray, I saw that it was rose-colored with streaks of white. My first thought was mid-20th-century reproduction glass, but the shape was not period. When I saw the salt and pepper shakers, I knew the maker and the era.
I authenticate as well as appraise. If I cannot authenticate an object, I do not appraise it. How can I accurately appraise an item if I do not know what it is? The "what is it?" question has to be answered before dealing with the "what is it worth" question.
There are appraisers who appraise based on what the owner tells them. The terms and condition statement accompanying the written report states that attribution is the owner's responsibility, thus removing the appraiser from the ethical requirement to appraise what he knows he sees.
A client asked me to appraise a small redware plate with yellow swirl slip line decorations. He had bought the plate from a prominent Philadelphia area dealer who sold it to him as an example of late 18th- /early 19th-century Pennsylvania redware pottery. In reality, the piece was Mexican in origin and of much more recent vintage. When I told the owner that the piece was Mexican, he told me to appraise it as American because he bought it assuming it was. A few tense moments followed. I refused to budge. The collector withdrew the item from the appraisal.
After examining the Rio Grande Valley Home & Garden Show's gentleman's condiment set, I valued it between $275 and $300. Appraisal values are based on the market in which objects are located. Had I seen the same set in New England, I would have increased the values by 50 percent.
The gentleman was not happy. "It was appraised at more than double that amount 10 years ago. Do you not know it is slag glass?" Given the economic woes in the secondary antiques and collectibles market, a 50-percent devaluation in value 10 years earlier is common. I could have justified my appraisal on this factor, but the argument would have been fallacious.
The condiment set was not pink slag glass. The first appraiser had misidentified the glass type. The glass type was Mt. Washington Peachblow.
Appraiser misidentification, or more correctly misattribution in this instance, is a growing problem in the antiques and collectibles field. First, fewer and fewer younger appraisers have field exposure to period 18th-, 19th- and early 20th-century objects. Digital-age young appraisers turn to the computer for identification aid. If the appraiser does not know the correct place to look, he/she is not going to get the right answer.
Second, novice appraisers often do not own or have access to the reference texts that enable them to properly identify items. More than half the reference texts were printed in the 1980s and '90s. All are out of print. The number of printed antiques and collectible reference texts continues to diminish as the price per reference text increases. Reference books priced for less than $50 are becoming scarce. Few can afford to build a comprehensive object library.
Third, there is a lack of antiques and collectibles identification information on theIinternet. Further, much of the information is unreliable, posted by people who think they are experts but lack the research and field background that creates expertise. WorthPoint and others are working to remedy this situation, but it will be a decade or more before the gap is bridged.
Fourth, the International Society of Appraisers (ISA), American Society of Appraisers (ASA) and online appraisal training programs, such as David Maloney offer instructions on how to write appraisals. They only touch briefly on the principles of object identification.
Finally, appraisers who hold themselves out to the public as experts do not like to admit that they do not know. Hence, they are prone to take an educated guess. An educated guess in respect to value is dangerous but not deadly. An educated guess in respect to object identification is disastrous.
I have written in the past about a Philadelphia appraiser who I refer to, when I am in a nice mood, as Dr. Good News. Her primary goal at appraisal clinics is to send people away happy. If this means assigning a value 10 times what an object is worth, she does it. If it means falsely identifying an object to put that 10 times value on it, she does it. When I lived in eastern Pennsylvania, I encountered her misattributions when owners sought a second opinion at one of my appraisal clinics. I remember a 1950s Gunderson or Fenton amberina glass cruet that she told the owner was late 19th-century Sandwich glass. I told the owner the truth.
If appraisers who are assumed to have a minimum of basic object knowledge are having problems identifying objects, a person with little or no antiques and collectibles experience faces almost insurmountable odds in identifying antiques and collectibles. A tragedy occurs when they seek professional advice, as did the gentleman with the Mt. Washington Peachblow condiment set, and receive false information.
When I decided to write this column, I asked myself: how many of my readers would be able to identify a piece of Peachblow glass if they encountered it? Can you?

There are three types of Peachblow, a late 19th-century American art glass. Wheeling Peachblow, made by Hobbs, Brockunier of Wheeling, W.V., shades from a dark red at the top to a golden yellow at the bottom. Pieces have a white lining and a glossy surface. Hobbs, Brockunier made the glass, marketed as "Coral," in the late 1880s and early 1890s.
Mt. Washington Peachblow—also known as Peach Blow or Peach Skin—shades from rose at the top to a bluish gray at the bottom and is found in glossy and matte finishes. It was made from 1886 to 1888.
Mt. Washington also manufactured a second type of Peachblow, shading from rose at the top to white at the bottom, for Libbey, which marketed the glass as "Wild Rose." It is found with glossy and matte finishes.
[For more information about Peachblow glass, visit the Glass Museum website.]
Henry Bastow and Thomas E. A. Dugan manufactured pink slag, a marbleized glass of pink and white swirls, at their Indiana, Pa., factory around 1900. While the most desirable of the slag colors, pink slag prices have dropped by more than two-thirds from their 1980s high. The average age of a pink slag glass collector is 70 or older. The whole of pink glass specialty collectors number fewer than 50.
Ceramic and glass manufacturers have form (what an object is) and shape (how an object appears) vocabularies. A knowledgeable appraiser would have taken one look at the shape and form of the gentleman's condiment set and knew it was not pink slag. The shape of the tray, salt and pepper shakers, and cruet were not in the pink slag vocabulary.
Although the object is outside the scope of "Rinker on Collectibles," an e-mail appraisal request I received illustrates the problems associated with amateur online identification. The e-mail reads: ". . . who might appraise a vase (that may be from) antiquity that I can best describe as a red-clay color but marbled in appearance. The best I can do from the Internet is this link to something called 'Clay Pot, Predynastic Egyptian times, Egypt, Middle Kingdom 2055-1650 BC' which appears at this site and is housed in the Thetford Museum in England. A picture accompanied the e-mail.
Close is not the same as identical when identifying antiquities, antiques and collectibles. My evaluation of the picture resulted in a Big Bad Wolf moment—"not by the hair of my chinny, chin, chin." Authentication of the vase requires the expertise of an antiquities curator. I recommended the person take it to the nearest anthropological museum.
In summary, if an appraiser or anyone in the trade, from auctioneer to collector to dealer, does not specifically know what an object is, it is better to admit "I do not know" than assign it incorrectly. Guessing increases the odds of false identification.
Experts are not infallible. They make mistakes. I did not get a perfect score on every test in high school and college, nor do I in life. But, when I do not know, I admit it.
—————————————
Rinker Enterprises and Harry L. Rinker are on the Internet. Check out Harry's Web site..
You can listen and participate in Harry's antiques-and-collectibles radio call-in show "Whatcha Got?" on Sunday mornings between 8 a.m. and 10 a.m. Eastern Time. It streams live on the Genesis Communications Network.
"Sell, Keep Or Toss? How To Downsize A Home, Settle An Estate, And Appraise Personal Property" (House of Collectibles, an imprint of the Random House Information Group), Harry's latest book, is available at your favorite bookstore and via Harry's Web site.
Harry L. Rinker welcomes questions from readers about collectibles, those mass-produced items from the 20th century. Selected queries will be answered on this site. Harry cannot provide personal answers. Send your questions to: Rinker on Collectibles, 5955 Mill Pond Court SE, Kentwood, MI 49512. You can e-mail your questions to harrylrinker@aol.com. Only e-mails containing a full name and mailing address will be considered. Please indicate that these are questions for WorthPoint.
Copyright © Rinker Enterprises, Inc. 2012
WorthPoint—Discover Your Hidden Wealth