Secret Message Found Etched in Lincoln's Watch

by David Mycko (03/12/09).
I came across this article today, which was posted by the Associated Press yesterday. Since it is about Abraham Lincoln's watch, I was drawn to this story immediately.
It tells the story of a man, Jonathan Dillon, who was working in a watch shop in Washington and was repairing President Lincoln's watch when word of the South's attack on Fort Sumter reached the capital. Dillon, the only Union supporter in the shop, picked up a sharp tool and inscribed a series of notes supporting the president. To read the story, click here.
In just about every photograph of Abraham Lincoln, his watch chain is visible. And in artists' renderings of the 16th president, the chain also appears, as in the statues of Lincoln in Cleveland, Ohio, and in the Lincoln Memorial (below).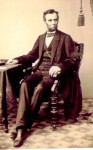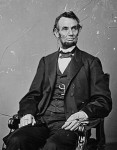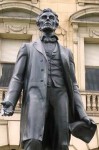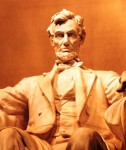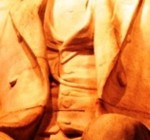 The watch is a typical English Fusee Lever, key wind, circa1850, housed in a beautifully engraved 18K Hunter Case. Sold by an Illinois jeweler, the watch had to be imported from England because at the time, the American watch industry was in its infancy. Relatively few American watches were available until 1857, after the founding of the Waltham Watch Co.
This is a high-quality English Lever Fusee manufactured in Liverpool, England, is full jeweled (15-16 jewels), with all the technological achievements available at the time. Watches of this caliber were equipped with a bi-metallic chronometer balance wheel, fully compensated, and adjusted for temperature and positions. The number of jewels, type of balance wheel, number of adjustments, and the composition of the metal used in the watch casement were all custom ordered by the jeweler.
Lincoln's son Robert mentioned having his father's watches as late as 1910, and passed at least two along to his children. One watch was given to a museum in Kentucky. The other was donated by Lincoln's great-great-grandson, along with other Lincoln belongings, to the Smithsonian Institution in 1958.
A gold-cased beauty, it was stamped as coming from the George Chatterton jewelers in Springfield, Ill., where Lincoln was known to shop. Watches of this nature are classified as "contract watches," with American names engraved upon their plates and dials. They were in fact manufactured in Europe or the United Kingdom. Lincoln's watch was indeed a very expensive item for the day, being housed in a robust, 18 karat closed face, or hunting case, beautifully engraved with scrolls, leaves and flowers on an engine turned background.
The watch is key wound, as the technical achievement of stem winding was still in the future. The watch is also equipped with its original period gold vest chain, a "Hen's Tooth" pocket watch vest chain is usually the first part of a watch ensemble to become worn, broken and discarded, along with the key, which apparently has gone missing. Somewhere out there is a watch key that has the intimate touch of Abraham Lincoln (for everyday he wound this watch) lying in a box of junk, just waiting to be discovered!
The cursive etching under the dial on this watch is quite unusual, especially in its personal nature. Watchmakers during this period typically would insert a small piece of round paper inside the back cover advertising his business and penciled in the date of repair, much like the decal inserted on your windshield after an oil change. These are called "Watch Papers" and are highly collectible. This was done by the watchmaker as documented proof of his workmanship, and was later was replaced by a small cursive etching on the inside cover of the watch.
I have personally dismantled literally hundreds of watches, and have NEVER seen anything like this etching; it is quite unique! It is not the place of a watchmaker, in the process of repairing a watch, to engrave a personal message on or in the watch. Imagine your auto mechanic scratching a message on the underside of the hood! You would be horrified to discover this desecration! I'm not so sure 'ole Abe would have appreciated it either! But, in this particular instance, we have to thank Jonathan Dillon for this very unprofessional indiscretion; it has made an interesting and historic relic all the more interesting and historic!
David Mycko is a Worthologist who specializes in watches.
WorthPoint—Discover Your Hidden Wealth