Teddies Reviewed: Questions From Teddy Bear Owners

by Ken Yenke (06/18/12).
(This article first appeared in the May 2013 issue of Teddy Bear & Friends magazine)
This month, I wanted to share a photo from the Chelsea Teddy Bear Company's activities during last year's Hometown Holiday events in Michigan.
In addition to offering free tours of the Chelsea Teddy Bear Factory and Museum, the company helps raise funds for a local charity and gives elementary-school kids the chance to participate in the annual Teddy Bear Run.
One winner in each grade, from first through sixth, gets to run through the factory and grab as many bears as he or she can hold and keep. The company matches each bear won with another copy of the same bear, which becomes a gift and the child designates the recipient.
---
I have had this bear since childhood, and wonder about its age, maker and value.
— Patricia Prasen, North Royalton. Ohio
You have a wonderful-looking German Huenec teddy bear. Dating from the late 1940s and early 1950s, it would bring in the neighborhood of $300 or more from interested collectors.
---
I found this bear at a flea market and wonder about its value. It is a Steiff, with ear tag.
— Marilyn Hully , Houston, Texas
The 10-inch size is called "doll size." It is non-jointed and made of Dralon, which is washable. As a pillow bear, without joints, it dates from the 1980s. I would estimate its value to be between $75 and $100.
---
This teddy bear was recently bought from an antique shop for a few dollars. I think he is a VIB bear made by North American Bear Company. Am I correct?
— Reta Bush, Bridgeport, Conn.
You are correct. It is called "Chairman of the Board" and was made by the North American Bear Company. Your teddy is not an antique; it dates from 1979. Once much higher, today's value is in the $50-and-up range.
---
I recently purchased both of these bears at a teddy bear show. They are 14 inches tall, and I wonder about their value today.
— Fawn Hess
These are by German artists using techniques popular from 1995 to 2005, such as longer and shorter arm styles or larger and smaller "club" feet. Clean and with good mohair, these German artist bears should be worth $200 each.
---
I bought this 10-inch old bear and named him Rodney because his arms and legs are jointed with little rods. Do you know if he is German or American and what his value is?
— Marlene Schroer, Prior Lake, Minn.
Your little bear is German, and the first examples of this style surfaced around 1910. Nuremberg and Sonnenberg produced this style, which we call peanut-bodied bears. The one-piece torso is shaped like a peanut.
Sewn-in ears were out of Nuremberg, and even Bing made this style bear, though slightly more detailed. The rods, or wire jointing, were easy, fast and inexpensive. The little squeaker in the tummy seldom works today. This cute bear, circa 1920s, would be in the $150 and up range today.
---
I recently purchased one of your books, "Teddy Bear Treasury II," to help me identify my old bear. I still am not sure, so please let me know what you think about him.
— Jackie Monk, Dexter, Mich.
You have a great-looking bear that dates from the earliest days of Hermann—probably 1912 or so—and in a popular early size of 15 inches. In today's market, this little bears in good condition commands $750 and up.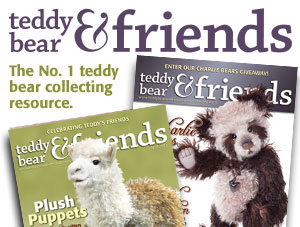 ---
Ken Yenke is a teddy bear historian and the curator of the Chelsea Teddy Bear Factory and Museum.
WorthPoint—Discover Your Hidden Wealth