That's Entertainment! Dealers Need to Drop their Aloofness

by Harry Rinker (11/10/09).
"The world is a stage
The stage is a world of entertainment.
That's entertainment!"
—lyrics from "That's Entertainment"
Antiques and collectibles are part of the entertainment industry. Many involved in the trade do not view it from this perspective, but it is true. If we do not entertain, we do not have customers. If we do not have customers, we cannot cultivate new collectors and others who buy our product. The entertainment aspect of the antiques and collectibles business is in the spotlight thanks to the Great Recession of 2008-09.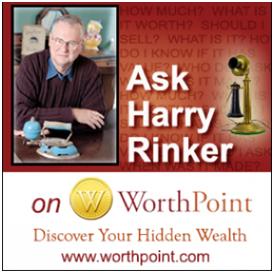 I called Dave Briddle, a partner along with Larry Gottula in the Brass Armadillo antiques malls chain, and asked him to share his insights into what is happening in the antiques mall scene. Brass Armadillo has mega-malls in Denver, Des Moines, Grain Valley (Missouri, just east of Kansas City), Omaha and Phoenix, and operates an outdoor flea market in Texas. Dave indicated that mall space was at near capacity, booths sales were up while case sales were down, and traffic remained steady.
Given the current state of the economy, I expected Dave to tell me that the Brass Armadillo antiques malls were having trouble retaining existing and attracting new dealers. Just the opposite was true. I asked Dave to share his secret.
Dave and Larry are innovators. They view their dealers as customers, equal in importance as the customers who come to their malls to buy. In surveying their dealers, they found that many viewed selling more as a social than money making activity. The dealers valued the camaraderie the mall environment provided. The mall was a form of entertainment.
Dave and Larry acted on what they learned. They organized informal lunch and dinner meetings so dealers could meet and talk with each other. They encouraged spouses to attend. A few specialized groups began meeting on a regular basis.
Educational programs ranging from object identification to marketing techniques were instituted. A free reference library was created, and dealers were encouraged to use it. Dealers appreciated that they had access to reference books outside their major areas of interest. Dealers asked to become more involved in the selling process, especially being in their booth to greet and talk with customers.
Many of the Brass Armadillo antiques mall dealers make only a small monthly profit. A few do not cover their expenses. Yet, they continue to rent. The strong sense of community Dave and Larry have created keeps them entertained.
Sandy Alderfer, owner of Sanford Alderfer Companies, is one of my sources for trends and other developments within the auction community. Alderfer's conducts weekly auctions. The registered bidder count often exceeds 500. The firm continues to sell well in spite of the economic woes caused by the Great Recession.
Sandy holds his crowd because his auctions are entertaining. "Give me anything to sell, and I'll entertain the crowd," he said. The best auctioneers are entertainers. Their chant is melodic and captivating. Their selling pace develops a rhythm and beat that enthralls the bidders. Their down-to-earth jokes and asides keep the bidders attentive.
Auctions are free entertainment. You do not pay an admission fee. You do not have to buy something. However, when the auctioneer is very good, he creates an atmosphere where you want to buy and usually do. Go and enjoy. The food sold at the concession is often homemade; a bonus attendees appreciate.
PBS's "Antiques Roadshow" is entertainment. Do not be fooled by its educational guise. The appraiser is expected to create suspense during his presentation and the owner to express delight and surprise when the value far exceeds what he expected. If either fails to happen, the appraisal is likely to end up on the cutting room floor.
The 78 episodes of "Collector Inspector" that I hosted for Home and Garden Television were carefully edited and crafted for maximum entertainment value. Every minute of air time represented an hour in a person's house, during which 10 to 15 minutes of tape was shot. Scenes were re-blocked and repeated to improve the ambiance. Hands (a close up of my hands holding an object), over the shoulder, and object close-ups were done to be edited into the general walk-through shot. Voiceovers and background music were added. I found myself asking "did I really do that" when I saw many of the final edits.
I work hard to make my appraisal clinics, speaking engagements, WHATCHA GOT? radio show and "Rinker on Collectibles" entertaining. I want my listeners and readers to return. I use entertainment to educate. There is a dull, boring, far too serious side to antiques and collectibles and the business—the more this fact is kept secret and hidden, the better off the trade will be.
Antiques and collectibles show promoters use promotional entertainment hooks to attract customers. An appraisal clinic, book signing, identification booth, lecture, repair service such as a glass doctor, and displays are standard fare. I have attended shows that featured live music, costumed dealers, clowns (definitely not the same as costumed dealers) and face painters for children, celebrity signings, and hourly prize drawings. Many promoters are now creating multiple shows in a single venue. F+W Media Inc.—the parent company of KP (Krause) Publications—announced the cancellation of its Spring 2009 Atlantique Show in order to concentrate its efforts on adding an antiques and collectibles show to its Iola (Wis.) Old Car Show held each July. The Das Awkscht Fescht toy show, held the first weekend in August in Macungie, Pa., also is coupled with a major antique and vintage car show.

Auctioneers, mall owners, show promoters, and television producers appreciate entertainment value. Do the dealers? The answer is yes, as long as it does not involve them. They are happy to reap the benefits; just leave them alone.
If the antiques and collectibles trade is going to survive the Great Recession of 2008-09 and prosper in the future, dealers have to become entertainers. They can no longer afford to sit in a chair watching television, reading a book, or eating a snack at the side of their booth. Dealers must learn how to entertain.
It is not a lot to ask nor difficult to do. First, dealers need to display their merchandise attractively and in innovative ways that will catch customers' attention. A good display entertains. It makes buyers pause and invites them into the booth. Like a fine painting, a strong booth display makes the viewer want to spend time admiring it. Unlike an art museum, the buyer can handle the objects.
Second, dealers need to improve their customer interaction skills. Personal attention is one of the best entertainment opportunities the antiques and collectibles trade offers. The trade is and will continue to be a one-on-one business. It is the dealer who sells the object today, not the object itself. A dealer who is an unentertaining conversationalist loses customers.
It is time to abandon the long-held principle that the antiques and collectibles trade is above entertainment. The traditionalist's belief that aloofness and seriousness are keys to the industry's survival is false. We need to show the general public that antiques and collectibles are fun to collect and use. Entertainment plays a critical role in getting that message across.
————————————
Rinker Enterprises and Harry L. Rinker are on the Internet. Check out his Web site: http://www.harryrinker.com
You can listen and participate in "WHATCHA GOT?," Harry's antiques-and-collectibles radio call-in show on Sunday mornings between 8 a.m. and 10 a.m. Eastern Time. It streams live on the Genesis Communications Network.
"SELL, KEEP OR TOSS? HOW TO DOWNSIZE A HOME, SETTLE AN ESTATE, AND APPRAISE PERSONAL PROPERTY" (House of Collectibles, an imprint of the Random House Information Group), Harry's latest book, is available at your favorite bookstore and via Harry's Web site.
Harry L. Rinker welcomes questions from readers about collectibles, those mass-produced items from the 20th century. Selected letters will be answered on this site. Harry cannot provide personal answers. Photos and other material submitted cannot be returned. Send your questions to: Rinker on Collectibles, 5093 Vera Cruz Road, Emmaus, PA 18049. You also can e-mail your questions to harrylrinker@aol.com. Only e-mails containing a full name and mailing address will be considered. Please indicate that these are questions for WorthPoint.
Copyright © Rinker Enterprises, Inc. 2009
WorthPoint—Discover Your Hidden Wealth