Tips on Starting an Antiques and Collectibles Business in 2010 – Part III
This is the third and final installment in the "Starting an Antiques and Collectibles Business in 2010" series. Part I discussed the need of the 21st century dealer to specialize and to understand the potential customer base. Part II focused upon adopting a business approach, whether full- or part-time, and how to acquire merchandise. Deciding where to sell is the final step in creating the business plan.
There are no sales without customers. Although obvious, this concept is not appreciated by many antiques and collectibles dealers. Customers do not appear magically. Customer recruitment and cultivation must be a dealer's top priority if he/she wants to survive.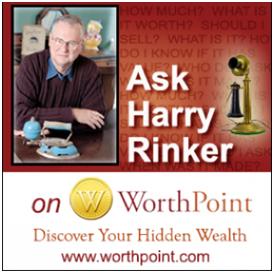 What does this have to do with sales? Everything! The 21st-century dealer obtains contact information for every customer to whom he/she sells. When was the last time a dealer asked you for contact information? Every immediate buyer is a potential future buyer. The ultimate goal is multiple sales to the same customer.
There are individuals—those purchasing for decorating purposes, for example—who will only buy once. An active conversation during the sales process identifies who they are. Dismissing them outright as future customers is not wise. Keeping them informed may entice them to return. At the very least, they serve as an advertising conduit to friends. Word of mouth is the best advertisement a dealer has.
The best long-term customer is a collector. This person is hooked. His/her buying habit is almost impossible to assuage. A strong collector customer list is a dealer's safety valve during difficult economic times. Collectors always find funds to purchase something they want.
Dealers who assume that the principal role of a sales venue is to make sales are mistaken. A prime sales venue is one that constantly adds new buyers to the dealer's customer list. The success of a sales venue is measured by the number of future sales generated and not the income from the event.
It is impossible to survive as an antiques and collectibles dealer using a single sales venue. Just as the dealer needs to identify five to 10 profit centers within his/her merchandise, he/she also has to participate in five to 10 sales venues to be profitable. The reasoning is simple. No sales venue remains strong forever. If one slows, the others can pick up the slack.
Participating in cyberspace, now far more extensive than just the World Wide Web, is essential. The 21st century is the computer age. The percentage of goods being purchased via the Internet continues to increase. While traditional sales outlets have not disappeared, they now share the marketplace with the Internet.
The 21st century antiques and collectibles dealer begins by developing his/her own Web site. Initially, it does not have to have a sales focus. This is the final goal. The Web site contains information about the dealer, the type of inventory offered, and a list of sales venues at which the dealer will appear. Just as customers judge a dealer by his/her merchandise, they will do the same by the appearance of the Web site. Hence, unless the dealer is technologically skilled in Web site development, he/she should hire someone who is. Further, once the Web site is developed, it has to be maintained. Given all the dealer has to do, he/she should consider hiring someone to do this as well.
An Internet storefront site is an electronic antiques mall. Participation in one or more is essential. GoAntiques, Rubylane.com, tias.com, and eBay are four possibilities. There is strength in numbers. Visit as many storefront sites as you can. Identify sites that offer similar merchandise. This indicates the site already attracts customers who want what the dealer offers. Just as antiques malls expanded their services by offering book sales, a reference library, framing services, restoration, education and/or food, select a storefront Web site that is more than a merchandise-listing location. Make certain to have a full understanding of the costs of participation and number of customer views.
[Author's Aside: Have computer hardware and software that makes Internet participation a pleasure rather than a challenge. A computer with ample processing and storage capacity, a high-quality digital camera, and a fast data stream are minimum requirements.]
Consider participating in multiple storefront sites, even after you develop the sales component on your own Web site. Since you are cross-listing merchandise, be sure to remove merchandise from all sites once it is sold.
Do not underestimate the time required to sell on the Internet. E-mail inquiries need to be answered promptly, within a day or two. Some require detailed responses. When this occurs, you may wish to talk with a potential customer via telephone rather than take the time to write a lengthy e-mail.
Selling antiques and collectibles via a person-to-person process is one of the central themes of this series. The sound of the human voice is rapidly being replaced by reliance on electronic communication. The 21st-century antiques and collectibles dealer must resist this trend. When face-to-face contact is impossible, the dealer must resort to the telephone. No one likes phone tag, a growing problem in today's world. Be patient and tolerate this inconvenience. Sales increase when the customer and dealer talk directly with each other.

Today's dealer needs to place more emphasis on immediate sales. When he/she acquires something that appeals to a customer on this/her list, he/she should contact the customer immediately. Success demands a controlled but aggressive sales posture. The dealer must go to the customer, not wait for the customer to come to him/her.
Although Internet auction sale sites, such as eBay, have lost much of their luster and allure, they are now major sales venues for antiques and collectibles. Some antiques and collectibles categories sell better than others on these sites. If your specialty is one that does, then use them.
Do not ignore traditional sales venues. While the Great Recession of 2008-09 has impacted on the antiques and collectibles flea market and antiques show circuits, the results are positive. The dealer reduction has strengthened the overall quality of merchandise offered. Attendance numbers are increasing. When selecting one or more of these venues, follow the same principles used when selecting an Internet storefront. Locate antiques and collectibles flea markets and/or shows that feature dealers selling identical or similar merchandise. These provide a ready-made customer base.
Dealers who relied exclusively on the flea market and show venues to generate income were hard hit by this Great Recession. The era of a dealer doing 35 to 40 shows per year is over. Pick six to eight shows that work and do them. Add a new show and drop the least successful show each year. However, give a show three to four years to prove its value before dropping it. Flea markets and shows produce repeat customers. Customer cultivation takes time; allow for it. Successful dealers e-mail and/or mail existing customers a month before doing a show. "Old Home Week" is a sales concept that works.
The Great Recession weeded out most of the marginal antiques malls. Despite rumors to the contrary, the antiques mall venue is alive and well. Malls value the specialty dealers. Again, the critical element is selecting a mall environment that offers the best chance for sales success.
Do not forget the trade periodicals and newspapers. Advertise in those whose reader demographics match the merchandise offered. Many of these publications also maintain active Internet Web sites, offering packages whereby advertising appears both in print and on the Web.
In summary, successful selling requires participating in multiple sales venues. There are more than time permits. Just as the 21st century antiques and collectibles dealer must prioritize his/her merchandise, he/she must do the same for sales venues.
Success comes from hard work; and, selling antiques and collectibles is very hard work. The rewards are personal as well as financial, with the former often outweighing the latter. As long as the selling process is fun, enjoy. When the fun disappears, seek out another career.
————————————–
Rinker Enterprises and Harry L. Rinker are on the Internet. Check out Harry's Web site..
You can listen and participate in Harry's antiques-and-collectibles radio call-in show "Whatcha Got?" on Sunday mornings between 8 a.m. and 10 a.m. Eastern Time. It streams live on the Genesis Communications Network.
"Sell, Keep Or Toss? How To Downsize A Home, Settle An Estate, And Appraise Personal Property" (House of Collectibles, an imprint of the Random House Information Group), Harry's latest book, is available at your favorite bookstore and via Harry's Web site..
Harry L. Rinker welcomes questions from readers about collectibles, those mass-produced items from the 20th century. Selected queries will be answered on this site. Harry cannot provide personal answers. You can e-mail your questions to harrylrinker@aol.com. Only e-mails containing a full name and mailing address will be considered. Please indicate that these are questions for WorthPoint.
Copyright © Rinker Enterprises, Inc. 2010
WorthPoint—Discover Your Hidden Wealth