Tossing Numbers Around – the Business of 'Feel Good' Appraisals

by Harry Rinker (08/12/09).
Since there are no fixed prices for antiques and collectibles, it has become increasingly commonplace to toss around any number that comes to mind. When the number comes from someone billed and introduced as an expert, the public tends to blindly accept it as fact. The truth is it is a guesstimate, almost never backed by an offer to buy from its provider. If backed by an offer to buy, be doubly suspicious. No buyer wants to pay full price if he can avoid it.
Before proceeding, I must inform you of my role in the numbers-tossing game. In the course of my career in the antiques and collectibles field, I have authored or edited 40-plus price guides. I do a dozen more appraisal clinic appearances, affectionately called "guess-the-goodies" clinics when I do them, in the course of a year. I host "WHATCHA GOT?"—a nationally syndicated antiques and collectibles call-in radio show—that airs on Sunday from 8 a.m. to 10 a.m. EDT and is streamed live on the Internet. On the show I "guess-the-goodies" without even seeing the objects. Well, "That's Entertainment," the song states.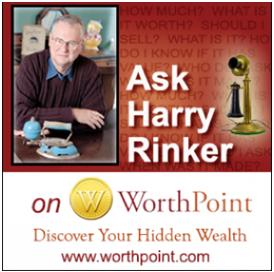 I try my best to provide reliable information—emphasis on reliable rather than accurate. Accurate is a term that defies definition when applied to antique and collectible value. An accurate price at one moment may be totally invalid the next.
Try as I might, though, I do not get the price right every time. I did not get a 100 in every test I took in high school and college, either. Just recently, I blew a value call on "WHATCHA GOT?" A listener called the show's toll free number, 800-259-5791, and asked about a ceramic Cheadle luncheon set. I did not recognize the pattern name as one of Royal Winton's chintz patterns and provided her a value for a 1950s generic ceramic luncheon set. Fortunately, Ian from Toronto, who listens to "WHATCHA GOT?" on the Internet, immediately e-mailed me urging me to revise my answer to reflect the value for Royal Winton chintz. I raised the value considerably.
I do the best I can. So do the Antique Roadshow appraisers, albeit I find myself disagreeing with their valuations more frequently now than I did in the past. The pressure to find an object that is "show worthy" has become highly competitive. I understand their desire and need to push the envelope, so they are selected for on air time, especially given that the Antique Roadshowdoes not reimburse the appraisers for their expenses or time.
Because of my participation in the numbers-tossing game, I am aware of the potential for abuse. As I already have pointed out, mistakes happen. I apologize for my mistakes and I can be forgiving of others'. I keep my mouth shut and comments stifled. More than I should, sometimes.
But when I do get mad, my dander rises. It happened recently, on July 25, when I was looking through the lead stories of AOL's homepage and came across a picture of a 1954 Superman lunchbox captioned:
"A 1954 Superman lunchbox broke records when it sold for a whopping $11,500 in auction. Though most vintage lunch boxes won't score a sliver of that price, many good-condition carriers still hold their weight in worth. Here's a countdown of classic lunchboxes' blue book value. Who knows? You might have some cold hard cash collecting dust in your attic!"
If the person who wrote this caption has a college education in English/Writing and, heaven forbid an MFA in Creative Writing, he wasted his money. What does "sliver of that price" or "weight in worth" mean? These phrases are not creative writing. They are pure crap. Their false cleverness is enough to make a sensible reader gag. Poor writing aside, the phrase "blue book value" raised my hackles. There are no blue book values in the antiques and collectibles business. Values float. There are several Blue Books (see bluebookinc.com) in the trade. My recommendation is that the owner of these titles considers having his attorney contact AOL and demand it stop abusing the phrase Blue Book, Inc., it tries so hard to honor.
I often share auction prices realized with my "WHATCHA GOT?" listeners. Someone getting $11,500 for a lunchbox is worthy of comment. However, when I researched the auction on the Internet, I discovered the 1954 Superman lunchbox in question sold in a December 2003 MastroNet, Inc. auction. An identical 1954 Superman lunchbox sold on eBay in mid-2006 for $4,649, suggesting the market fell by more than 50 percent in less than three years. Who knows what the value is in these tough economic times. Given this, what is AOL doing touting the $11,500 value?
The answer is that AOL was using a list of values from lunchboxes.com, a site devoted to selling lunchboxes: "Here you will find rare, all-time classic lunch boxes from the glory days of yesteryear – maybe even the one you carried to school as a kid. These boxes are the originals, and all post-1960s lunchboxes in mint or near-mint condition . . ."
What do all these lunchboxes have in common? The answer is that they had not sold by the time they appeared on AOL.
Their appearance on AOL was a blatant infomercial disguised as a factual presentation of lunchbox prices. As it has already has been proven, a buyer who is willing to comparison shop can find these same lunchboxes at far more affordable prices.
Shame, shame, shame on you AOL for posting deceitful information. Now that I understand what you have done, how can I trust any information that appears on your site? You tossed around these lunchbox price numbers without any concern for their accuracy. The tragedy is that your subscribers accepted them as gospel. Hopefully, the owner of lunchbox.com gave you a handsome commission for any boxes sold in the month following their appearance.
The values that accompanied the lunchboxes pictured on AOL are referred to in the trade as "feel good" numbers, numbers tossed around indiscriminately by appraisers and others to avoid the resulting pain from telling the truth. No appraiser will ever say "it's a piece of junk," albeit he may think it.
There is an appraiser I know of—who uses an academic degree in her moniker—who is renowned in the trade for the most ludicrous feel good numbers imaginable. Her reputation is such that local auctioneers often refuse to sell any item that she has appraised. Why? When they do, the final value is often less than half of what she told the owner. When this happens, the owner blames the auctioneer and not the appraiser for his misfortune. The appraiser is supposed to be the expert. How could she possibly be wrong, especially since she charged so much for the appraisal?

In addition to her blatant use of feel good prices, this appraiser also specializes in misidentifying objects. I speak from personal experience. Individuals who have taken objects to her to be appraised have brought them to me for a second opinion. Alas, on these occasions, I must play the heavy; the person who tells them that (1) what they have is not what she told them and (2) it is worth nowhere near the value she assigned.
It is not difficult to understand why she does what she does. It is good for business. Audiences love her, especially when she discovers hidden treasure after hidden treasure in the material presented to her for appraisal. She reaffirms the "it is worth a great deal of money" dream. It is a great dream, as long as the person never needs to wake up.
There are thousands of Halls of Fame. None exists for the antiques and collectibles field. It is for the best. It would generate too much controversy and ill will. What the antiques and collectibles field does need is a Hall of Shame, an institution in which those who harm the trade can be enshrined. The appraiser I've been carping about above tops my list of candidates for the inaugural class of inductees.
The careless tossing about of numbers in the antiques and collectibles field is endemic. It is part and parcel of how business is done. It is a lesson everyone active in the trade must learn. The only defense is to question every number. Check and double check. Do background research. Try to understand from where the value came and the length of its validity if reliable.
Finally, beware of any individual who takes a God-like approach to the numbers. Even when an individual provides qualifiers, be suspicious. Dreams, hopes, and aspirations in the antiques and collectibles field, especially in the area of values, are a far cry from cold, harsh reality.
—————————————
Rinker Enterprises and Harry L. Rinker are on the Internet. Check out his Web site.
You can listen and participate in "WHATCHA GOT?," Harry's antiques-and-collectibles radio call-in show on Sunday mornings between 8 a.m. and 10 a.m. Eastern Time. It streams live on the Genesis Communications Network.
"SELL, KEEP OR TOSS? HOW TO DOWNSIZE A HOME, SETTLE AN ESTATE, AND APPRAISE PERSONAL PROPERTY" (House of Collectibles, an imprint of the Random House Information Group), Harry's latest book, is available at your favorite bookstore and via Harry's Web site http://www.harryrinker.com.
Harry L. Rinker welcomes questions from readers about collectibles, those mass-produced items from the 20th century. Selected letters will be answered on this site. Harry cannot provide personal answers. Photos and other material submitted cannot be returned. Send your questions to: Rinker on Collectibles, 5093 Vera Cruz Road, Emmaus, PA 18049. You also can e-mail your questions to harrylrinker@aol.com. Only e-mails containing a full name and mailing address will be considered. Please indicate that these are questions for WorthPoint.
Copyright © Rinker Enterprises, Inc. 2009
WorthPoint—Discover Your Hidden Wealth